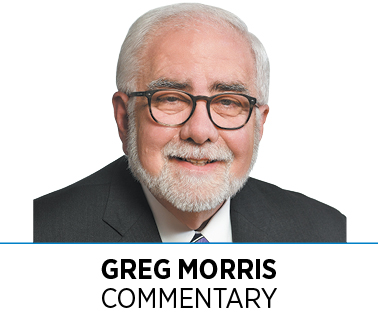 With news this week that Gatehouse Media is buying USA Today and Indianapolis Star owner Gannett Co. for about $1.4 billion, I thought this would be an opportune time to offer a few thoughts about the state of the newspaper industry, along with what differentiates IBJ from daily newspapers.
First, no matter how it's positioned, the merger of America's two largest newspaper publishers is not a move to bring together two highly performing companies. Instead, it's a fight for their very survival in an effort to combat at least a decade of declining circulation and plunging advertising revenue.
Our own IndyStar is a glaring example of how far daily newspapers have fallen. Layoffs have devasted its newsroom. And without the proper staffing, you just can't provide the quantity and quality of local news, information and analysis readers expect. It's not only sad—it's a major blow to our civic discourse.
Even with the combined resources of Gannett and Gatehouse, the combined company will have a long, tough road ahead. According to a study by the University of North Carolina, the United States has lost around 1,800 local newspapers since 2004. Additionally, according to Pew Research, newsroom employment fell by a quarter from 2008 to 2018, and layoffs have continued this year.
But don't throw IBJ into the same bucket as daily newspapers. Business is strong and readership is up, with paid subscriptions increasing again this year. I expect these trends to continue next year and beyond.
So how does IBJ navigate industry pressures more successfully than most? I asked IBJ Editor Greg Andrews for his take on the topic.
"Certainly, it is a tough business for everyone, but what I think sets us apart is that we focus on providing news and information to readers that they consider indispensable and that they can't get anywhere else.
"That's critical to getting new subscribers and retaining existing ones. (IBJ's June 30, 2019 Publisher's Statement shows a renewal percentage topping 80%, which is higher than most similar publications.)
"The challenge The Star and other daily newspapers have faced is that much of what they cover—including crime, sports and general breaking news—is available in some fashion from multiple news outlets for free. That leaves them with less leverage to persuade people to subscribe—and a strong subscription base is crucial to the future of any legacy print publication.
"The Star has attempted to offset those realities with strong investigative projects that generate stories readers can't get anywhere else. But the challenge with investigative reporting is that it is extremely time consuming. Can an investigative story every few weeks move the needle on subscriptions?"
Wrapping up, I believe IBJ goes far beyond providing essential local news, information and analysis you can't find anywhere else. We engage the community to work together for the betterment of all. We do this through our editorial coverage and by convening businesspeople and civic leaders at numerous events over the course of the year that cover topics such as corporate citizenship, hunger, workforce development and economic development. I'd say we are squarely in the community-building business.
Finally, our secret sauce is we're a privately held company not laden with debt—and we're all local. Our entrepreneurial ownership team of Mickey Maurer, Bob Schloss and Nate Feltman all are long-time local residents and are fully invested in our community, as are IBJ's entire management team and staff.
Thanks for reading and supporting IBJ. We'll continue to work hard to earn your trust and future business.•
__________
Morris is publisher of IBJ. To comment, send email to gmorris@ibj.com.
Please enable JavaScript to view this content.