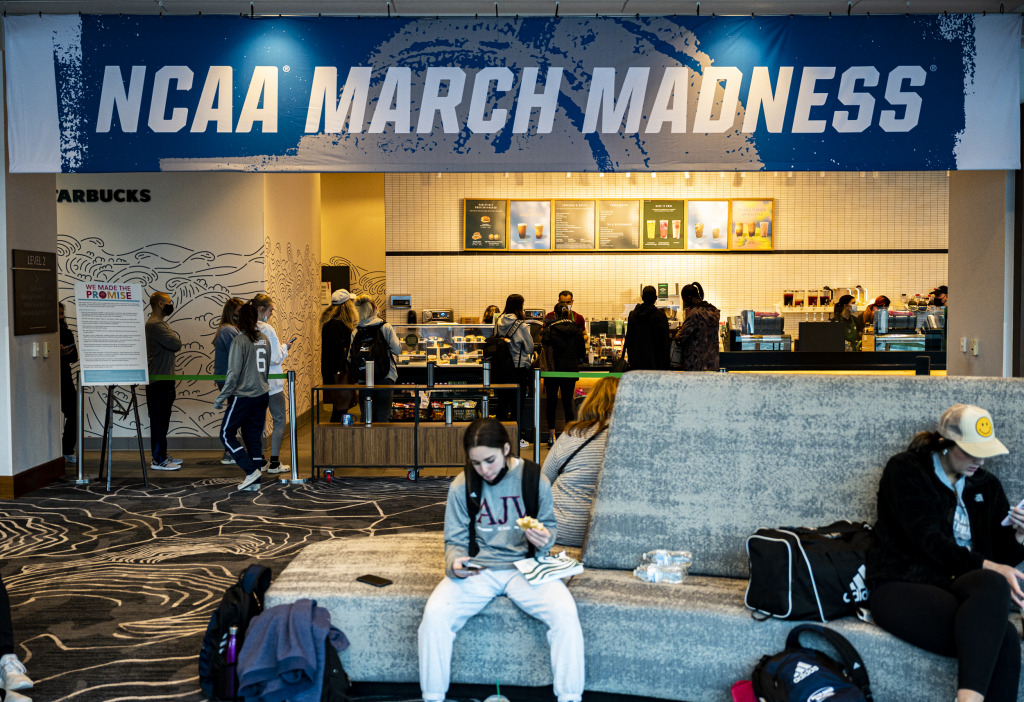 The NCAA already has administered about 2,100 COVID-19 tests to the teams participating in March Madness, and none had been confirmed positive as of Monday morning.
Forty-six teams had arrived in Indianapolis for the NCAA men's basketball tournament by late Sunday, and each was given a COVID-19 test upon arrival, Dan Gavitt, NCAA senior vice president of basketball, said Monday morning. They then were scheduled to get a second test about 12 hours later so they could be cleared for practice.
None of the 2,100 tests administered so far was positive, Gavitt said Monday morning.
The 68 teams participating in the tournament, including their coaches and trainers, also are expected to be tested daily over the course of their stay at the tournament that begins Thursday in venues across central Indiana.
The teams are lodging in four hotels in downtown Indianapolis: the JW Marriott, Marriott Downtown Indianapolis, Westin and Hyatt Regency. Each team has its own floor, and each is expected to stay in their hotel unless practicing or playing.
Most of the remaining teams are expected to arrive Monday, with the known exception of Virginia.
Virginia was forced to withdraw from the Atlantic Coast Conference Tournament semifinals Friday because a person with the team tested positive for COVID-19. Coach Tony Bennett said Sunday night there were no new positive results, but most of his players will be in quarantine until Thursday because of contact tracing.
The plan is for No. 4-ranked Virginia to travel on Friday for its first-round West Region game against No. 13 seed Ohio on Saturday night.
As is the case with all the other tournament teams, Virginia's travel party will be tested upon arrival in Indianapolis, quarantined until results are returned, tested again, and returned to quarantine until those results come back.
"It could be a situation where you practice here and you just show up at the game and play," Bennett said.
There are replacement teams waiting if Virginia, or any team, needs to pull out of the tournament. Louisville, Colorado State, Saint Louis and Mississippi have been told to stand by on campus; the Cardinals would be the first choice to step in as the team that came closest to making the field.
The deadline for teams to be replaced is Tuesday. After that, if a team cannot play, the game is deemed a no contest and its opponent advances to the next round.
Bennett is hopeful Virginia will play in the game scheduled for Saturday evening in Assembly Hall on the Indiana University campus in Bloomington.
The other high-profile team with COVID issues is Kansas, which was forced to withdraw from its conference tournament last week.
Jayhawks coach Bill Self said Kansas, the three seed in the West just ahead of Virginia, would be traveling to Indianapolis on Monday, but leaving behind three players. Self said he hoped David McCormack and Tristan Enaruna, who tested positive before the Big 12 Tournament, would be cleared to rejoin the team later this week.
Please enable JavaScript to view this content.