Noblesville officials are working to establish a master-planned innovation district spanning more than 280 acres on the city's southeast side, Noblesville Mayor Chris Jensen announced Tuesday.
Called Innovation Mile, the proposed master-planned district is expected to encompass roughly 200 acres along 141st Street, between Olio and Prairie Baptist roads, for development as a corporate campus.
Jensen said during his State of the City address that the plan is to create shovel-ready sites near Interstate 69 for companies with a similar focus that would benefit from shared amenities. City officials said they have not yet determined a price tag for the project, but Noblesville Economic Development Director Andrew Murray said the Innovation Mile could leverage more than $500 million in private investment as it's developed over the next 10 to 15 years.
"Innovation Mile is our next step when it comes to economic attraction in the city of Noblesville," Jensen said. "We're looking for high-tech companies focused on the med-tech, scientific world that are innovative, creative and looking for a collaborative space."
Murray said Innovation Mile's key advantage will be its ability to meet "speed-to-market" demand from companies that want to move quickly.
"We're trying to provide an environment and a space for our targeted industries. It's providing a campus where like-minded, innovative individuals and companies can be around each other," Murray said. "That's medical technology, life science innovation, wholesale trade, professional and technical services."
The city owns just 15 acres in the target area, so it will need to either acquire private property or work with property owners in the area to secure development rights to the land. The area's insufficient utility and sewer connections also will need to be addressed, so the city will consider making investments in public infrastructure including roads, stormwater and other amenities.
"We'll have to walk and chew gum at the same time, here," Jensen said.
Jensen said all approaches to public incentives will be on the table for the district, but the city will be selective in what it offers to attract companies.
"Noblesville is the area that has space in Hamilton County, so we're not just going to use that for anything," Jensen said. "We have changed the way we approach investment because quite frankly, with a 2.1% unemployment rate, we don't have to invest in anybody and everybody that comes to Noblesville. We have to make smart investments."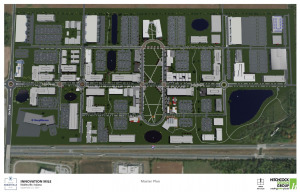 Jensen pointed to Auburn Hills, Michigan-based BorgWarner Inc.'s existing facility at 13975 Borg Warner Drive—already in operation within the target innovation district area—as an example of the type of companies that would be compatible with the city's vision.
BorgWarner researches, develops and tests propulsion-system products for combustion, hybrid and electric vehicles out of its $28 million, 100,000-square-foot facility.
"We have a key anchor there already with BorgWarner," Jensen said. "I think BorgWarner times 20 would be great."
Murray said the city's next step will be to update its comprehensive plan and its zoning/development standards to reflect the master-planned development.
"This should occur within the next 3-6 months, if not sooner," Murray said. "The last 12 months we have reflected where the city is going, and we believe there is a lot of opportunity with this real estate. We felt it imperative to provide a vision to the economic development community."
Please enable JavaScript to view this content.