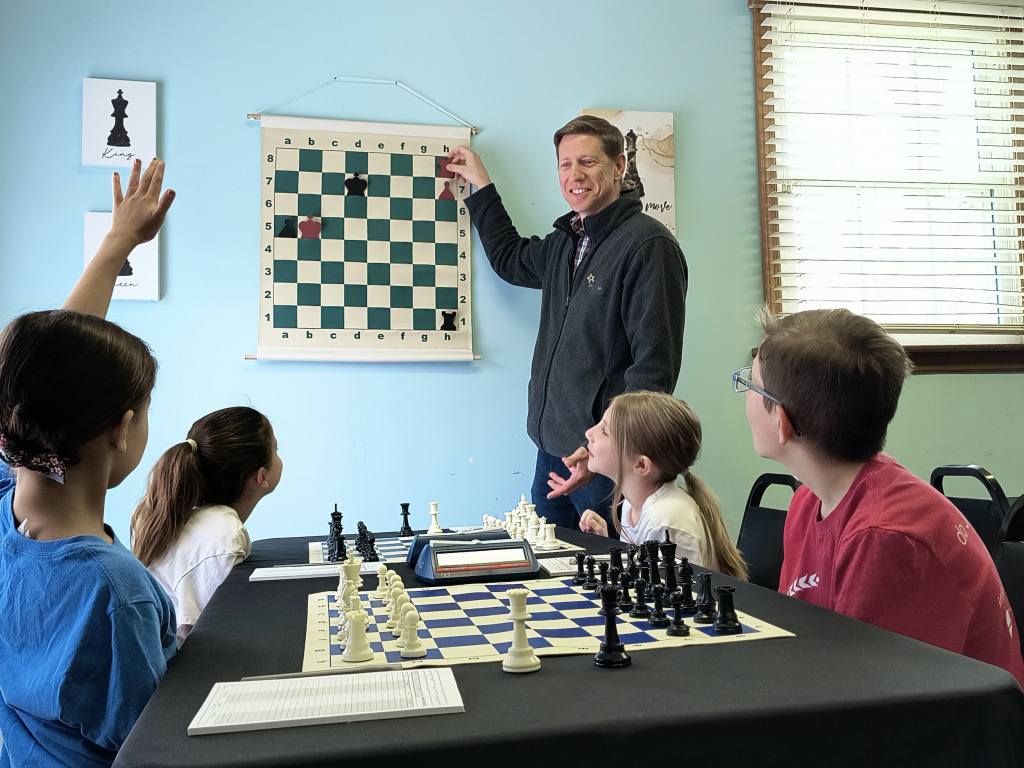 Similar to countless people who dug into a hobby during pandemic lockdown, Mike Chapuran immersed himself in chess.
He embraced the game to the point that he stepped down as executive director of Family Promise of Greater Indianapolis, an organization that rehouses families in need, to become the first executive director of a different not-for-profit, Indy Chess.
Chapuran, who continues to work in a part-time capacity at Family Promise, became the leader of youth-focused Indy Chess in April.
"I realized that what made me happy at the end of the day was coaching kids," Chapuran said. "Thanks to working in a homeless shelter I had patience for all different kinds of behaviors that might come from trauma or hunger or anything else that I found. I really liked working in direct service, and chess gave me a way to do that."
Inclusion is a primary goal for Indy Chess, which is working to endear the game to girls and multiple racial groups.
"We want to promote chess and the lessons it teaches," Chapuran said. "The second sentence of our mission statement emphasizes accessibility for all, which implies it hasn't always been that way. We're going to try to fix that."
Chapuran said the organization's strategies for inclusion are evident in a partnership with Indianapolis Public Schools and the launch of Indy Chess workshops for girl players.
Indiana University alum Chapuran coaches chess as a volunteer at Center for Inquiry School 27, 545 E. 19th St.
Forty years ago, sixth-graders from the school, known then as IPS 27, won the National Elementary School Chess Tournament in Memphis, Tennessee. Made up mostly of Black students, the team had a nickname of "Masters of Disaster," visited the White House and played tournaments in Japan after taking the 1983 U.S. title.
Chapuran said Indy Chess wants to rebuild a competitive legacy at the school.
"We believe that the rigor and the fire of competition helps you test your mettle," he said. "It helps you know what you need to work on and how you can have pride in yourself after you've faced good competition. That's where you learn. You win or you learn."
On May 19, Indy Chess hosted the IPS Chess Club Tourney & Celebration at the former Broad Ripple High School. Nine schools and more than 100 students participated.
"IPS said this is academic enrichment," Chapuran said. "This falls under some of their STEM goals, and we're excited about that. The links between chess and coding and software are huge."
Indy Chess, which was founded in January, joins existing not-for-profit Indy's Inner-City Chess Club in a similar mission to grow the game. Established in 2014, Indy's Inner-City Chess Club will present a youth tournament June 17 at Military Park in White River State Park as part of Juneteenth festivities.
Regarding girl chess players, Chapuran said they're underrepresented at every tournament.
At last month's 82nd annual Indiana Chess Championship, Chapuran said no women players were present among the 80 participants and two girls younger than 18 played.
An upcoming Indy Chess summer workshop series for girls will feature instruction by seventh-grader Madison Brown and eighth-grader Laura Escobar.
Chapuran said his elementary school-age daughter has played in tournaments but might be losing interest because other girls rarely are present at events.
"I don't want that to happen with other girls who do have a passion for it and just lack the community, or for parents who are nervous about leaving them at a chess tournament when there's only men and boys around," he said.
Meanwhile, adults are not left out of Indy Chess events.
The organization will present the first Corporate Chess Challenge tournament on Oct. 14 at a downtown Indianapolis venue. Chapuran said teams of four players will compete to become "Indy's Smartest Company" during the fundraiser for Indy Chess. For more information, visit indychess.org.
Please enable JavaScript to view this content.