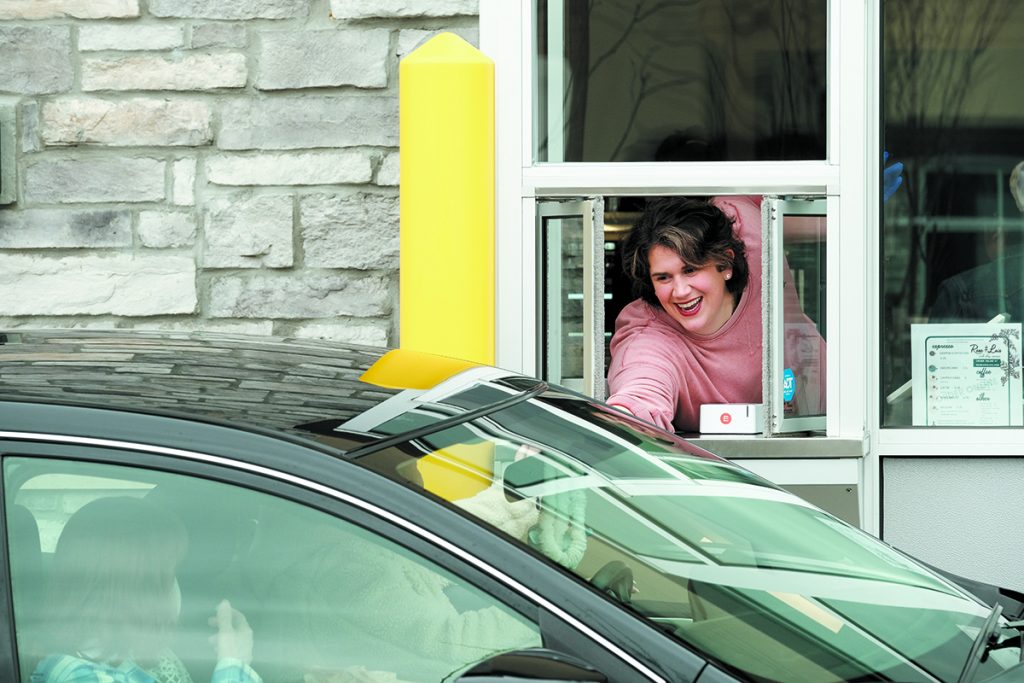 Opening her own cafe was 15 months in the making.
And then on the day Rachel Priddy, 31, finally got word from her contractor that she could apply for a certificate of occupancy to open her coffee shop in Carmel, Gov. Eric Holcomb ordered all restaurants to shut down in-person dining, although the move allowed them to continue serving takeout and delivery.
Opening the doors to Rose & Lois, named after her daughters—Amberlee Rose and Anna Lois—was going to be trickier than expected.
Thankfully, Priddy thought, she had been relentless about finding a location with a drive thru. Options in Carmel had been limited and drew out her timeline for opening, but now, that drive thru is helping keep the brand-new coffee shop afloat.
Rose & Lois officially opened March 19, three days after the governor's order. Priddy and her team ramped up efforts to establish online ordering, added delivery and put in place "no contact" service by accepting only credit cards customers can swipe themselves.
So far, Priddy is optimistic. The traffic in the shop is enough so far to keep all 10 of her workers employed. Four are currently self-quarantining, which means the remaining six are getting as many hours as they want, she said. Since the coffee shop just opened, she doesn't have numbers to track how successful it has been, but initially, it seems the sales are enough to keep Rose & Lois going, she said.
"We've had really great customers supporting us," she said. "I just feel really blown away by how people have supported us."
Just this week, she extended the hours the shop is open, pushing closing time to 7 p.m. to serve the dinner crowd.
She looks forward to the day families and their dogs can take advantage of the shop's outdoor patio, to when children can use the space in the shop specifically designed with them in mind, featuring a Lego wall and more. And she can't wait to serve other small businesses—like real estate agents, photographers and more—by opening her meeting space, which features plenty of windows and glass doors.
But for now, she's grateful for the customers supporting the 1,500-square-foot shop in whatever way they can.
Customers visit for a cup of joe and are just happy to see a smiling face at the drive-thru window, she said. Her baristas might be the only person customers have seen in days. She calls it "barista therapy."
And last Saturday, a customer who was looking for a way to thank essential businesses placed a $75 order to be delivered to a local grocery store. Priddy's team was able to deliver cold-brew coffee, soup, bread bowls and more to neighbors working in a stressful environment.
The shop also played a small role in helping one woman celebrate her birthday. She and friends—albeit 6 feet apart—stopped by for coffee before spending some time on a local trail.
It's those stories that keep Priddy going amid a grand opening she never expected to play out this way. And she's staying optimistic despite all the uncertainty. She submitted an application this week for a U.S. Small Business Administration loan that could help her continue to pay employees and rent.
"I think it's a personal time of growth," Priddy said. "Being scrappy, adapting, being flexible. I think if we can weather this storm, we'll be a better business for it. We're just really trying to learn who our customers are and what their needs are."
"It's always been my dream to have a cafe," she added. "We're just going to keep working at it."
Please enable JavaScript to view this content.