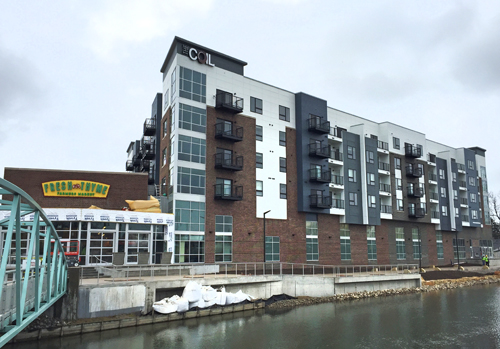 Broad Ripple's most prominent apartment property has been sold for a second time in three years—this time with a big boost to its closing price.
The Coil, 6349 N. College Ave., was acquired by Dayton, Ohio-based The Connor Group in late November for $57 million. The 151-unit complex occupies 2.74 acres near the heart of Broad Ripple, along the White River.
"We are incredibly enthusiastic about The Coil," The Connor Group vice president and partner Brock Wright told IBJ. "The Broad Ripple submarket is a fantastic location, and we believe this area will only continue to improve over the long term."
The Connor Group will self-manage the property, taking over those duties from Indianapolis-based Flaherty & Collins.
The purchase comes just three years after the property was sold for $40.7 million to Chicago-based Promus Holdings LLC by a partnership of locally based firms Browning Investments and Sheehan Construction, which completed the project in April 2017 after a long public debate over its size.
Browning assembled several parcels to develop The Coil, including a vacant Shell gas station and several low-rise apartments. The development cost $37 million to build.
The property is anchored by a Fresh Thyme grocery store that is under a long-term lease—it's not clear how many years remain on the store's contract—and a 332-space parking garage.  It also has an outdoor courtyard and a 24-hour fitness center.
Like most other Indianapolis properties, The Coil has seen extensive rent growth in recent years. While Wright stopped short of affirming plans to further that growth under the new ownership, it's something that will likely continue given market conditions.
Monthly rents range from $1,399 for a 623-square-foot studio to as much as $3,699 for a two-bedroom, two-bathroom unit. Those rents reflect a 28% and 21% increase from late 2018, respectively.
The property went on the market in March, and the sale was completed in late November, according to a state sales disclosure form. The purchase price is a 33% increase from the previous sale, a reflection of inflation across all parts of the market and the increases in rent at the property.
The deal was brokered by Steve LaMotte and Dane Wilson, with the Indianapolis office of Dallas-based brokerage CBRE.
Wright said The Connor Group plans to own the apartment property for several years. The company also owns The Domain at Bennett Farms in Zionsville.
"We currently operate in 16 different markets and anticipate growing within our current markets while strategically entering new ones over the next four years," he said. "We love the Indianapolis area. This market provides great opportunities to buy high-quality real estate in great locations, and we fully expect to operate here long term."
Apartment projects totaling hundreds of units have been constructed in Broad Ripple Village since the completion of The Coil, and projects in the pipeline indicate that developers still see a lot of demand for the area.
Those now underway include a 234-unit project on the former Kroger store site at 6220 Guilford Ave. That $65 million complex from Gershman Partners Inc., Citimark Inc. and Milhaus LLC is expected to also have a 240-space parking garage and 3,600 square feet of street-level restaurant space.
Nearby, Keystone Group is forging ahead with plans for an addition with apartments to the Broad Ripple parking garage on College Avenue, after confirming earlier this year that the project would be modified to account for changes in plans for Purdue Polytechnic High School, which was supposed to be part of the development. Construction on that project is slated to start next year.
The Eight Eleven Group this week had a ribbon-cutting for its project at 6207 N. College Ave., a two-building complex consisting of a headquarters for the staffing company and 36 apartments. The four-story buildings are expected to total 60,000 square feet of office space, along with the apartments and structured parking.
The city of Indianapolis also is planning to build a new fire station directly north of The Coil, on the former site of  Johnny's Market, replacing the station at 6330 N. Guilford Ave.
Please enable JavaScript to view this content.