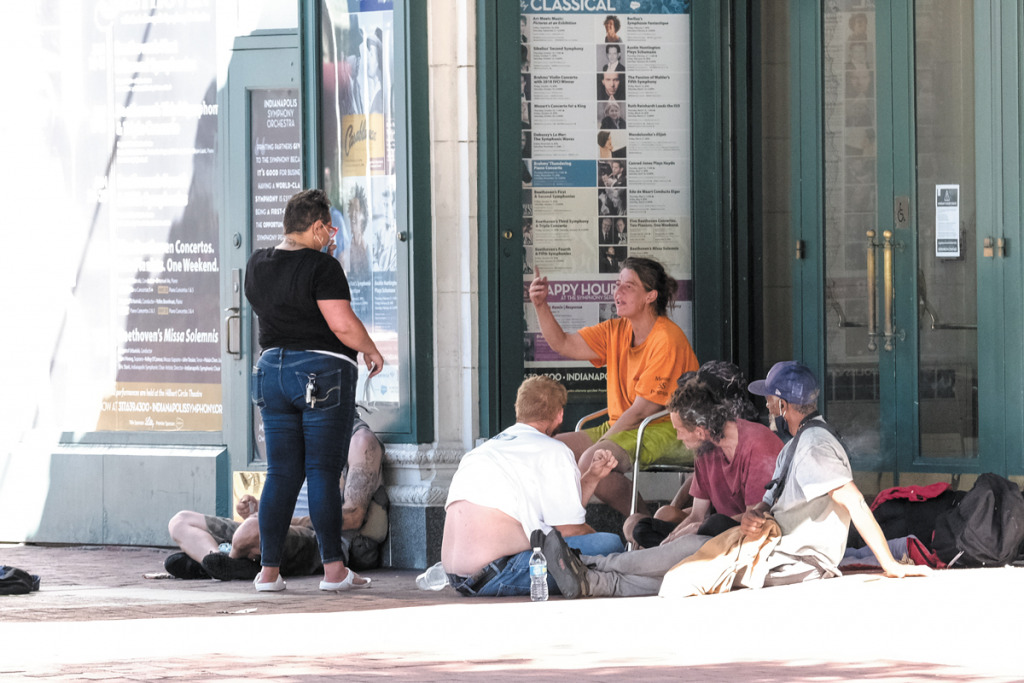 Homelessness has become a more visible problem downtown as shelters have been forced to operate at reduced capacities and a city-operated addiction center for homeless residents shuttered for months during the pandemic.
For weeks, camps of people experiencing homelessness and those suffering from substance use disorders have settled in on Monument Circle and near City Market, panhandling passersby and sleeping in front of storefronts and restaurants.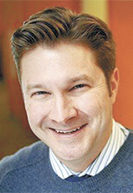 Some business owners say the scene is keeping customers away at a time they desperately need them and that the city hasn't done enough to serve the homeless population during the coronavirus crisis.
Homeless advocates, meanwhile, say it's hard to tell whether the number of residents experiencing homelessness has increased or whether the perceived increase is actually a reflection of reduced services that have put more people on the streets.
Nonetheless, the pandemic has brought into sharper focus problems that have long ailed the city.
"Really, what COVID has done, maybe more than anything else, is kind of shine a light on people who are vulnerable across the city, and it has kind of magnified the challenges that vulnerable populations face, whether it's homelessness or access to health care, access to mental health care, access to housing and shelter," said Deputy Mayor of Community Development Jeff Bennett. "What's happening downtown are many of the same challenges that go on downtown year in, year out in cities across the country. The pandemic has just magnified the challenges."
On any given night, as many as 125 people make the streets of downtown their home, according to data from Downtown Indy and the Coalition for Homelessness Intervention and Prevention.
Citywide, more than 1,500 people experience homelessness at any given time, according to the 2019 point-in-time count, which counts people experiencing homelessness around the city one night in January each year.
Brenda Barrett, owner of Jack's Barber Shop, which has operated at City Market for 15 years, said she's never seen the area around the market look so bad. Although the situation has improved recently, merchants around City Market for weeks saw litter pile up, illegal activity such as drug use take place, and fights break out. She also heard reports of people urinating and defecating outside the building.
More than one customer has canceled an appointment, Barrett said, because they didn't feel safe around City Market.
Barrett said the problems aren't necessarily being created by people experiencing homelessness. Instead, it's people looking to cause trouble, she said. "It's not more homeless people we're seeing. It's drug dealers. These are not the homeless people we're used to seeing."
Greg Bires, owner of Windsor Jewelers, at 16 N. Meridian St., has similar concerns. He reopened his Monument Circle store in June after making repairs caused by looting during the riots in late May. But he said during an IBJ Podcast interview that he's concerned about what the problem with homelessness and panhandling will mean for downtown—and he doesn't understand why the Hogsett administration isn't doing more to address it.
"I'm telling you [that], outside [my door] right now, nobody's controlling anything," he said. "There are people that are allowed to, basically, move in and live on the street. I feel sorry for these people because they need help. And I know our shelters are closed now, and I know there's no hospitals to help them, but that's what I feel our city's job has to be.
"When I look outside, I'm not seeing anybody aiding these people."
Reduction in services
Mayor Joe Hogsett told IBJ last month that city officials have been working to create long-term solutions for homeless residents.
"I don't think it's fair to say that we're doing absolutely nothing," Hogsett said. "We are working diligently to try to address those problems."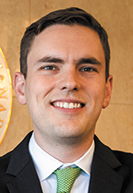 Bennett said that work began in early March when Indiana reported its first COVID-19 case.
In the first few days, the city ordered hand-washing stations and placed them around downtown to encourage good hygiene among homeless residents. The city also worked with service providers to offer daily meals since some not-for-profits that usually provide those meals had scaled back operations.
It became clear quickly, however, that the traditional congregant shelters that serve people experiencing homelessness couldn't keep clients safe from COVID-19 while operating at full capacity, he said.
Shelters have had to reduce, by as much as half, their number of beds, which could be contributing to more people sleeping outside, especially because it's summer.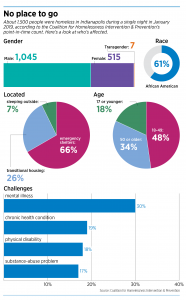 For example, Wheeler Mission's men's shelter, at 520 E. Market St., can sleep up to 500; during the pandemic, its capacity has been reduced to 250, said Chelsea Haring-Cozzi, executive director of the Coalition for Homelessness Intervention and Prevention.
And in March, the city shut down the Reuben Engagement Center, which provides shelter, case management, mental health evaluations and housing referrals to individuals experiencing homelessness who have substance-use-disorder or mental-health diagnoses. The Reuben Engagement Center is housed in an old building at 746 E. Market St. that lacks adequate ventilation to protect employees and clients, forcing a full closure.
City officials say they don't think there's a direct correlation between the Reuben Engagement Center closing and the increase in homeless activity downtown. Rather, it's a combination of many services for homeless people being reduced or closed by the pandemic.
Some organizations had to cut staff or redirect them to different tasks, taking away their ability to operate day centers.
Horizon House had closed its day center at 1033 E. Washington St. until recently so staff could work on outreach efforts. And other places homeless people can spend the day, such as the library or City Market, were closed during the height of the pandemic.
Haring-Cozzi said the city and advocates need a better understanding of who is hanging out downtown because they have no place else to go and who is there for other reasons.
"We'd never want to have people living in places not meant for human habitation, right?" she said.
"That's always a challenge and something we've been working on. But I think COVID-19 has just made it that much more acute and visible, honestly."
Marcie Luhigo, director of development and communications at Horizon House, said there's no hard, comprehensive data about how many people are experiencing homelessness during the pandemic because service providers and volunteers have been so focused on providing life- and health-sustaining services.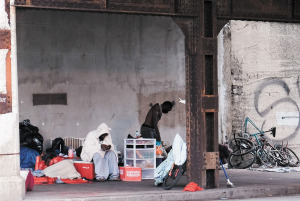 But Horizon House is seeing many new faces, Luhigo said, both on the street during outreach and at Horizon House.
"We're greatly concerned about the number of people in central Indiana who are on the verge of becoming homeless," she said.
What's being done?
Beyond setting up hand-washing stations—and later portable restrooms—around downtown areas where homeless people congregate, the city and the Marion County Public Health Department constructed temporary overflow shelters at the Indiana State Fairgrounds and Washington Park.
But shortly after they were established, new guidance advised that people experiencing homelessness, especially those with heightened vulnerability to COVID-19, shouldn't sleep in congregate settings, such as shelters with shared rooms, said Matt Giffin, deputy director of the Indianapolis Office of Public Health & Safety.
That's when the city decided to use federal funding from the Coronavirus Aid, Relief and Economic Security Act to block off hotel rooms for homeless residents.
The city and the health department both have holds on rooms at an unidentified hotel near the airport, he said.
The city has 180 rooms there, and the health department has about 150, including some for homeless people who need to isolate because they have been diagnosed with COVID-19 or are waiting for test results. Thirty of the city's 180 rooms are reserved for Reuben Engagement Center clients. The city reopened the center at the hotel two weeks ago and the center's staff is back working.
Haring-Cozzi said hotel rooms provide a safe sleeping space for homeless neighbors, but some won't go there because they fear it's where they could contract COVID-19. They feel safer sleeping outside. Some even enjoy it.
Giffin said the city will have rooms available at the hotel through mid-October but should be able to provide non-congregate housing to residents through the winter months, hopefully buying time for a vaccine to be developed.
While the approach to sheltering homeless residents has evolved since March, he said, the plan now is the most sustainable through the rest of the pandemic.
And while residents are staying at the hotel, the goal is to connect them with wraparound services and get them into permanent housing, Bennett said.
"The exit strategy is what's important," the deputy mayor said. "So this isn't just indefinite sheltering, but an exit into housing."
Additionally, last week, the city deployed $2.7 million in CARES Act funding to organizations that will help quickly rehouse people living in temporary non-congregate housing, help operate emergency non-congregate temporary shelters and prevent homelessness for people affected by the pandemic. Organizations receiving the funding include ASPIRE Indiana Health, Coburn Place Safe Haven, Horizon House, Helping Veterans & Families of Indiana and Family Promise of Greater Indianapolis.
Long-term strategies
Haring-Cozzi said the city's coordinated response with the health department and service providers has been "phenomenal."
But long term, the focus must be on adequate permanent housing. That's the only way to end chronic homelessness, she said.
"This—now more than ever—shows that housing is a health care solution. And housing really is health care. The best and healthiest place for people to be is in housing," she said. "So, the push now is to really direct efforts and investment into permanent housing solutions."
Hogsett's administration has been focused on increasing the number of permanent housing units available to homeless residents.
And it's taking a housing-first approach, which means permanent housing comes before services such as money management and substance abuse.
The city, in partnership with the Central Indiana Community Foundation, last year launched the Housing to Recovery Fund with the goal of raising $4 million to fund services to help sustain permanent housing with the ultimate goal of ending chronic homelessness.
To date, nearly $2 million has been committed. In July, the city announced the first recipient of a grant from the fund.
Horizon House will receive $560,000 to expand the capacity of its housing navigation and intensive case management services with the option to receive an additional $90,000 once agreed-upon outcomes are reached.
The funding will support permanent supportive housing for 120 individuals or families who were previously homeless for a one-year period.
There are also concerns that, when the state's eviction moratorium eventually expires, many people who have been guaranteed housing during the pandemic will be evicted and have no place to call home.
Funds established by the state and city to provide rental assistance to Hoosiers whose income was cut by the virus are already tapped out.
Bennett said the administration plans to go back to the Indianapolis City-County Council to ask for a second round of funding for rental assistance, but the program is funded by CARES Act money, which is not limitless.
"The eviction issue is one that's concerning," he said. "I think there is an overarching concern at some point that there could be more people forced into challenging situations related to housing that aren't currently homeless. It's certainly on our minds, and it's something that will take a response from all levels of government and philanthropy beyond just the city."•
Please enable JavaScript to view this content.