Since the early days of the Internet, public libraries have offered a place for patrons to get online.
Now, the push is to extend that access beyond the library's walls—and central Indiana libraries are eyeing a new $7.17 billion federal grant program as a way to boost their efforts.
The application period opens Tuesday for the Emergency Connectivity Fund, which will reimburse libraries and schools for the purchase of laptops, tablets, Wi-Fi hot spots and other equipment to provide off-campus internet access. The program is part of the American Rescue Plan, a $1.9 trillion federal coronavirus relief package enacted in March.
"Wherever you are in your [internet] lending program, you can now add to it," said Marijke Visser, senior policy advocate at the American Library Association. "We're really excited about that opportunity for libraries."
Off-campus internet access is still relatively uncommon among libraries. According to a survey conducted last fall by the Public Library Association, only 32.6% of U.S. library systems said they offer Wi-Fi hot spots for checkout at one or more of their branches. Fewer than that offered computers for checkout—16.7% said they offered laptops, and 15% offered tablets.
The Indianapolis Public Library, the largest library system in the state, used a grant from Google to purchase Google Chromebook computers and Wi-Fi hot spots for its Martindale-Brightwood branch in 2018. It added the devices at its Haughville branch earlier this year. The library currently has 87 Chromebooks and 257 AT&T Wi-Fi hot spots between the two locations.
John Helling, IndyPL's chief public services officer, said the library system chose Martindale-Brightwood and Haughville because the need in those neighborhoods is greatest. The system plans to apply to the Emergency Connectivity Fund to add similar services at additional branches.
"It would probably not be at every location," Helling said. "We would target future branches in the same way—basically, who needs it most."
Before the pandemic, Helling said, the Chromebooks and hot spots were in continual demand. "In the pre-COVID world, there was a bottomless demand for this kind of access."
Demand for all library materials and services dropped off during the pandemic and hasn't fully rebounded, he said. On Tuesday afternoon, 75 of the hot spots and 40 of the Chromebooks were checked out.
So it's hard to say whether pre-pandemic levels of demand will return, Helling said, but he does think the pandemic has accelerated libraries' push to provide more off-campus internet access. "We just know that people need it, and we want to provide it."
Also on board
Other library systems say they're also planning to apply for the Emergency Connectivity Fund.
During the application window, schools and libraries can apply for reimbursement for purchases made from this July 1 to June 30, 2022. If money is left over after that, a second application window will open for purchases made from March 1, 2020, to this June 30.
Shelley Huffman, marketing and communications director at the Hamilton East Public Library in Hamilton County, said her system plans to apply to the Emergency Connectivity Fund for reimbursement of its expanded Wi-Fi coverage last year.
Hamilton East operates libraries in both Noblesville and Fishers. From April through early fall last year, Hamilton East extended its Wi-Fi network into the parking lots of both facilities, so patrons could have an online connection even during the pandemic shutdown. The library spent $1,387 on the temporary Wi-Fi expansion.
The library is also exploring what other purchases might be eligible for reimbursement under the Emergency Connectivity Fund, Huffman said.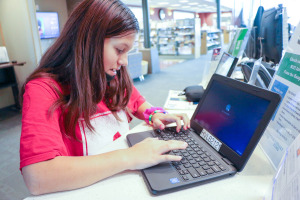 The library system also secured a CARES Act federal coronavirus relief mini-grant to purchase 11 Wi-Fi hot spots that it put into circulation in April at both of its branches.
"If there is demand, we plan to add 11 more in 2022," Huffman said in an email.
The Shelby County Public Library is considering purchasing laptops or additional hot spots for which it could seek Emergency Connectivity Fund reimbursement, said Janet Wallace, the library's director.
The library operates a main facility and a nearby annex in Shelbyville, along with a branch in Morristown. The system added two hot spots in March "and they are checked out pretty much all the time," Wallace said in an email. In April, she said, the library also added Wi-Fi service to a well-used outdoor plaza that sits between its two Shelbyville facilities.
The American Library Association's Visser said it's too early to tell whether the fund's $7.17 billion will be enough to meet demand for all the libraries and schools that apply for funding. "That's kind of the question that everyone wants to know—us, too."
But for various reasons, not every school or library will apply.
The Johnson County Public Library, which operates four branches, has decided not to pursue the program, said spokesman Jody Veldkamp. "With the short window for creating the plan and completing the application," Veldkamp said in an email, the library felt it "would not be able to effectively compete for funding."
The FCC announced on June 15 that the program would begin accepting funding applications in two weeks.
Financial and data privacy concerns might also keep some libraries from applying.
One requirement of the program, Visser said, is that libraries keep records of who checks out the grant-funded equipment, and that they keep these records on hand for 10 years. For reasons of patron privacy, she said, libraries typically don't keep this data on file. The library knows when items are checked in and out, but once an item is returned, the library doesn't retain information on who checked out that item.
Some libraries might opt out because they don't want to, or are unable to, retain the required paperwork, Visser said.
The fund reimburses applicants up to $400 per tablet or laptop, and up to $250 per Wi-Fi hot spot. It doesn't include the cost of software for those computers, ongoing data plans or replacement costs for equipment that gets lost or damaged.
So, the fund won't cover all of a library's expenses, Visser said, and this might also be an obstacle.
But Shanika Heyward, innovation and technology director at the Indianapolis Public Library, said the need for at-home internet access is real.
Earlier in her career, Heyward worked as manager of the library system's East 38th Street branch. She knew patrons who couldn't afford broadband services at home, or who didn't know how to fill out an online form without help from a librarian.
"There are lots of people that have this digital literacy gap," Heyward said. "Some people don't know what a right click from a left click is."
Being able to access the internet at home, Heyward said, allows patrons to improve their digital skills and tap into resources for everything from learning a language to borrowing digital books and movies.
"I'm looking at it as a great opportunity for people to upgrade their skill set, which will improve their quality of life," Heyward said. "The library opens up all of those opportunities."•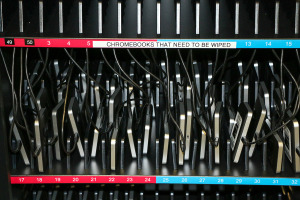 Please enable JavaScript to view this content.