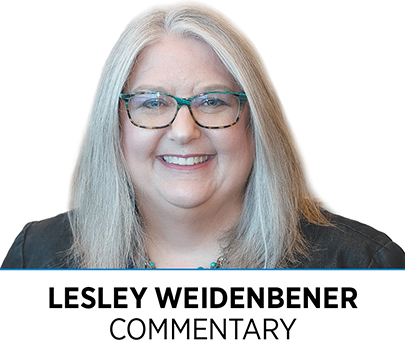 One thing I didn't know before I became an editor is that the job is less about editing stories and more about making decisions. Hundreds of decisions about coverage and our staff and our stories. Every day.
That doesn't make my job much different from that of most managers. And frankly, it's not even that much different from what reporters are doing every day. They decide what to cover, how to cover it, whom to interview, what to include in the story, and more.
In fact, widely reported research estimates that the average person makes some 35,000 decisions a day, which seems like it just can't be true—until I consider all the decisions I've made just since starting to write this column.
But I bring this up because what I've recently learned about myself is that when I'm tired or burned out, the road to recovery is not paved with sleep or spa appointments or a stiff drink (though those might not hurt, either). Instead, relaxation comes when I'm freed from making so many decisions.
This probably seems obvious to many people. But it wasn't to me. Not until last week, when I went on what was a truly lovely trip first to Asheville, North Carolina, to see the Biltmore House and then to Gatlinburg, Tennessee, and the Great Smoky Mountains National Park.
The trip with my husband and mom was primed for relaxation. We stayed in the carriage house of a beautiful bed-and-breakfast called the Biltmore Village Inn on the first night of our trip and enjoyed a scrumptious breakfast that included peach pastry cream and potato waffles (not together). We strolled the Biltmore gardens after visiting the house. And then made the picturesque drive to Gatlinburg, where we stayed at a modest condo overlooking a rushing river that lulled us to sleep each night.
Yet after numerous trips into the national park, seeing a bear, climbing the rocks along burbling creeks and taking photos from breathtaking vistas, I found myself no more relaxed on the drive home.
I realized it was because I had to make too many decisions. My mom and I have an amazing relationship. We have fun, she is incredibly easy to travel with, and she is hilarious. My husband is a gem. Truly. He is kind, honest and funny (just don't tell him I admitted that) and more than pulls his weight in every part of our lives. You couldn't ask for two better travel partners.
Except, well, they are so deferential. Not always, mind you; this is mostly a vacation thing. My husband always wants to ensure my mom feels included and happy with what we're doing. My mom is determined that my husband and I get to do and see whatever we want. Her common refrain is: "I'm with you guys."
So I'm left to make the decisions—when and where we eat, which route we take, which place we should choose to pull off and admire the mountains. And I get why that's the case. I'm not as nice as my mom or my husband. I'm a bit bossy (just ask my sister) and tend to make decisions quickly when under pressure. (That matters when you're driving down a highway trying to decide whether that next pull-off might be the one with the bear!)
But making all those decisions is exhausting. And so, this week, I've delegated a lot of decisions here at the office, which is undoubtedly the right thing to do, anyway. If you're feeling tired, you should try that, too.•
__________
Weidenbener is editor of IBJ. You can reach her at lweidenbener@ibj.com.
Please enable JavaScript to view this content.