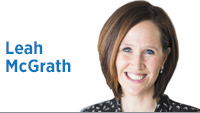 As we look around us, there is a feeling that things are not right. We see it in on TV, online and in the news.
We see division widen when we should be working to find common ground. We see too much hatefulness when we should be understanding. We see fear to challenge the status quo or party line, when we should fearlessly be seeking the best ideas and solutions. From the political stage to social media, we see posturing, when what we need is compassion and humanity.
All of this was on my mind as we put our three sons on the bus to start a new school year.
As the buses pulled away, I was filled with worry for the world they are faced with, and then I found hope. For when I look in the eyes of my children, I see hope.
These kids are part of the next generation that will change the world. I am convinced they will be the ones who treat others better than what we see happening today. They will choose love and forgiveness and put away their phones and social media in place of putting people first. They will disagree with one another but not hatefully. They will put away name-calling in favor of listening more and helping others.
The first day of school always brings a wave of emotion for me as I recall other firsts and marvel at how fast time goes. But this year it also brought me hope for this generation that holds my heart and our future.
And that day, I felt resolved to not let this moment in time define us. It was this resolve that almost led me to run for Congress. Ultimately, after much discernment, we realized it is not the right time for our family. But my resolve is unchanged.
We each own a piece of the culture. It is up to each of us to help turn this ship ravaged by stormy waters to a purposeful steer.
Starting at home in Fishers, I have had a front-row seat as Mayor Fadness and others have led transformation in our city by embracing the spirit of entrepreneurialism, and we have applied that value to everything we do. That approach has become a magnet for new ideas and for people who want to be a part of it. I've been proud to be a part of that change and progress.
What I've learned from entrepreneurs and innovators is that they are unafraid to challenge what others accept. They are curious and passionate. They are willing to put themselves out there. Sometimes they will fail, but always they learn.
We need more entrepreneurial spirit in our politics, in our policymaking. We need more openness to different ideas and new ways of thinking. We need to be OK when those around us fall as they reach to the top for something greater—and we need to help them stand again.
We have had a chance to reinvent the way city government operates in Fishers, and we can do it elsewhere, too.
Mother Teresa wrote, "Never worry about the numbers. Help one at a time, and always start with those nearest you." It starts with each of us. We must each find ways to own the culture we want to see in our homes, our communities, our state and our country.•
__________
McGrath is deputy mayor of the city of Fishers and is vice chairwoman of the Indiana Republican Party. Send comments to ibjedit@ibj.com.

Click here for more Forefront columns.
Please enable JavaScript to view this content.