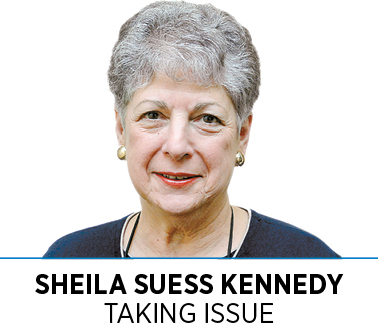 The death of P.E. MacAllister is an occasion for reflection—about a life well-lived, certainly, but also about the nature of civic virtue, and the changes in society and the economy that have made the civic commitment he exemplified so much rarer.
Younger readers might not have known P.E., or the extent to which he helped shape today's Indianapolis. His longtime friend Robert Vane was quoted in The Indianapolis Star to the effect that modern-day Indianapolis wouldn't exist had there been no P.E. MacAllister, and as someone who watched and worked with P.E. over the years, I concur.
Obituaries note that—among so many other things—P.E. oversaw construction of the Hoosier Dome, was pivotal in the revitalization of Indianapolis' downtown, was instrumental in the mayoral campaigns of Richard Lugar and William Hudnut, and established a national competition for opera singers. As devoted as he was to the Republican Party, P.E. was even more committed to the ideal of good government, and he lent his considerable intellect and reputation to the city's Republican and Democratic administrations alike.
As current Democratic Mayor Joe Hogsett put it in a written statement, "The greatness of P.E. is that he was not one thing, he was many things—a veteran, a businessman, a civic leader, and a philanthropist—his impact on our community cannot be overstated. Over the course of P.E.'s life, our city rapidly evolved and much of the vibrancy we enjoy today is a direct reflection of P.E.'s generosity and vision."
P.E.'s establishment of the opera competition reflected his support for the cultural life of the community as well as its political operation; his interview program on public television, recorded at IUPUI, was testimony to his wide-ranging intellectual interests.
His paraphrase of a favorite Bible verse really summed up P.E.'s approach to civic responsibility: "From those to whom much is given, much is expected."
It has been 40-plus years since I served in the Hudnut administration, and Indianapolis has changed dramatically in that time. Most of those changes are to be applauded—and a not-inconsiderable number of them are the result of the vision and hard work of people like Bill Hudnut and P.E. MacAllister and Tom Binford and other successful businessmen (and yes, they were mostly men back then) who devoted themselves to civic improvement projects and encouraged others to participate in civic life.
The business and professional community in Indianapolis has changed over the years, and those changes have diminished the ranks of leaders like P.E. Rather than banks, law firms and businesses rooted in and dependent upon the health and flourishing of the local community, we increasingly have local "branches" of national enterprises. With many of the banks and businesses, especially, managers "rotate," living in Indianapolis for a few years before being promoted to a more senior position in another part of the country.
It's understandable why people who are here for relatively brief tenures would be less engaged in the often-long-term efforts to improve Indianapolis, but we are poorer for the loss of people who see themselves as permanent residents of what Bill Hudnut and others before him called "no mean city," and feel a responsibility to work for its improvement.
What P.E. MacAllister represented for so many years was, simply, the ideal of commitment to community. He believed that people who benefit from a stable society have an obligation to participate in and support the communal life of that society.
Indianapolis has lost an exemplary member of our community, and many of us have lost a valued friend.•
__________
Kennedy is a professor of law and public policy at the Paul H. O'Neill School of Public and Environmental Affairs at IUPUI.
Please enable JavaScript to view this content.