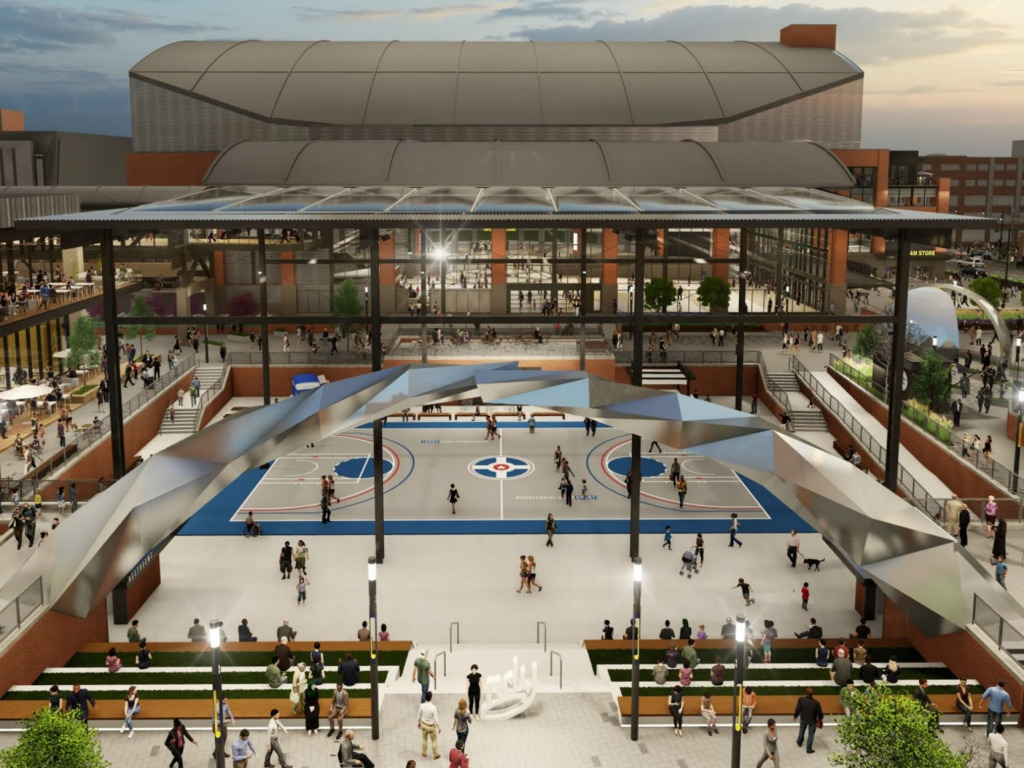 The public plaza under construction north of Gainbridge Fieldhouse now has an official name as well as plans for two public sculptures created by Honduras-based artist Herman Mejia.
Bicentennial Unity Plaza, named in reference to the 200th birthday of Indianapolis in 2021, will be home to a large arched sculpture titled "Together" and a dome-like installation titled "Sphere."
Amenities including the sculptures, a community basketball court/ice rink and public restrooms are being funded through a $28.5 million grant from Lilly Endowment Inc.
The Capital Improvement Board, which owns Gainbridge Fieldhouse, announced the plaza's name and art installations Friday as part of ongoing renovations to the downtown arena, 125 S. Pennsylvania St.
In addition to being a site for pickup basketball games in mild weather and ice skating during winter months, Bicentennial Unity Plaza will be used for community programs, civic conversations and artistic performances.
"It's a great event space, and 80% of those events are going to be community-based," said Andy Mallon, executive director of the CIB. "We're really focused on creating a destination that benefits all of central Indiana. Downtown Indianapolis is everybody's neighborhood. Everybody has ownership in downtown."
Construction of the plaza is expected to be completed by the end of this year. Mejia's sculptures likely will be installed in early 2023, Mallon said.
The larger artwork, "Together," will be 30 feet tall and 110 feet long. Made of stainless steel and limestone, "Together" features two rising arcs that are nearly aligned but need a third component, a limestone keystone, to join in the middle.
"It's a symbol of, 'We don't always get it square, but we keep trying,' " Mallon said.
Mejia was partially inspired, Mallon said, by the "Landmark for Peace" sculpture at Dr. Martin Luther King Jr. Park, 1702 Broadway St., in Indianapolis. "Landmark for Peace" features depictions of King and Robert F. Kennedy, two leaders assassinated in 1968, reaching toward one another.
Mirrored alcoves at the two bases of "Together" are designed for visitors to capture photos.
The "Sphere" sculpture is primarily geared for visitor interaction. Two screens inside the artwork will display live images of people at the plaza as well as photos of Indianapolis landmarks. In a nod to basketball played inside Gainbridge Fieldhouse, "Sphere's" height is 23 feet, 9 inches, or the distance between the NBA 3-point line and the basket.
Pacers Sports & Entertainment will manage the plaza.
According to the CIB, the present allocation of the Lilly Endowment grant breaks down as:
$10.18 million for artwork and landscaping;
$6.5 million for site preparation and utilities;
$4.95 million for plaza elements including the basketball court/ice rink;
$2.5 million for restrooms and concessions building;
$2.38 million for a canopy above the basketball court/ice rink;
$1.26 million for storage and connectivity;
$700,000 for miscellaneous costs.
Please enable JavaScript to view this content.