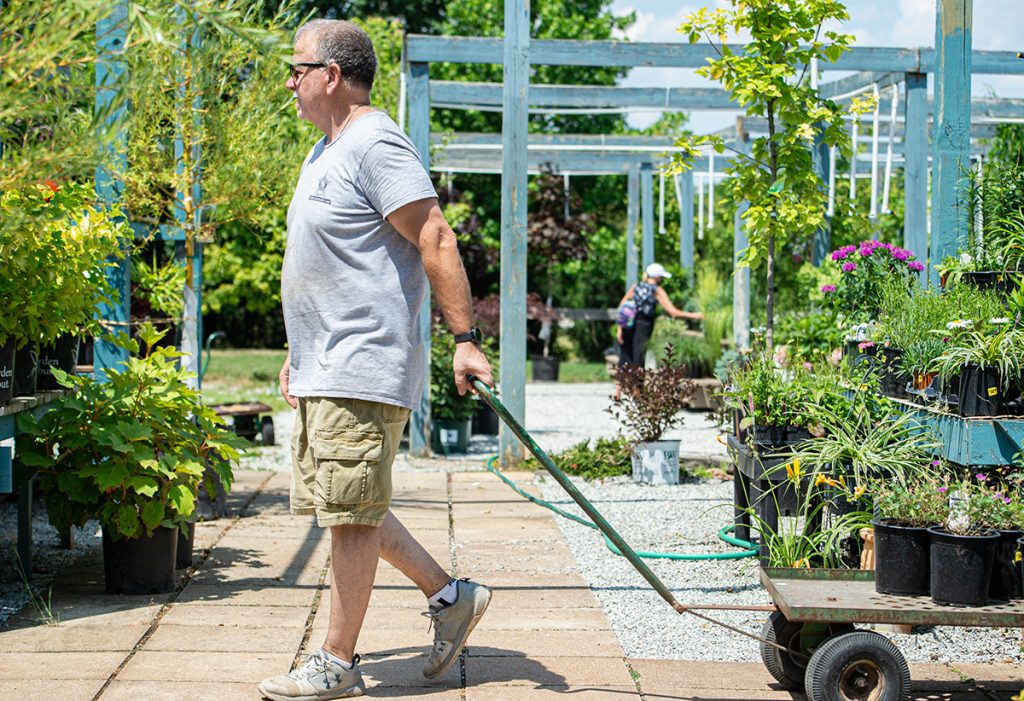 Area garden centers saw more green than usual this spring.
Stay-at-home orders led central Indiana homeowners to spend money on their outdoor living spaces, even after a slow start to spring.
Some homeowners simply had more time to spend on their gardens and wanted to share the experience with kids who were home-schooling. Others sought to grow their own food when they saw shortages in grocery stores. And still others invested in their back yards because they were spending so much time there.
"We sold probably double what we did last year during the spring time frame," said Leah Flanagan, owner of The Forest Flower garden center in Indianapolis. "There were a lot of first-time gardeners and a lot of families that had kids at home that wanted to use [gardening] as a learning opportunity."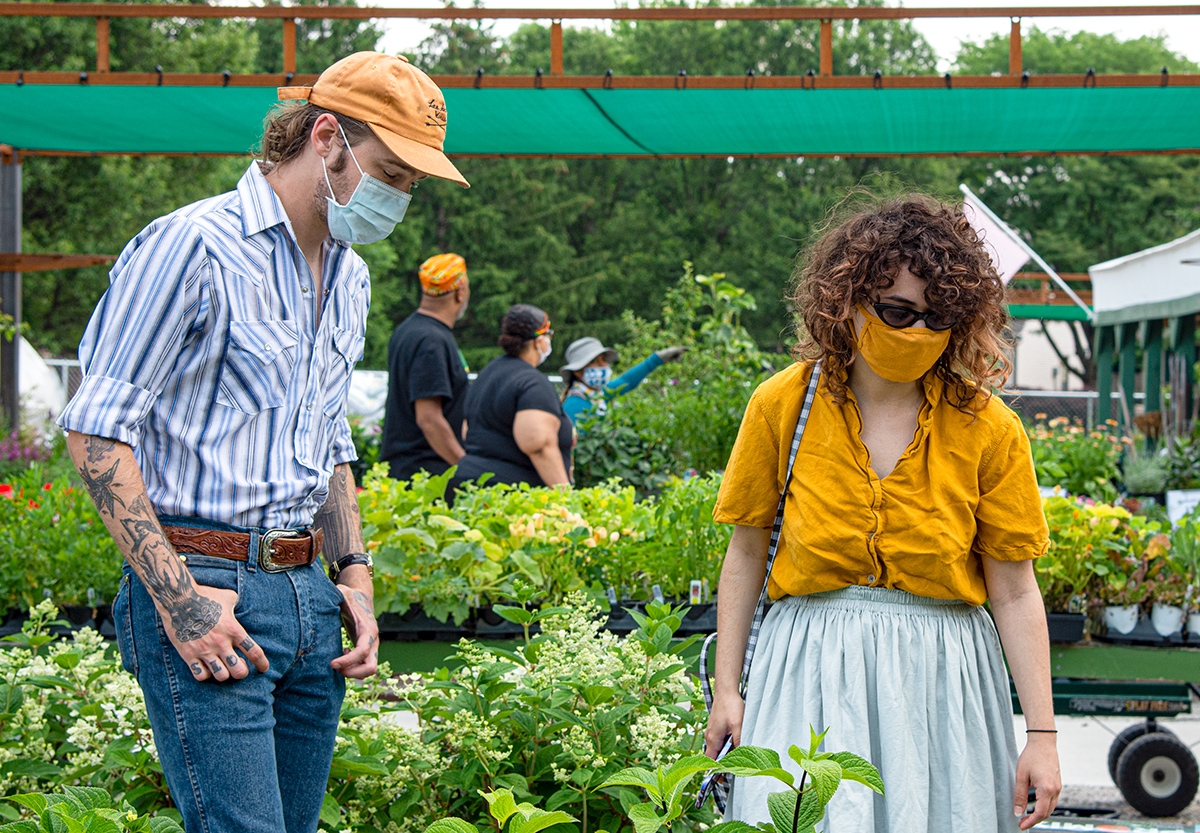 The U.S Census doesn't break out gardening supplies as a category in its monthly retail sales report, instead lumping them in with home improvement. But that category was up last month.
The May report found home-improvement sales increased 16.4% over May 2019, after remaining stable in April, even as sales at other retailers plummeted.
That's in part because garden stores were allowed to continue operating when others weren't.
Big-box stores with garden-related businesses never fully closed their doors in March when Gov. Eric Holcomb ordered most Indiana businesses closed—they were categorized as "essential" businesses.
Most nurseries initially closed, not knowing whether they qualified as essential, then reopened when they learned they did. Many provided drive-up or call-ahead service.
That's what The Forest Flower, which Flanagan acquired in 2018, has done. It started offering curbside pickup in April—going cashless at the same time, until early June. Visitors who prefer to shop in store are required to wear masks, and the staff also regularly sanitizes surfaces and encourages social distancing.
"We're just trying to keep everyone safe," she said. "We feel that plants, whether they're inside houseplants or outside flowers for gardening, are essential to people's health and well-being. We want people to shop safely and to have access to these things."
Rosie Lerner, a consumer horticulture specialist at Purdue Extension, said the number of inquiries from gardeners is "up significantly" over previous years, as is participation in online training sessions.
"Based on the [feedback] that I've been getting—both the volume and the types of questions—I think a lot of people, particularly earlier in the COVID-19 stay-at-home order, were searching for different kinds of activities," she said. "Certainly, the inquiries … are up."
Fred Richwine, who owns Geist Nursery, said the five-acre garden center spent most of its spring season selling plants and other materials through curbside pickup. He said the nursery has seen a big boost in sales, although he declined to offer specifics.
"We really didn't miss a beat," Richwine said. "I would say the big projects, like the hardscapes and design-build, have been slower, but those have since picked up. For everything, we just had to spread out this year so there was just a lot of space."
Busting budgets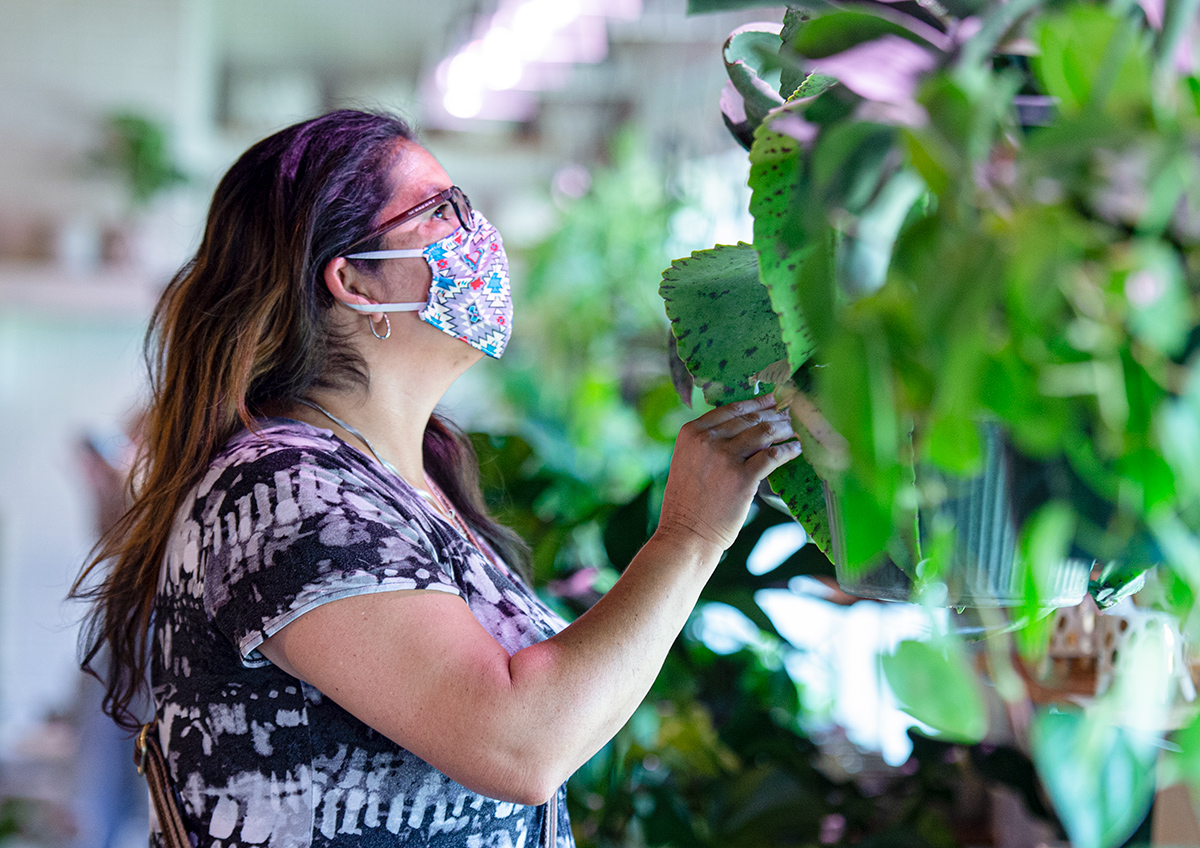 In fact, many gardeners are shelling out more than they otherwise might for gardening supplies and materials, said Ariana Torres, an assistant professor of horticulture and landscape architecture at Purdue University.
She said preliminary data shows customers who had planned to invest in their gardens or outdoor spaces this year have spent more than expected.
"If somebody had a budget … for their garden this summer, that budget has been doubled or tripled," she said. "That is bringing in new revenue to garden centers."
The biggest challenge posed by the pandemic for the industry has been communication, Torres said. Gardening facilities without a strong social media presence or website struggled to explain when they were open and how customers could buy products.
"Businesses that understand and set aside some of their budget for online marketing are going to be able to take advantage of this situation," she said. "There's an opportunity to be creative, and using online [platforms] for advertising is going to pay back in a big way. Centers that have adopted flexible, proactive, entrepreneurial and innovative marketing strategies, they're doing pretty good."
Purdue's Lerner said it's hard to know whether the expanded interest in gardening will remain throughout the summer. But she added that COVID-19 "has made people even more aware of wanting to grow their own food" and spend time with family.
"People are just looking for more activities, particularly for their families to do together," she said. "If you have kids that are home learning because of COVID-19, it's a great way to incorporate some science lessons into your day and do something that the family can work towards together."
Lerner said many people throughout the spring expressed interest in vegetable gardens in addition to traditional flower beds and trees and shrubbery. Geist's Richwine said mulch has also been a big seller.
In fact, some stores have been so successful with sales to new gardeners that it's meant lower inventory on some regular gardeners' favorites, Flanagan said.
"I think regular gardeners were probably a little frustrated, actually, since they weren't used to such a limited selection," she said.
Richwine attributed the boost for his business to both a growth in interest among would-be gardeners and an influx in regular gardeners who might not have felt safe shopping at larger stores.
"We sold a great deal more plants this spring because I think most people … felt much safer [here] than going to a box store," he said. "I would say we got a lot of the box-store business this year."
Torres said big-box stores like Lowe's, Menards and Home Depot still have seen plenty of traffic and revenue from garden center activity because they were permitted to remain open when most other businesses closed.
"The larger, big-chain stores, due to their nature, were open throughout" the virus, she said. "Smaller garden centers were not open at the beginning, when there were a lot of unknowns about what was permitted and what was not."
Lower risk
Horticulture has generally been viewed during the pandemic as relatively safe, since much of the work takes place outside. But landscapers and garden centers were not named in the list of essential businesses in Holcomb's first stay-at-home order.
The Indiana Economic Development Corp. later specified that landscaping and lawn-care businesses were permitted to remain open, with precautions in place.
A mid-April extension of the order offered specific guidance for the industry, indicating "nurseries and garden centers, both the outdoor display and in-store areas, may be open for business" as long as they abide by social-distancing guidelines, limit hours, reduce customer count and take on other safety measures.
Most states have taken a similar view, although a few—including Michigan—declined to declare them essential until late April, after extensive public pushback.
Torres said that, while generally safe, garden centers have a wide customer base that includes older individuals and others with preexisting conditions. Those factors have led many garden stores to embrace additional sanitation and health care measures, she said.
"Both businesses and customers have been taking precautions to practice social distancing and are wearing masks and gloves as necessary, for the most part," she said.
As cases of COVID-19 have waned in Indiana and other kinds of businesses have been permitted to reopen, many landscape companies have seen an influx in interest for larger-scale projects like outdoor patios, decks and other exterior living spaces.
Geist's Richwine said it's too early to know how much revenue local firms could reap from the renewed interest in home projects, but he expects to see an uptick in activity throughout the summer and fall.
"It's picked up quite a bit now," he said. "I think the stock market has something to do with that. It's getting back to normal, I would say."
Outdoor living amenities can add 20% to 30% to a home's value, Torres said. She added that, between gardening and landscaping, those who have found a "good way to make purchasing decisions are going to continue" with those types of projects. She expects it will follow the trend created by gardening over the past few months.
"People haven't stopped working on their houses during this time," she said. "Quite the opposite."•
Please enable JavaScript to view this content.