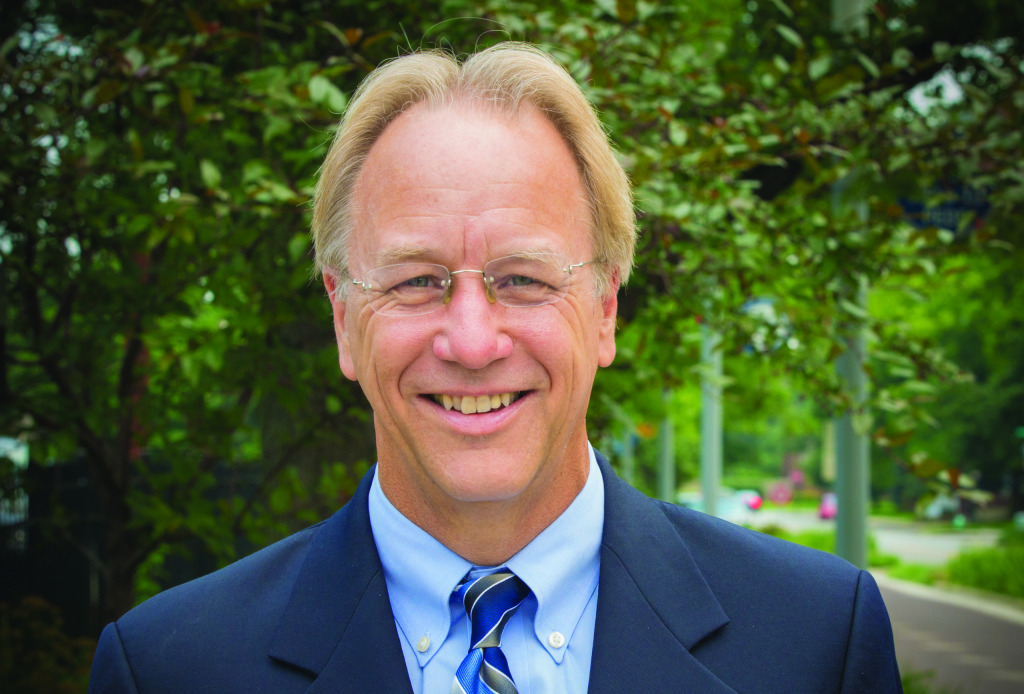 Three years ago, long before Brian Payne announced he would retire from his longtime roles as CEO of the Central Indiana Community Foundation and president of the Indianapolis Foundation, the two organizations began planning to have separate leaders.
Payne, who earlier this month disclosed that he will step down next June, said it was becoming clear that each role was growing into a full-time job.
During his 22-year tenure, total assets at CICF grew to $1.1 billion from $388 million. The Indianapolis Foundation's portion of those assets expanded to $420 million from $191 million. And the complexity of the initiatives undertaken by the two organizations also grew, with CICF providing more than $95 million in grants in 2021.
"I would say in 1997, absolutely the way we organized CICF … and the Indianapolis Foundation made a lot of sense," Payne said. "Twenty-five, 26 years later, you need to constantly evolve. And so, this is really about a reorganization. It's not about my retirement, but certainly the puzzle pieces fit together over time."
Now, with Payne's departure on the horizon, a team of board members from three of the foundations under CICF's umbrella will serve as the search committee for two positions—one to be CEO of CICF and one to serve as president of The Indianapolis Foundation.
Having separate leaders will allow each organization to be more focused, said Marisol Sanchez, CICF board chair and general counsel at Switzerland-based Endress+Hauser's U.S. headquarters in Greenwood. While CICF is geared toward philanthropy throughout the region, the Indianapolis Foundation can focus on Marion County endeavors.
"It is a transformative time for our philanthropic collective as we're looking to evolve those services and those partnerships throughout Indiana," Sanchez told IBJ.
She said the structure of the two organizations wouldn't change much but that separate leaders would help clarify the roles of each. The Hamilton County Community Foundation, which also operates under the CICF umbrella, already has a separate leader, she noted.
The Indianapolis Foundation, which has representatives on CICF's board, Sanchez said, does more fundraising and pays CICF for the shared resources the philanthropic collective provides.
Payne, who is part of the IUPUI Advisory Board, said the process of uncoupling the two organizations will be complicated but not nearly so complicated as the upcoming split between Indiana University and Purdue University in Indianapolis.
Sanchez is co-leading the searches with Molly Wilkinson Chavers, principal at Indianapolis-based Blue Mercury Consulting and board secretary of The Indianapolis Foundation.
A search committee with board members from CICF, The Indianapolis Foundation and Hamilton County Community Foundation will oversee the search. The group has hired Boston-based Koya Partners, an executive search firm, to assist. Sanchez said she has confidence in Koya, which recently helped United Way of Central Indiana hire a new CEO.
CICF expects to have a new leader by Payne's June retirement, but Payne said he'll remain on staff in a lesser role for the remainder of 2023.
In addition to substantially growing foundation assets, Payne's most high-profile accomplishments have been spearheading development of the Indianapolis Cultural Trail, which opened in 2013, and leading the community foundation's five-year mission—announced in 2019—to focus on equity and inclusion.
"When are we going to get to being an anti-racist community and region where we do not have systemic racism built into our systems that hold people back unfairly?" Payne said. "That's 50 years if you're optimistic. It's more than that if you're not optimistic. And so that is hard work every day. That is to me—it's the most inspiring challenge of my life and career."
One item Payne said is still on his to-do list is raising funds for a Black professional resident theater company incubator at The District Theatre in a Mass Ave.
In retirement, Payne said, he'll look for opportunities to be a mentor and to elevate Indianapolis' art scene.•
Please enable JavaScript to view this content.