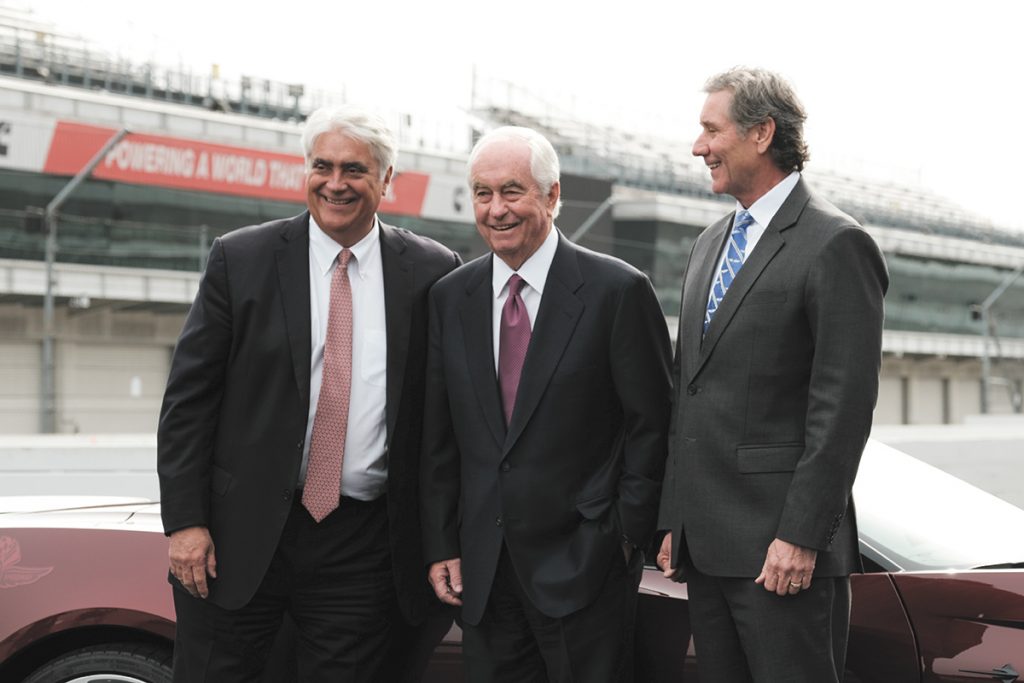 In a deal that shocked the motorsports world, Penske Corp. announced on Nov. 4 that it was acquiring Hulman & Co., including the Indianapolis Motor Speedway and the IndyCar series the Terre Haute-based company owns.
The move came one year—almost to the day—after the death of Mari Hulman George, the only child of Anton "Tony" Hulman Jr., who bought the dilapidated track for $750,000 in 1945, three years after inheriting his family fortune.
A Penske subsidiary—Penske Entertainment Corp.—will own the Speedway, the IndyCar Series, Indianapolis Motor Speedway Productions, Brickyard Crossing Golf Course and nearly 1,000 acres of land inside and outside the track.
Roger Penske, who founded and runs Detroit-based Penske Corp., said he wants to turn the racetrack and the surrounding area into an "entertainment capital." He met right after the announcement with officials from the town of Speedway and said he wants to bring together planners and experts to talk about the possibilities.
"I think we'll find out how to utilize it more than just three days" of the year, he told IBJ. "But there's a lot to do, and these are studies that we'll move forward with over the next several months to determine the best use."
The acquisition is expected to close in January.
Penske—one of the most influential companies in the history of auto racing—will become just the fourth owner of the iconic track and will take over a series that many believe is on the upswing after many years of struggle.
He has said he would like to bring a third engine manufacturer to IndyCar—currently only Chevrolet and Honda make engines for the series—and maintain IMS' relationship with NASCAR. And he expressed interest in bringing a 24-hour race to the track and bringing Formula One back to Indianapolis. IMS hosted a Formula One race from 2000 to 2007.
Penske said he intends to keep the Hulman & Co. team in place, including its CEO, Mark Miles, and the track's president, Doug Boles. He said Tony George, Anton Hulman Jr.'s grandson, would also stay involved.
"This business is not broken," Penske said during a news conference about the acquisition. "We want to support them."•
Please enable JavaScript to view this content.