This weekend's jam-packed schedule at the Indianapolis Motor Speedway is a first of its kind for the historic track, with two NASCAR races and an IndyCar race, all on the road course.
The revamped Brickyard 200 (which was raced on the oval as the Brickyard 400 until this year) anchors the weekend that insiders say is sure to go a long way in furthering motorsport mogul Roger Penske's long-term strategy for IMS.
Since Penske acquired IMS and the IndyCar Series in January 2020, he has invested about $20 million in improvements to the speedway, while also guiding the track and IndyCar Series through a year of cataclysmic revenue losses due to the pandemic.
In emailed responses to IBJ about his ownership of IMS and IndyCar, Penske said he is "committed" to the vision he set out when he bought the assets, with plans to build on the success of both as they come out of the pandemic.
"While we had to adjust some of our planning and timing as a result of the pandemic, we kept our foot on the gas and continued our mission," he said. "We will continue to be good citizens in our community as we build on our investment and commitment to the speedway and the fans that love IMS as much as we do."
In fact, while fans weren't allowed for most racing events until May, the track stayed busy as the site of major community initiatives, including a pandemic-related food drive and a COVID-19 vaccination and testing site.
Penske also reinvigorated interest in the racing series through a video-game deal, a renewed television rights deal with NBC and the addition of a street-course race in Nashville, Tennessee, scheduled for Aug. 8.
The Indy 500 in May—which 135,000 fans were allowed to attend—was a breakthrough. But this weekend is meant to be a sort of relaunch of NASCAR at IMS and a next step in efforts to expand use of the track.
Events include IndyCar's Big Machine Spiked Coolers Grand Prix and the Pennzoil 150 at the Brickyard, a race in NASCAR's Xfinity series, a sort of minor league.
The Verizon 200 at the Brickyard, part of NASCAR's top-level Cup Series, will be the weekend's grand finale and represents a major change for a race that once sported the series' biggest crowds.
NASCAR debuted at IMS in 1994 with the Brickyard 400, a race around the oval that drew more than 200,000 fans.
But for more than a decade, crowds at the race mostly declined. In 2019, the race topped 60,000 spectators for the first time in nearly five years. The 2018 race—which was delayed to a Monday due to rain—drew only about 20,000, while the 2017 and 2016 events drew 35,000 and 50,000, respectively.
So NASCAR and IMS officials decided it was time for a change. They shortened the race to 200 miles and put it on the speedway's 14-turn, 2.44-mile road course.
"The growth in attendance at NASCAR races has been in road-course races," said Joyce Young, a motorsports and sports marketing expert at Indiana State University. Penske "was seeing those trends and capitalizing on them. So, whether or not the attendance is improved from years previous, it probably can't be any worse.
"Penske's not afraid to make changes," she said. "There's absolutely a strategy behind the changes he makes—they're well-thought-out."
The IndyCar race and NASCAR Xfinity series race will run on Saturday as a doubleheader; both will also be on the road course.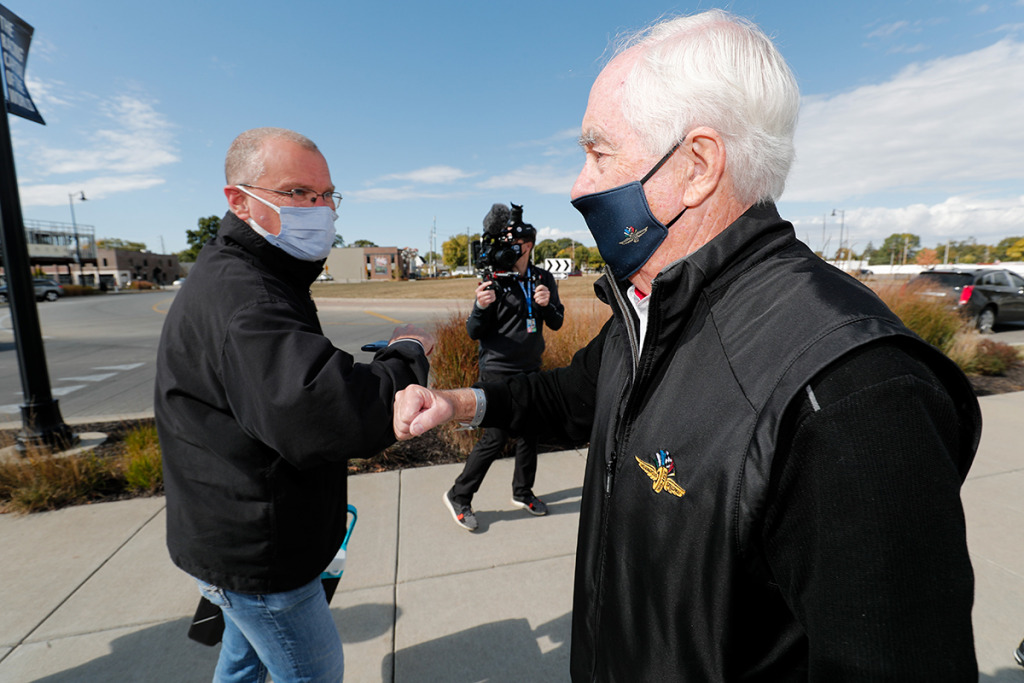 'Raise the bar'
The NASCAR-IndyCar combo weekend actually debuted last year on Independence Day weekend, with three races, including the Brickyard 400 on the oval. But the pandemic meant fans couldn't attend.
This year, officials moved the events to dates meant to be more conducive to fan attendance and more comprehensive TV coverage. All of the races will appear on NBC or NBC Sports Network.
Penske said he expects the three-race weekend will feature "a lot of action" and create opportunities for motorsports to increase its reach. He said 2021 will "raise the bar even higher" for future events at IMS.
"Bringing these series together creates so many opportunities to connect with new partners, new technology and new fans," he said. "The unique combination makes for a special experience at IMS, and we hope it opens the door for more collaboration in the future."
He added the ability of both racing series to compete safely on the IMS road course "provides flexibility for future events at IMS."
When Penske bought IMS, he teased the possibility of a return of Formula One racing, along with events like a 24-hour endurance race or after-dusk races. Those plans have largely been put on hold since the pandemic began.
Penske told IBJ he's had an open dialogue with Formula One about an event at the speedway since he acquired the property. But he said scheduling conflicts have prevented any progress on that front.
He said plans for a sports car endurance race are also in the works, through continued discussions with the International Motor Sports Association based in Daytona Beach, Florida.
"We will continue to explore new opportunities, ensuring that our focus is on hosting big events that align with the Racing Capital of the World," he said.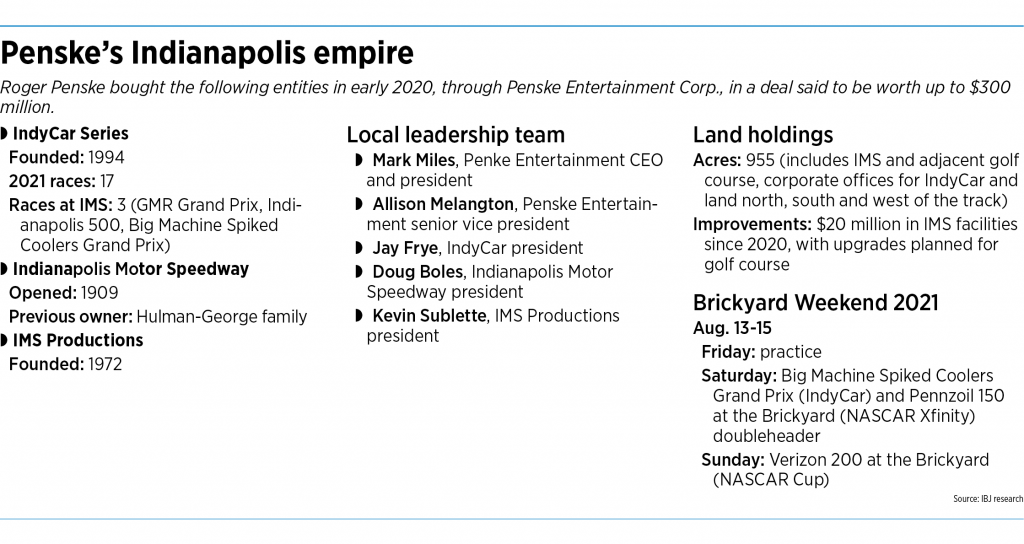 A stronger calendar?
Young and other experts said adding more events to the calendar is paramount for the image of the speedway—but they must be the right fit and can't come at too high a cost for Penske Entertainment.
"Roger Penske's not going to bring any of those races or events unless they're financially viable for the track," Young said. She noted that Penske might leave the door open for a "loss leader"—an industry term for an event that doesn't generate direct revenue but can bring new business down the road.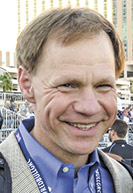 "He would have to see information that says a loss leader would lead specifically to greater brand identity or awareness of the track and it will lead to additional fans in the stands, sponsorships or races coming to the track," she said.
Tim Frost, a motorsports industry expert, said the more events IMS brings in—particularly for groups like NASCAR and Formula One—the more opportunities for revenue from television rights and sponsorships.
"The key to any sports facility is utilization—what can you do to increase or maximize the activity at the venue?" said Frost, president of Chicago-based business consultancy Frost Motorsports.
He said looking for new ways to use IMS is something Penske likely discusses with his team on a regular basis.
"The track is still revered … so whatever he can do to bring those events and activities to the facility, if it makes operational and financial sense, I'm absolutely certain he will consider it strongly," Frost said.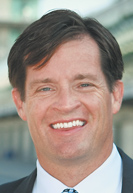 IMS President Doug Boles told IBJ that track officials are constantly having conversations about bringing new events, such as the Indianapolis 8 Hour, a GT World Challenge America race scheduled for October that debuted last year, as well as events hosted by Ferrari, Chevrolet and Porsche.
"We have a whole bunch of other events that are taking place that are maybe not at the level of an IndyCar or NASCAR race, but they're significant and they're part of really strong brands," Boles said.
But he added the possibilities for more events are somewhat constrained by a conscious effort to avoid cannibalizing the TV audience for IndyCar races elsewhere, and to properly space out and promote additional races.
"I think it's really important that the IndyCar drivers have an opportunity to participate here at the speedway, and moreover, when IndyCar is racing, I want the Indianapolis television community watching that race—not worried about coming to the Indianapolis Motor Speedway," Boles said.
He said bringing an International Motor Sports Association race is also a top priority, but a 24-hour event "likely doesn't work in this market," as it could bring challenges because of the cost to teams and the track's proximity to residential areas.
'Maximize its potential'
In addition to major race days and one-off events throughout the year, the track could also see a bump in ancillary uses for community activities. Penske has already added a massive video board to the pagoda, facing the plaza space within the track. But he told IBJ he'd like to make the plaza "a state-of the-art gathering place both for race weekends and special events" throughout the year.
Additionally, Penske has spent money to renovate the concession areas and bathrooms and added new LED screens to the grandstands and other areas.
The investments are expected to continue, as the 84-year-old Penske walks the track every week when he's in town from Detroit. He said he'd like to enhance the Brickyard Crossing Golf Course adjacent to the track, "as we look to maximize its potential."
IMS is also embracing some changes it made as part of the pandemic response, such as moving to an entirely cashless operation for concessions and merchandise.
"There are certainly some lessons we learned on efficiencies and streamlining certain processes as a result of changes implemented during the pandemic," Penske said.
Plans are also still being considered for how IMS can best use its surroundings. Penske Entertainment owns about 955 acres—including the 660 acres that cover the track and golf course. The remaining nearly 300 acres are mostly north, south and west of that. Penske has previously discussed the possibility of redeveloping the property into a residential and entertainment district like one at Kansas Speedway.
In all, Penske Entertainment and its subsidiaries control about 37% of the land in the town of Speedway, making it the 4.8-square-mile community's single-largest landowner. Valued at $97 million for tax purposes, the acreage accounted for 16% of Speedway's assessed property value of $608 million in 2019, with Penske responsible for $2.7 million in property taxes.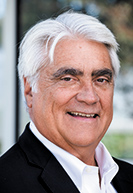 Penske said the pandemic led him to put plans for improvements to the area outside the track on hold, but he is "still considering several ideas and concepts for future projects"—with no plans to offload any land.
Mark Miles, president and CEO of Penske Entertainment, said IMS has been contacted by some groups "who would love to enter into a more active conversation" about development, but the focus is still on IMS and improving the race-day experience.
Around the bend
Penske said "the future is very bright" for IMS, despite enduring the challenges of the pandemic. He said the many changes to the track and the revamped Brickyard weekend have reinvigorated fans as well as his team at Penske Entertainment.
In fact, ticket renewals and sales are already strong for 2022's Indianapolis 500, with ticket sales up 12% over four years ago.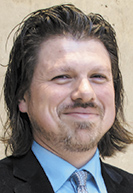 Galen Clavio, a sports business professor at Indiana University Bloomington, said Penske's command of IMS is a primary reason the track was able to not only withstand pandemic-related revenue losses, but also find itself in a position where its leaders are discussing growth.
"I don't think the track or the races—at least the Indy 500—would have been in trouble," he said. "But I do think that the conversations we're hearing now about expanding with multiple new events and expanding the footprint of the campus. … I don't think we'd be having those conversations with the Hulmans" still in charge of the track.
Clavio noted Penske's ownership style is much different than the Hulman family's, and that he's taking a proactive approach to the track's ownership, as well as that of IndyCar.
"Penske looks at it and says, 'This is a great thing … that has to be built upon,'" Clavio said. "That's essentially the era that we're in with sports in general. You have to constantly build on what you've got. You can't just be satisfied with where you are."
Regardless of the upcoming changes to IMS' calendar or IndyCar's efforts to further engage with fans, Penske said he remains confident in his leadership team because of their success in managing through the pandemic and lining up a strong 2021 slate. And, to hear Miles and Boles tell it, nobody plans to go anywhere anytime soon.
"I've never been more excited about the opportunity to work as part of this team going forward, and I have no plans to do anything but what I'm doing," Miles said.
Boles said he's never seen Miles and Allison Melangton—second-in-command for Penske Entertainment—so energized.
"We had a great team prior to Roger. But Roger has really given us an ability to really think differently and to move the ball forward," Boles said. "I think we all want to continue to stay here and move forward. I'm really passionate, as everyone knows, about the Indianapolis Motor Speedway and the events we have here. I didn't know I could get more passionate, but certainly Roger has gotten us all to a new level."•
Please enable JavaScript to view this content.