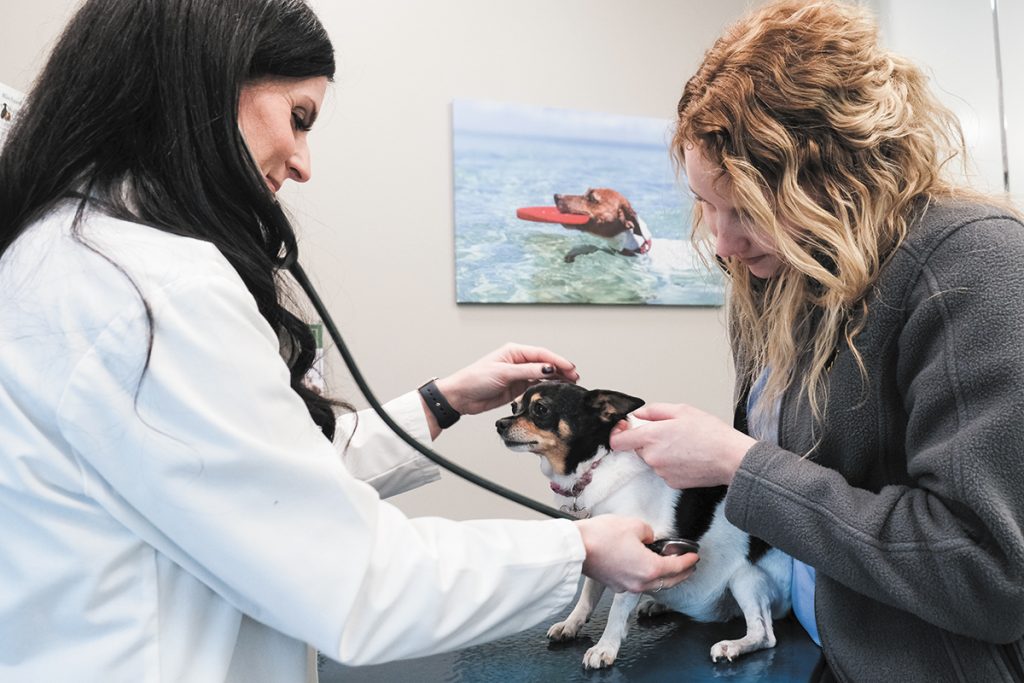 Dr. Michael Graves can treat ailing dogs and cats, sure—but the veterinarian also knows what it takes to operate a healthy business.
Graves, 62, is the founder, CEO and owner of Indianapolis-based Pet Wellness Clinics, which opened its first clinic in Fishers in 2005. The company became profitable a year later and has been in the black—and growing—ever since.
The company now has 18 veterinarians, and 80 total employees, at seven locations. Another two clinics are set to open this spring.
The practice's big growth is thanks in part to a strategic approach to locations, and to veterinary offerings that encourage client loyalty—and Graves sees plenty of room yet for more growth.
"I think we have a good business, and we have a good profession," Graves said. "Our goal is to open one to two new hospitals every year."
The business's 40% revenue growth from 2016 to 2018 landed it last summer on IBJ's list of 25 fastest-growing private companies. The company, which had $8.6 million in revenue in 2018, racked up $9.5 million in 2019 and expects to hit $10.5 million this year.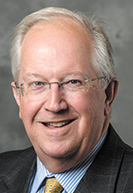 Not every veterinarian has business acumen, said Logan Jordan, dean for administration at Purdue University's Krannert Graduate School of Management.
"They're not exactly the same skill set or interests," said Jordan, who teaches in Purdue's Veterinary Practice Management Program.
Graves' business education began after he graduated from the Purdue University College of Veterinary Medicine in 1982. Since then, he's worked for both small, independent practices and some of the largest veterinary chains in the country and found he had a knack for the business side of veterinary medicine.
"Every one of those things was different. It was a learning experience," Graves said.
After a year at a clinic in Winston-Salem, North Carolina, Graves returned to Indiana in 1983, working in Muncie as a practice manager of a veterinary practice with 19 clinics. In 1987, he left that job to open his own practice, Professional Veterinary Services, in Carmel. The practice operated eight clinics by the time Graves sold it to Detroit-based The Pet Practice in 1994.
Graves then went to work for veterinary giant VCA Animal Hospitals, serving as territory manager for the Los Angeles-based company's veterinary facilities in the middle section of the United States. In 1998, he became a franchisee for another large veterinary chain, Vancouver, Washington-based Banfield Pet Hospital. He operated Banfield clinics in Carmel, Castleton, Greenwood and West Virginia, but found the arrangement wasn't to his taste.
"I didn't like the franchise model. It just wasn't a good fit for me," Graves said.
So he sold those Banfield clinics in 2001 and went back to Muncie to establish an independent practice, Care Animal Hospital. Once his noncompete contract with VCA expired, he sold that practice to his partner and opened the Fishers practice.
Graves said he didn't intend to grow the Fishers practice but changed his mind as the north side of Indianapolis continued to grow.
He opened his second office, on East 71st Street just west of Binford Boulevard, in 2011. The Binford office, which moved to a larger location a block away last year, now houses the practice's corporate offices and call center as well as a veterinary clinic.
Pet Wellness Centers now has locations in Fishers, Indianapolis, Geist, Noblesville, Westfield and Zionsville, with new locations in Broad Ripple and Carmel set to open this spring.
Picking sites
Graves is strategic about new locations, looking for sites in growing urban or suburban areas that are three to five miles from the nearest competition.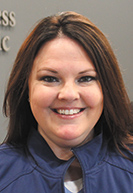 "I think he's kind of good at finding where the growth is going," said Practice Manager Betsy Smart.
All of Pet Wellness Clinics' locations are north of downtown Indianapolis, which also offers another advantage—veterinarians can more easily move between clinics if a location gets busy or has an emergency case. And if one location is booked up, a client has the option to take his or her pet to another that might not be too far from home.
Clustering the clinics on the north side also allows the practice to share medical equipment and other resources. "Instead of buying that $25,000 piece of equipment five times, we can buy it once," Graves said.
As long as the north side keeps growing, he said, Pet Wellness Clinics has no reason to stray from its existing operating footprint. "It would be unlikely for us to go plop one [stand-alone location] somewhere else."
In addition to population growth, Pet Wellness Clinics is also benefiting from growth in the larger veterinary industry.
According to the American Pet Products Association, U.S. spending on veterinary care has increased every year since 2001, even during the Great Recession. Americans spent $19 billion on veterinary care last year, up from $18.1 billion in 2018.
(As a comparison, veterinary spending totaled $7.1 billion in 2001—or $10.3 billion in today's dollars.)
"Basically, the animal/human bond has changed dramatically in the last 10 years," said Dr. Kerry Peterson, medical director at Pet Wellness Clinics.
In other words, pet owners are increasingly likely to consider their pets part of the family, and that includes taking them to the veterinarian more frequently.
Pet Wellness Clinics has added offerings designed to encourage clients to seek care more often.
The practice launched its Pet Prime membership program two years ago, a wellness program that costs $39.95 per month for dogs and $29.95 per month for cats. Participants get free exams, vaccinations and flea/tick/heartworm medicine, as well as discounts on dental cleanings, spay/neuter surgery and bloodwork.
About 15% of the practice's clients are Pet Prime members.
The program has multiple benefits, Graves said. Pets are likely to get more regular wellness care and earlier treatment for illness, and the practice gets a steady revenue stream that helps smooth out seasonal highs and lows.
"Business-wise, it makes sense," he said.
Jordan, the Purdue administrator, said veterinary insurance and wellness programs can also make clients less inclined to switch vets. "It does encourage utilization, gets them kind of committed to the practice."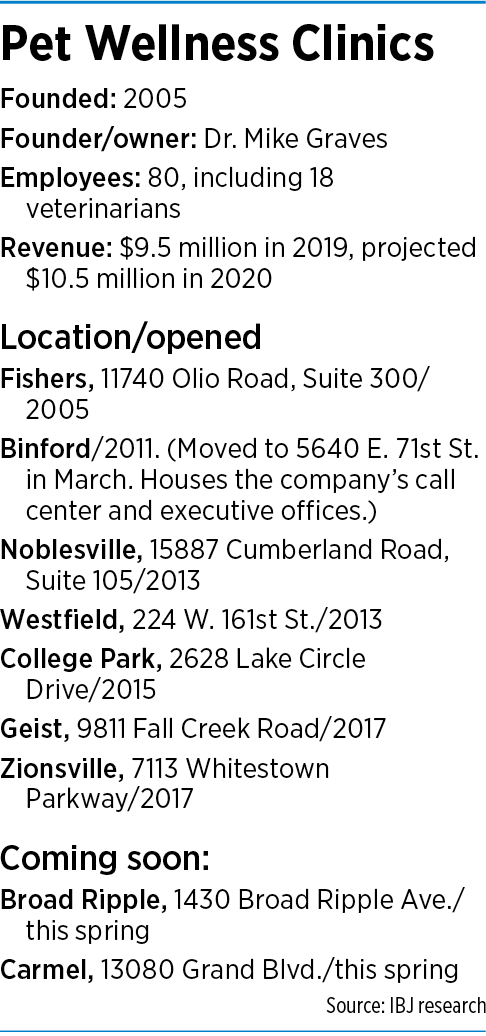 The practice also started offering telemedicine in March, allowing clients to connect with a veterinarian for a quick consultation or follow-up check of their pet. The practice averages two to three telemedicine appointments per week.
Personal touch
When clients do bring their pets into a clinic, the practice takes pains to make them feel welcome.
Sandwich boards outside each clinic's front door—signs similar to the ones restaurants use to advertise specials—sport hand-written messages welcoming each of that day's scheduled pets by name.
When the clinic came up with the idea, practice manager Smart said, she wasn't a fan. "It reminded me of a bar, to be honest."
But clients loved the concept, and now they often take selfies with their pets in front of the signs.
"I thought it was not going to be something that went over well, and I was absolutely wrong," Smart said.
The lobby of the Binford clinic has a mural made up of the names of all the practice's pets, and each patient gets a treat during its exam: whipped cream in a tiny ice cream cone for dogs, canned cheese spray for cats.
"We want everyone to have a 'wow' visit," Graves said.
A personalized approach is one way veterinary clinics can distinguish themselves among a sea of competitors, Jordan said.
The veterinary industry is highly fragmented, he said, with about 32,000 practices nationwide. About 4,000 of them are owned by corporations—Banfield and VCA each own more than 1,000, and there are numerous other smaller ownership groups. Both Banfield and VCA are part of Mars Petcare, a division of Virginia-based conglomerate Mars Inc.
Graves said he fields queries from interested acquirers "literally every week," but is not interested in selling. The practice has a lot of growth potential, he said, and he loves what he's doing.
"The business side's very fun to me, and the medical side's also very fun to me."•
Please enable JavaScript to view this content.