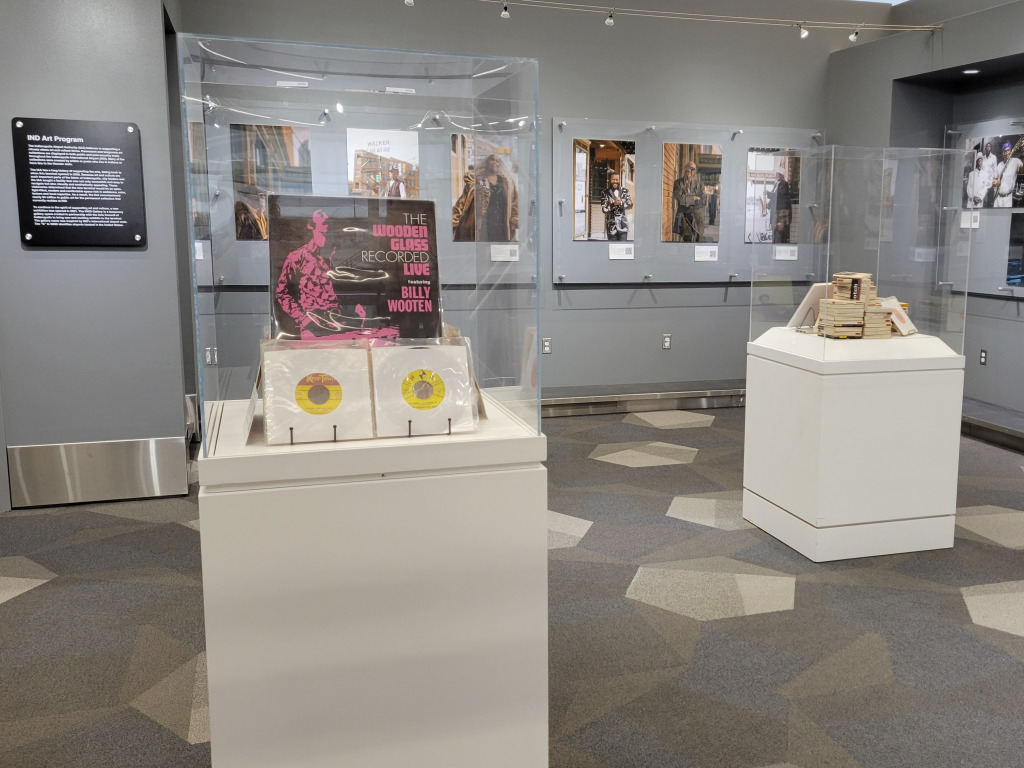 Music journalist, DJ and radio personality Kyle Long illuminates a wealth of Indianapolis history on his weekly "Cultural Manifesto" show that airs on WFYI-FM 90.1.
For the next few months, Long's expertise will be on display in visual form at the Indianapolis International Airport.
In association with Indy Arts Council, Long curated an exhibition titled "Funky Naptown: Celebrating the Legacy of Indianapolis Soul Music." The show features old and new photographs, largely focused on the city's R&B scene spanning the mid-1960s to the mid-1970s.
Although Indianapolis musicians didn't storm the mainstream charts during that era, their recordings have become prized artifacts among vinyl collectors. Now-Again Records, a California label that specializes in releasing overlooked gems, has given new life to multiple Indianapolis songs.
In 2019, Long wrote liner notes for Now-Again compilation "Lamp Records—It Glowed Like The Sun: The Story of Naptown's Motown 1969​-​1972." Founded by Herb Miller, Lamp Records provided a home for Indianapolis groups such as the Vanguards and Ebony Rhythm Band.
"These people are not household names by any stretch of the imagination, but the impact is huge," Long said. "That's why I'm so passionate about advocating for this music in my work, because it does deserve greater recognition here."
Promotional B&W photos from yesteryear, shot by Miller himself, provide the foundation for the "Funky Naptown" exhibition.
Long said the arts council encouraged the addition of new images, so he enlisted photographers Jes Nijjer, Ted Somerville and Ernest Stuart to document musicians such as Lester Johnson (bass player in Ebony Rhythm), Rodney Stepp (who launched his music career as a member of teenage group the Diplomatics) and Reggie Griffin (a Broad Ripple High School alum who helped shape the sound of hip-hop classics "The Message," "White Lines" and "Apache").
The exhibition also spotlights blues and R&B vocalist Debbie Nelson of the In Full Transition band. Long said Nelson didn't have a chance to make recordings in the 1970s, but she was a popular singer in Indiana Avenue nightclubs.
"I did an interview with her a few years ago and was just really overwhelmed by this ability she has to articulate her music experience in this poetic language," Long said. " I was captivated by her description of growing up on Indiana Avenue and her role in the music scene."
Meanwhile, hip-hop producers frequently sample the music made here. Long points out that Danger Mouse sampled Ebony Rhythm Band song "Vanilla Fudge" on the title track of critically acclaimed 2022 album "Cheat Codes" made with rapper Black Thought.
The city's R&B credentials were forged with the Ink Spots in the 1930s and '40s. Historian Long wants people to know that 1957 hit "Little Bitty Pretty One" was recorded by Indianapolis native Thurston Harris and 1960 hit "Tossin' and Turnin'" was recorded by Indianapolis native Bobby Lewis.
"The jazz legacy here gets a lot of attention, as it should," says Long, referring to iconic musicians such as Wes Montgomery and Freddie Hubbard. "But the R&B legacy here is just as interesting and produced many prominent performers."
"Funky Naptown: Celebrating the Legacy of Indianapolis Soul Music" can be viewed on Concourse A at the airport through June.
Please enable JavaScript to view this content.