The JW Marriott in downtown Indianapolis has become known for sporting the city's biggest signs during the world's biggest sports events: the Super Bowl, the Final Four, the Indianapolis 500.
The tradition started in 2012, when what was essentially a giant decal of the Lombardi Trophy—the prize for winning the Super Bowl—went up on the front or eastern face of the 33-story hotel.
Then in 2015, when Indianapolis hosted the NCAA men's basketball Final Four, a 44,000-square-foot tournament bracket went up on the hotel. It was the size of nine baksetball courts and weighed two tons. At the time, the bracket—created by Indianapolis-based Sport Graphics—was honored by Guinness World Records as the world's largest sports tournament bracket.
Since then, the hotel has also hosted a giant decal of the Borg-Warner Trophy, the trophy presented to the winner of the Indy 500.
On Friday, IBJ photographer Eric Learned shot these photos of the installation of the 2021 NCAA bracket at the JW Marriott. Once teams are selected, workers will fill in their names—and keep doing so as winners progress through the tournament.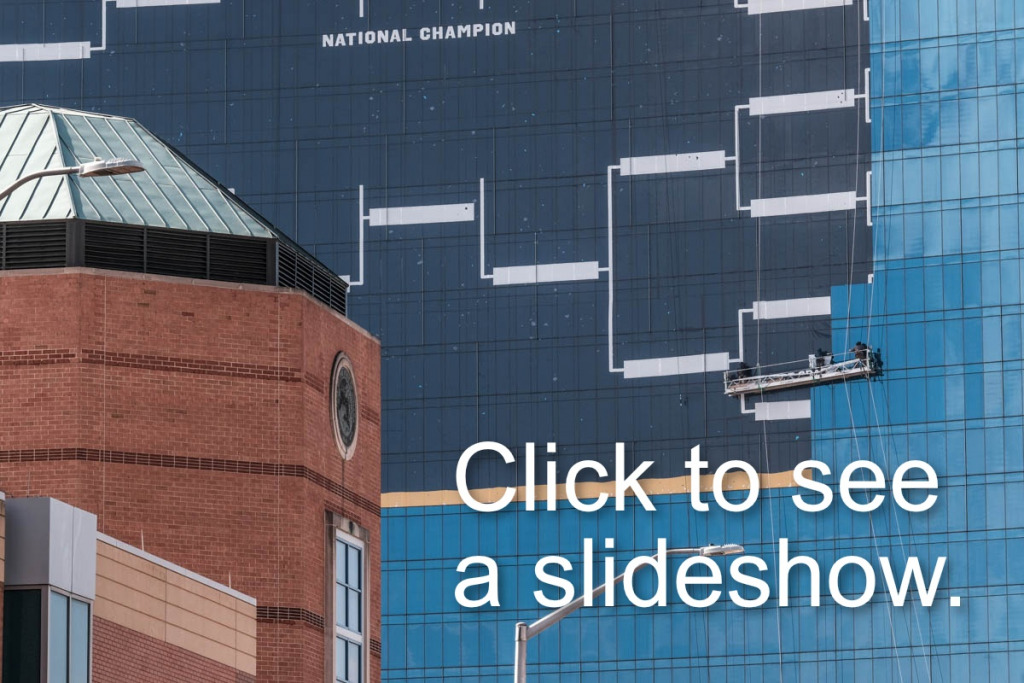 Please enable JavaScript to view this content.