Tickets for the Final Four in Indianapolis will be hard to come by. But you can still picture yourself there.
The NCAA is giving fans an opportunity to buy cardboard cutouts of themselves to be sent to the games at a cost of $100 apiece, with a portion of the purchase price going to charity. College students can purchase cutouts for $50 if they have a .edu email address.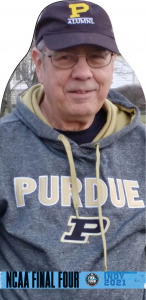 The beneficiaries will be the United Way of Central Indiana's COVID-19 Recovery and Rebound effort and Hilsinki's Hope, a national nonprofit promoting awareness and education of student-athlete mental health and wellness.
Today is the deadline for non-students to order their cutouts on the web, though sales could be extended if inventory allows.
Purchasers need to submit a photo of themselves for creation of their cutouts. Organizers encourage purchasers not to send a selfie, but instead get a friend to take their photo from three to four feet away.
With attendance at Final Four games at Lucas Oil Stadium limited to 25% of capacity, the cutouts will appear in vacant spaces left to create social distance for attendees amid the COVID-19 pandemic. For an additional fee, fans can arrange to have their cutouts mailed to them after the games.
Charities will receive the proceeds left after operational costs, including printing and installation, are taken into account, said Gina Lehe, managing director of communications for brand and strategy at the NCAA. More detailed information is being held back until the final sales are tallied.
"We are delighted the NCAA recognizes we aren't out of the pandemic yet," said Jessica Di Santo, senior director of communications at United Way of Central Indiana, noting that families hit hard by the economic and health consequences of COVID-19 still need assistance.
The United Way says its relief effort works to make sure citizens not only survive the pandemic, but emerge with a higher quality of life by gaining better access to quality healthcare, nutritious food, transportation, safe housing, employment, and education.
Please enable JavaScript to view this content.