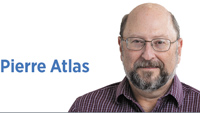 Something new just happened in Cuba. Ordinary citizens took to the streets demanding democracy and economic reform in large-scale, anti-government demonstrations not seen since the 1959 revolution. The island's authoritarian regime responded with mass arrests and quick convictions without due process.
America's trade embargo and isolation of Cuba, in effect since the 1960s, is the longest failed foreign policy in U.S. history. Instead of bringing down the communist regime, the unilateral U.S. embargo facilitated the consolidation and maintenance of its absolute power.
President Obama was right to ease restrictions on travel to Cuba and to establish diplomatic relations with Havana, and President Trump was wrong to reverse that progress. But the blame for Cuba's political and economic woes ultimately rests on the regime itself, not on the United States.
I saw this for myself in May 2006, when I traveled to Cuba as part of a small, Indianapolis-based humanitarian mission. Our trip took us first to Camaguey, in the center of the country, and then to Havana. At that time, Cuba was still firmly under the control of Fidel Castro. The Cuba I experienced was a beautiful country, rich in history, culture and faith, with stunning (if crumbling) architecture, prime agricultural land, and wonderful people.
But as I witnessed, the church was under constant surveillance, there was no free-market commerce, the grocery shelves in the state-run stores were empty, all billboards displayed political propaganda, cell phones were banned for ordinary Cubans, and there were no boats in Havana Harbor (lest people use them to flee the island). And as my small group of Americans discovered in one particularly scary episode at the Camaguey bus station, the secret police were watching us.
Without notice, plain-clothes male and female officers (whom we thought were just a local husband and wife waiting with us for the bus to Havana) emerged from the shadows; confiscated our passports, luggage and return tickets to the United States; and left us alone in a small room to assume the worst. They returned after 30 minutes and released us with sly grins and no explanation.
For the regime's security officials, this was simply an entertaining, arbitrary exercise of their unchecked power. For us, it was an unnerving half hour of uncertainty in which we could easily have been "disappeared."
If Castro's police officers were free to harass a group of Americans with such impunity, imagine what they could do to ordinary Cubans. The political scientists Friedrich and Brzezinski long ago wrote of the "psychic terror" totalitarian regimes instilled in their subjects to keep them down. I thought of that phrase when a priest in Camaguey told me, "Every Cuban is born with a policeman in his head," and I thought of it again in the bus station.
Cuba has opened up a bit since I was there, and some Americans give the regime a pass because it provides universal health care and its education system has produced high rates of literacy. But Cuba is not Denmark. It is not a social democracy—indeed, there is nothing democratic about Cuba. Mussolini made the trains run on time, but we don't say Italian fascism was OK because it built good infrastructure.
The cry of today's pro-democracy protesters is "Homeland and Life," a play on Cuba's communist slogan, "Patria o Muerte" (Homeland or Death), which I saw displayed on propaganda billboards and on Cuba's currency. I hope the brave demands for democracy will ultimately lead to a better life on that beautiful island.•
__________
Atlas, a political scientist, is a senior lecturer at the Paul H. O'Neill School of Public and Environmental Affairs at IUPUI. Send comments to ibjedit@ibj.com.

Click here for more Forefront columns.
Please enable JavaScript to view this content.