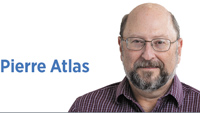 The two most important takeaways from President Joe Biden's Sept. 1 Independence Hall speech were these: "There is no place for political violence in America," and, "Democracy cannot survive when one side believes there are only two outcomes to an election: Either they win, or they were cheated."
From the moment Donald Trump announced his candidacy in 2015, through his four years as president and up to this day, he has intentionally stoked fear and division, scapegoated and demonized minorities and non-white immigrants, peddled conspiracy theories, and excused and even incited political violence. In both 2016 and 2020, Trump made it clear that he would accept the election results only if he won.
Trump's rhetoric and actions signal his support for political violence. During the 2016 campaign, he encouraged followers to use physical violence against protesters and told his cheering crowds that he would pay their legal fees if they were arrested for assault. In an October 2020 presidential debate, he told the Proud Boys, a domestic violent extremist group, to "stand back and stand by." A few months later, that group participated with full force in the violent attack on the U.S. Capitol aimed at stopping the peaceful transfer of power.
Trump used his bully pulpit as president not to calm tensions but to sow discord. In August 2017, he declared there were "very fine people" among the violent neo-Nazis in Charlottesville, Virginia, who shouted, "Jews will not replace us!" His inflammatory rhetoric about "caravans" of illegal immigrants "invading" the country fed into the white supremacist "great replacement" conspiracy theory, helping to inspire lone-wolf domestic terrorists to commit mass murders at a Pittsburgh synagogue in October 2018 and an El Paso, Texas, Walmart in August 2019. The Pittsburgh killer claimed that Jews were supporting the immigrant caravans, and the El Paso killer deliberately targeted Latinos, whom he feared would replace whites.
In advance of the 2016 and 2020 elections, Trump told his supporters that, if he didn't win, it would be due to a rigged system and outright fraud. After Trump famously refused to commit to recognizing the results should he lose in 2016, U.S. Sen. John McCain, the 2008 GOP presidential nominee, issued a statement that applies even more to Trump's loss in 2020:
"I didn't like the outcome of the 2008 election. But I had a duty to concede, and I did so without reluctance. A concession isn't just an exercise in graciousness. It is an act of respect for the will of the American people, a respect that is every American leader's first responsibility." McCain continued, "I don't know who's going to win the [2016] presidential election. I do know that, in every previous election, the loser congratulates the winner and calls them 'my president.' That's not just the Republican way or the Democratic way. It's the American way."
At his first rally following the lawful search and seizure of classified documents at Mar-a-Lago, even as FBI agents were receiving death threats from Trump supporters, Trump denounced the FBI and Justice Department as "vicious monsters." On the other hand, he has called the Jan. 6 rioters who violently attacked police officers "patriots," and suggested in a recent radio interview that he would pardon them should he become president again.
Will the Republican Party continue to embrace the anti-democratic traits of Trump and MAGA extremism? Or will it once again become a responsible center-right party that past GOP standard-bearers like Reagan, both Bushes, McCain and Romney would recognize? The future of our republic might depend on the answer.•
__________
Atlas, a political scientist, is a senior lecturer at the Paul H. O'Neill School of Public and Environmental Affairs at IUPUI. His opinions do not necessarily reflect those of Indiana University. Send comments to ibjedit@ibj.com.

Click here for more Forefront columns.
Please enable JavaScript to view this content.