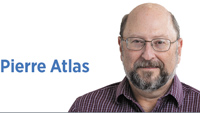 I wrote a regular opinion column for The Indianapolis Star for 16 years before moving to IBJ, but I never took sides in a presidential election until 2016. I penned several columns for The Star explaining why I believed Donald Trump was unfit for office, and I have recently criticized the president on these pages for his failed leadership on coronavirus and his strange fidelity to Russia.
I oppose Trump because he is an existential threat to the republic. He seeks to undermine our faith in the electoral process and threatens to subvert a democratic transition of power.
He betrayed American values when he declared there were "very fine people" among those in Charlottesville, Virginia, shouting, "Jews will not replace us!" and he continues to do so with his refusal to denounce white supremacists. His sycophantic relationship with Vladimir Putin betrays American interests, and his personal debt of $421 million, due to be repaid in the next few years, poses a threat to national security.
Before you dismiss me as a "liberal academic," let me say that I'm a former Republican who proudly served in the Army under Presidents Reagan and Bush, voted for Mitch Daniels twice, and deeply valued Dick Lugar's friendship and mentorship. When I lived in Arizona, I voted for two great Republicans, Sen. John McCain and Attorney General Grant Woods; when I was a doctoral student in New Jersey, I voted for Republican Christie Whitman for governor. Woods, Whitman, and John's widow, Cindy McCain, have all come out against Trump and endorsed Joe Biden for president. With this column, I join their ranks.
Unlike every president who preceded him, Trump had never served his country, his state or his community in any public capacity before declaring his candidacy, neither as a civilian nor in uniform. Nor had he ever held a job where he was accountable to a boss or board of directors who could fire him.
This unusual biography—the lack of public service and lack of accountability in the private sector—might help explain why Trump has chafed at the limits imposed on him by the Constitution, why he recklessly shreds our nation's democratic norms, and why he thinks he can run the United States as if it were Trump Inc., gaming the system with absolute, unquestioned authority in pursuit of his personal interests.
When I was in the Army (or, as Trump would put it, when I was a "sucker"), we were told to salute the rank, not the person. This instruction encapsulates the American principle of placing loyalty to country above any particular leader.
Trump desires the opposite, demanding the personal loyalty of government officials (and Senate Republicans) whose sworn duty is actually to the Constitution. He has gone through cabinet members, chiefs of staff and national security advisers far more often than his predecessors. Almost every former Trump administration official has publicly shared their alarm at Trump's incompetence, dishonesty, unconstitutional behavior, avarice and self-serving decision-making. This is not normal.
I will be voting against Trump, but I will also be voting for Biden. He is a moderate Democrat with a long record of working across the aisle. Lugar told me of how he and Biden cordially worked together on the Senate Foreign Relations Committee to pursue America's interests. Biden has the capacity, the desire and the decency to unite the country—unlike Trump, who has spent the past four years tearing America apart in pursuit of his own interests.•
__________
Atlas is a professor of political science and was the founding director of The Richard G. Lugar Franciscan Center for Global Studies at Marian University. Send comments to ibjedit@ibj.com.

Click here for more Forefront columns.
Please enable JavaScript to view this content.