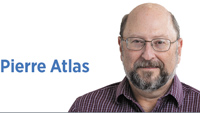 A "red wave" was predicted to sweep Congress and statehouses on Nov. 8 and put Trump-endorsed election deniers in high office around the country. That didn't happen.
Instead, the red wave turned into a trickle. Following Donald Trump's post-election announcement that he will run again, a special counsel was appointed to shepherd two criminal investigations against him. As I write this, the former president is being condemned for hosting two notorious antisemites for Thanksgiving dinner (Ye, formerly Kanye West, and Nick Fuentes, a white nationalist who publicly admires Adolf Hitler). November has not been good for Trump.
Most Trump-endorsed candidates in swing states lost. The GOP took the House, but just barely. It failed to take the Senate, and it's likely the Democrats will add another seat with the Georgia runoff. Almost all election-denying Republican secretary of state candidates lost their races, with Indiana a rare exception. Combined with the 2022 midterms, Trump has now proven himself to be a three-time loser for the Republican Party, having lost the House in 2018 and the Senate and presidency in 2020.
On Nov. 18, Attorney General Merrick Garland appointed the respected federal prosecutor Jack Smith as special counsel, with a mandate to conduct criminal investigations into Trump's role in the Jan. 6 insurrection and his hording of classified documents at Mar-a-Lago. Trump's 2020 election interference in Georgia is being investigated by a state grand jury. On Nov. 29, Stewart Rhodes, founder of the Oath Keepers, and another member were convicted of seditious conspiracy to halt the peaceful transfer of power on Jan. 6. FBI and grand jury investigations and indictments and convictions are all moving up the Jan. 6 food chain. Whether this culminates with criminal charges against Trump remains to be seen.
Thanksgiving is a time for family and celebration. For Trump, it was a time to break bread with antisemites. Ye wears his antisemitism on his sleeve, tweeting he would go "death con three" on Jews. As for Fuentes, the ardently pro-Trump neo-Nazi, Trump claims he didn't know who the man was. That's hard to swallow, especially since Trump's visitors must be vetted by the Secret Service. But even if true, Trump knows who Fuentes is now and yet still refuses to forsake him or apologize for hosting him.
For years, I've been predicting that Trump's "latest outrage" would end his political career. And I've always been proven wrong. I thought his candidacy would end when he refused to reject KKK leader David Duke's 2016 endorsement and declared, incredulously, that he didn't even know who Duke was. Or when he mocked a disabled reporter. Or when he attacked a Gold Star family and John McCain and prisoners of war.
I thought it was over when we heard him bragging about committing sexual assault in the "Access Hollywood" tape. I thought responsible Republicans would disavow him when he declared there were "very fine people" among the neo-Nazis who shouted, "Jews will not replace us!" in Charlottesville, Virginia, or when he sided with Vladimir Putin at Helsinki. I thought, for sure, his 2020 election loss or his incitement of the Capitol insurrection would end his control of the Republican Party.
So, what's different this time? The midterm elections showed Trump to be "The Biggest Loser," which gives cover for many Republicans to finally renounce and abandon him. Republicans have been willing to forgive Trump for pretty much anything, no matter how outrageous or vile. November's developments, especially the election losses, might have ended that.•
__________
Atlas, a political scientist, is a senior lecturer at the Paul H. O'Neill School of Public and Environmental Affairs at IUPUI. His opinions do not necessarily reflect those of Indiana University. Send comments to ibjedit@ibj.com.

Click here for more Forefront columns.
Please enable JavaScript to view this content.