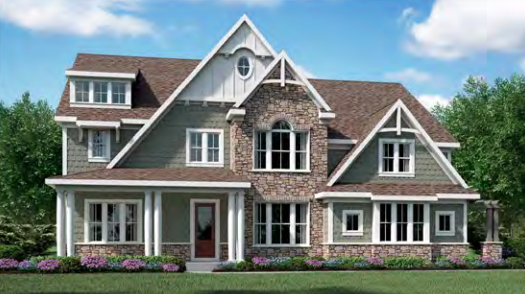 Drainage issues, fire safety and other concerns in Fishers' east-side neighborhoods could affect developers' plans to build more than 300 new homes in the area.
The Fishers City Council reviewed two petitions Monday seeking to rezone a total of 167 acres of farmland along Florida Road, between 113th Street and Southeastern Parkway.
Steve Hardin, an attorney with Indianapolis-based Faegre Drinker Biddle & Reath, presented both Lennar Homes of Indiana Inc.'s Milford Park proposal and Kentucky-based Grand Communities Ltd.'s The Cove at Thorpe Creek project to show how a total of 313 single-family residences could be built on roughly 170 acres.
Milford Park is a proposed 60-acre neighborhood on the east side of Florida Road, designed to include 121 homes ranging from 2,100 square feet to 3,500 square feet. The homes are expected to sell for $420,000 to $500,000. A community pool and pool house, neighborhood park, playground and interior trail system are just some of the neighborhood's planned amenities.
The Cove at Thorpe Creek, with up to 192 residences, could be developed just north of Milford Park, on either side of Florida Road. Plans call for estate homes priced at $750,000 and $930,000 extending from the existing Thorpe Creek neighborhood to the north; homes for move-up buyers priced at $405,000 to $535,000 along both sides of Florida Road; and patio homes marketed to an older demographic with prices expected to start at $300,000 with an average price between $440,000 and $475,000.
If approved, both projects are expected to start construction next spring. Plans for each include proposed improvements to the city's Geist Greenway trail and nearby roadways.
Although the projects will be reviewed by the city's planned unit development committee, council member Brad DeReamer said he would not vote for any proposal with less than 10-foot side yards after seeing issues caused by less home separation in the nearby Britton Falls neighborhood.
"The public thinks Fishers is run by developers, and not the city. And I can't defend that, especially with Britton Falls," DeReamer said. "Britton Falls is a good example of what happens when the city does not supervise development."
DeReamer said, after having surveyed his neighbors, he found more than 180 homes in Britton Falls that have mold and drainage problems as a result of being built too close together.
DeReamer also took issue with the fact that the developers are seeking specialized zoning for their projects rather than adhering to the city's established residential standards.
Hardin said the homebuilders would consider expanding their side-yard distances.
Please enable JavaScript to view this content.