Jim Cochran, the former Indianapolis businessman serving a 25-year prison term for his role in the massive Fair Finance Ponzi scheme, is asking a Chicago appeals court for early release on the grounds that his health problems could make contracting COVID-19 lethal and that he has undergone a religious conversion that no longer makes him a risk to society.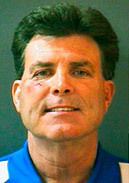 Indianapolis federal Judge Jane Magnus-Stinson on April 15 denied Cochran's motion for compassionate release, saying it falls short of the "extraordinary and compelling reasons" legal standard under the First Step Act, a criminal justice reform law passed by Congress in 2018. Cochran immediately appealed to the Seventh Circuit Court of Appeals in Chicago.
Cochran, 65, was incarcerated in Lexington, Kentucky, when he wrote and filed his motion for compassionate release in July 2020. Court records show Cochran, who now is represented by a court-appointed attorney, survived a bout with COVID in November 2020. He now is an inmate at the Federal Correctional Complex in Yazoo City, Mississippi.
In his motion, Cochran said he suffers from chronic obstructive pulmonary disease, or COPD, and a litany of other pulmonary ailments that make COVID especially dangerous. He said "the extremely overcrowded federal prisons" with "inmates living on top of the other" escalate the risk of infection.
"Cochran has the proverbial perfect storm of pre-existing conditions that would make him vulnerable to severe complications if infected with COVID-19," he wrote in his motion.
Cochran also argues that he became a new man after meeting Chaplain Thomas Caldwell during his imprisonment in Lexington.
"Egotistical, self-interests, greed, pride and arrogance once formed the essence of my nature," Cochran wrote in his motion. "Today, I am comforted in the fact that I am a born-again Christian and a follower of Jesus Christ. I have reconfigured the core of my character and soul. I am a new creation in Christ."
Cochran was one of three executives sentenced in 2012 for looting Akron, Ohio-based Fair Finance Co. as part of a scheme that caused 5,200 investors to lose more than $200 million. The ringleader, Tim Durham, received a 50-year prison sentence. The third defendant, Rick Snow, received 10 years.
The U.S. Attorney's Office opposed Cochran's release, citing the severity of his crimes and that he has served less than half his sentence.
"As a result of the defendant's conduct, thousands of individual investors lost their life savings for no other reason than that the defendant and his co-conspirators were fueled by greed," the filing said.
Judge Stinson also noted that the Mississippi prison where Cochran is incarcerated is in the midst of vaccinating inmates, which will reduce the risk of future COVID infections.
Please enable JavaScript to view this content.