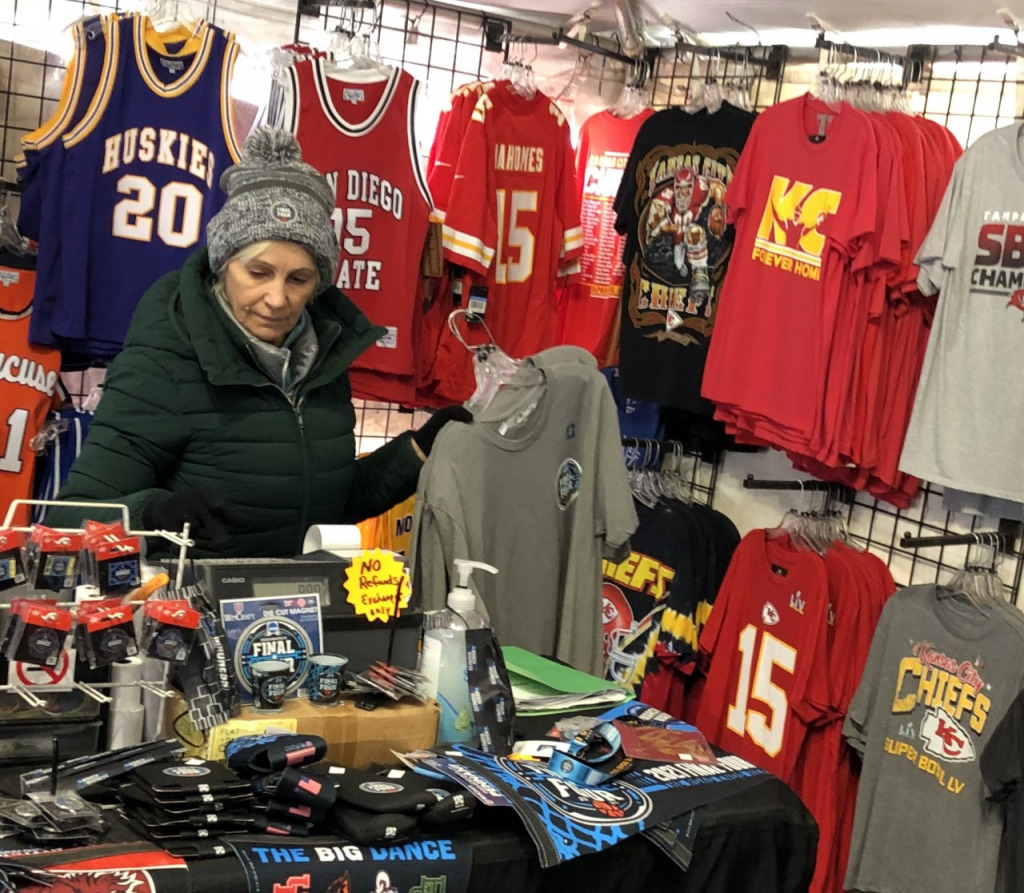 Behind her cash register, Virginia Cason kept an eye on thousands of pieces of sports merchandise spread out on tables and hanging from hooks inside a temporary tent on the corner of Meridian and South streets.
She had plenty of T-shirts, jerseys and caps out for sale, all with college logos and colors—not to mention pennants, coffee cups, key chains and hundreds of other items.
But one thing she hasn't had a lot of this week: customers.
"Business is OK, not great," said Cason, site manager of Jacksonville, Florida-based Sports Mania's merchandise stand, which went up two weeks ago, and will come down on Wednesday. "It's hard to get much business when only a few thousand people are allowed into the games."
Her 40-foot-by-20-foot tent, located about a block from Lucas Oil Stadium, where the NCAA championship game will be played Monday, would seem to be an ideal place for fans to stop and pick up a hat, jersey or souvenir booklet.
Yet crowds have been uneven downtown this week, even as the city has hosted the entire 67-game series and is gearing up for Final Four weekend.
That's because the NCAA is limiting attendance at the games to 22% of capacity of Lucas Oil Stadium, or 6,900 fans on one court and 8,500 on another, to minimize the chance of spreading a deadly virus during the pandemic.
A few blocks over, inside a parking garage on the corner of West Maryland Street and Capitol Avenue near the Indiana Convention Center, Alex Melendez kept guard over a dozen tables of sports merchandise for Events Merchandising Service, based in Phoenix, Arizona.
Crowds have been light, he said Thursday, perhaps due to the off-day for the tournament, along with windy, chilly weather.
"We're hoping things will pick up this weekend," he said, bundled up in layers of clothes to keep warm.
The downtown crowds are thin this year, and that's putting a crimp in sales for pop-up businesses, which normally count on throngs of fans to attend games and stop in for souvenirs to or from the game.
"We need big crowds," said Leon Jendrasko, manager of the ND Sports, based in Hamden, Connecticut, which set up a temporary merchandise stand on the sidewalk outside the Regal UA Circle Centre movie theater. "This is our livelihood."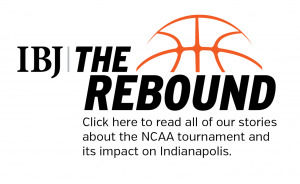 The pop-up business industry thrives on ultra-short-term leases for everything from sports apparel to art merchandise, usually as part of a huge event.
The companies and their location managers don't have the luxury of building up a loyal clientele. Often, their tents and storefront operations are in place for only a few weeks, to take advantage of huge crowds attending a business expo, a sport championship or a music festival.
The U.S. pop-up industry has grown to approximately $10 billion in sales, according to PopUp Republic, an industry research firm.
Pop-up shops take on a wide variety of shapes and sizes, from food trucks and city farmers' markets to mall kiosks and parking lot tents.
Customers often visit the pop-ups for specialized shopping, different experiences or seasonal products.
Although their overhead costs are light—a few thousand dollars for tables, tents or sidewalk barriers, along with the rent—vendors need to turn their inventories quickly and keep the cash register humming.
When the crowds are light, they take a beating. And during the pandemic, crowds and events have been sporadic.
"We were basically out of work for 11 months," said Jendrasko.
The work of the pop-up industry is short-term and migratory. The vendors will tear down a day or two after the championship game on Monday, load up their trucks and head to the next event.
For some, that will be a volleyball tournament in Louisville. For others, it will be a Major League Baseball series somewhere around the country.
Cason said she is on the road for more than 300 days a year, going from one event to another, many in the southeastern U.S. At a college world series baseball tournament in Omaha, she once worked for 45 days straight.  At some of the college bowl games, she often works for two weeks straight in a city before tearing down and moving to the next city.
And often, she runs into the same competing vendors as they hop-scotch across the country.
"We all know each other," she said. "A lot of us are friends."
Please enable JavaScript to view this content.