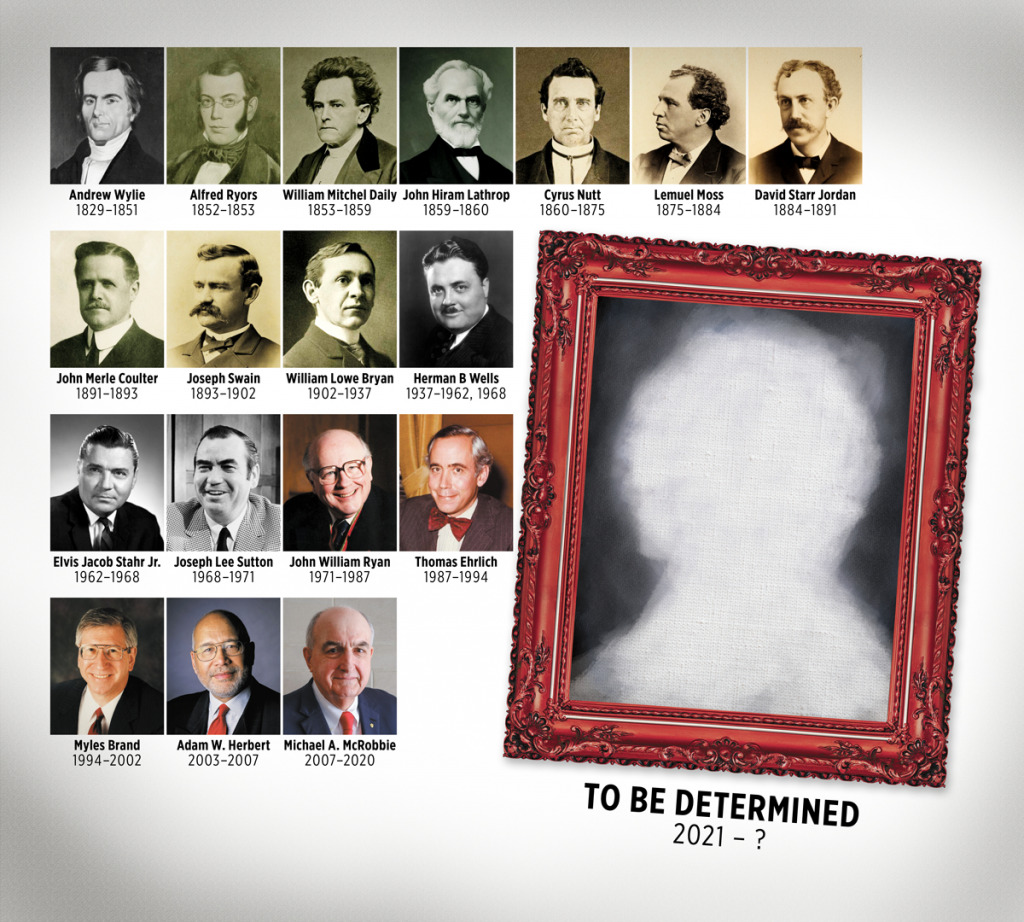 Indiana University is searching for a new president for the first time in 13 years and finding a candidate that meets the expectations of all stakeholders could be challenging for the board of trustees.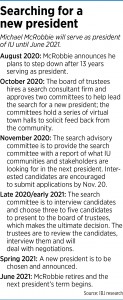 President Michael McRobbie announced in August he plans to retire from IU in June, creating an opening for president at the state's largest university system, which has 111,000 students across its core campuses in Bloomington and Indianapolis, online and at seven regional sites.
Now, a search committee is looking for McRobbie's replacement and has formed an advisory sub-committee to receive input from stakeholders across the state that will guide its selection.
That committee is wrapping up a series of virtual town halls with various IU communities and will in the coming weeks present a report of its findings to the search committee, which is already accepting applications for the position through Texas-based R. William Funk & Associates.
IBJ surveyed a variety of people connected to IU about what the board of trustees should be looking for in candidates and what challenges the university faces that its next president will need to be prepared to face head on.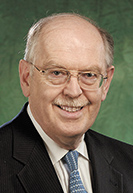 Students want a president that's focused more on their wellbeing. Faculty members want a leader with a background in academia. And members of the business community say they hope IU's next president sets the university up to better meet the needs of Indiana employers and the jobs of tomorrow.
Yet nearly everyone IBJ spoke to agrees the biggest challenge facing IU is the so-called higher education cliff, in which the number of 18-year-olds is expected to drop beginning in about 2025, sparking fierce competition for students at colleges and universities across the country. Experts predict that many private and small higher education institutions won't survive and that larger universities will grapple with financial challenges associated with fewer students.
The next president will also need to be prepared to deal with changing public perceptions around higher education.
"Indiana is such a great university," said Peter McPherson, president of the Association of Public and Land-Grant Universities, to which IU belongs. "It has such a strong reputation around the country and world that I'm confident this is attractive to many strong people. And I think McRobbie over these 13 years has led and built it in such a way that it's even more attractive than it was in times past."
The search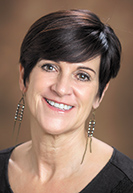 IU trustees Harry Gonso and Melanie Walker, who serve as co-chairs of the presidential search committee, say they're keeping an open mind as they begin their search, waiting to hear from IU communities about what they want to see in their next president.
But a web page for the search lays out the basics: The board of trustees is looking for a leader who can "further build upon the university's rich history and international reputation." It wants a leader who is strategic, visionary and student-centered and who possesses "unquestioned" integrity, exemplary communication skills and the ability to manage a large, complex, multi-location higher education institution.
Other important characteristics the trustees are looking for include "outstanding" managerial skills, financial acumen and the ability to fundraise and develop additional revenue streams.
Maybe most importantly, candidates must demonstrate a commitment to diversity, equity and inclusion, the site says.
Gonso said the job requires the ability to work with many other people to bring out the best in them, to provide a trajectory for where attention and money is directed, and the ability to raise money, either through the state Legislature or fundraising.
"All of those things require a great deal of talent, but that talent isn't just in one person," Gonso said. "That one person who serves as president needs to be able to function as a partner with many diverse people to get the job done."
McPherson said for a large and well-known university like Indiana, it's important the president be engaged with the public through social media and other means. He or she needs to be able to use social media in a way that benefits the president and the university.
"Your university presidents have always been more or less on the job 24 hours. Today, they are exposed 24 hours a day," he said.
A university president also needs to be a creative problem solver, especially as universities— and the role of higher education—evolves, McPherson said.
"A university like Indiana is an extraordinarily complex entity. It's more complex than most companies because it has everything from chemistry to psychology, from accounting to physics," he said.
IU employs more than 21,000 people, offers some 20,000 classes every semester, and has a 2020-2021 budget of $3.7 billion.
"A university is like a huge conglomerate in some sense," McPherson said. "We all know those aren't easy to run."
On campus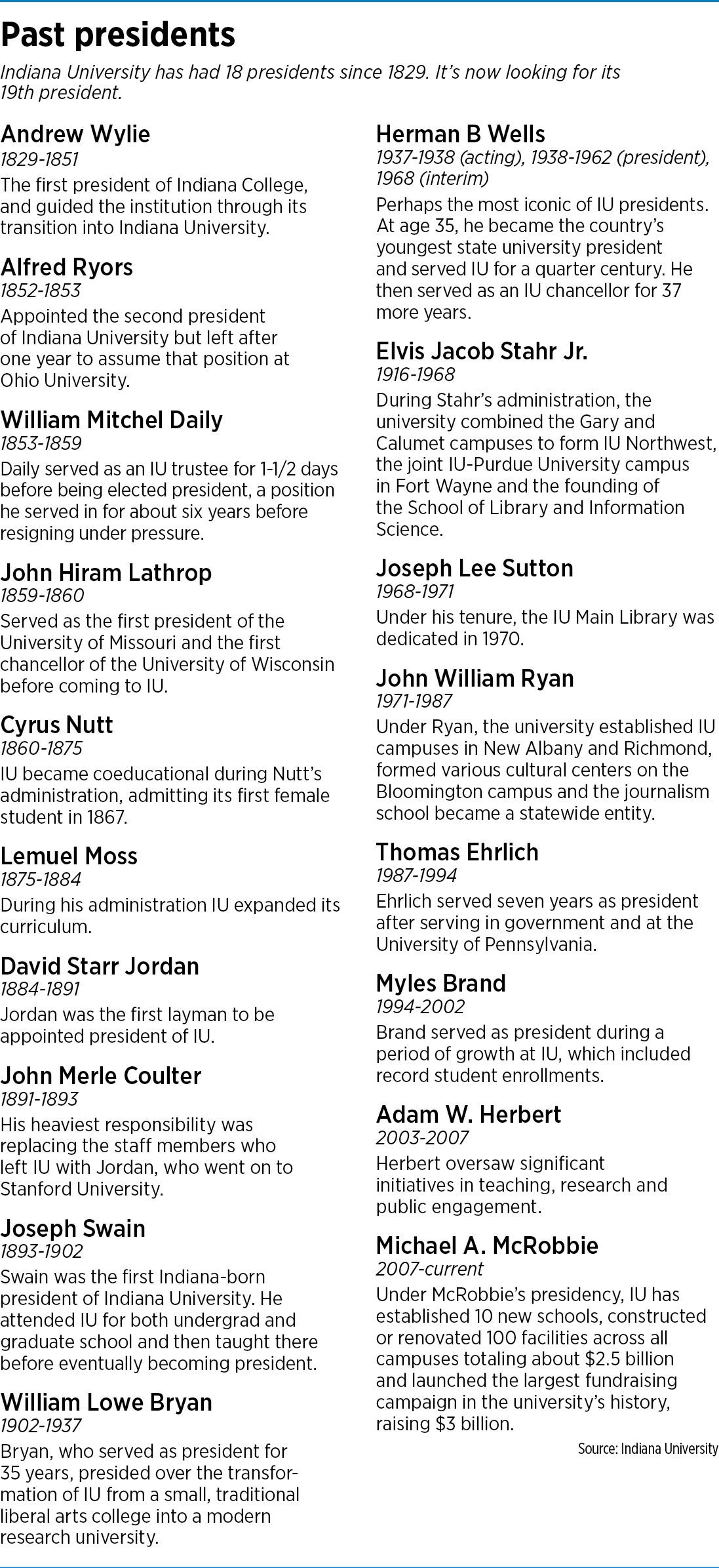 Among perhaps the most important constituents the search committee is hearing from are students and faculty.
In a September editorial, the Indiana Daily Student—IU Bloomington's independent student newspaper—laid out what its leaders see as McRobbie's shortcomings and what they want to see in the next president.
Early in his tenure, McRobbie held regular office hours for students but that eventually stopped, the IDS said. IU has yet to meet a 2020 goal to bring the campus minimum wage to $15 an hour and the faculty isn't as diverse as students feel it should be.
Allyson McBride, opinion editor for the IDS, said a top priority for the next president should be valuing student experiences.
The next president should be more accessible to student leaders than she feels McRobbie has been.
"That would be a good step in the right direction for having our needs heard," the junior told IBJ.
She also wants to see the next president put forth an action plan for improving students' lives. Something like increased funding for psychological services on campus would go a long way.
"You can't see it on a brochure, but it would make a big difference to students who need those services," she said.
The board of trustees should also look for a candidate who has experience listening to diverse voices and prioritizing the needs of diverse constituents, in this case students, McBride said.
It's not enough for the university to draw a diverse student body. The university—and its president—need to protect those students once they arrive.
McBride wants to see the board of trustees pick the best candidate for the job but believes it's important the pool of candidates includes minorities.
That theme has been repeated across the virtual town hall meetings the board of trustees hosted recently. Students, staff and community members in Bloomington called for more diversity across the IU system.
IU has had just one Black president. And none have been women.
And observers said that while IU has strived to become more diverse over the years, more effort—and better results—are needed.
Faculty members also say they want to see the next president be someone with experience in academia. (Purdue University President Mitch Daniels, for example, had no experience working in higher education when he was tapped as the university's 12th president.)
"I think most faculty members would tell you they want someone with an academic background [rather] than business," John Walbridge, faculty president of the Bloomington Faculty Council, told IBJ. "A university is not a business. … We're a different kind of institution, and a lot of things don't work like businessmen expect them to."
Walbridge said there's a lot to learn about how universities operate and how faculty think, so someone with experience working in higher education might have a shorter learning curve.
"IU is very much its own kind of place," he said. "Even somebody from another university will have to take time getting used to it and figure out how things work."
Even better would be hiring someone already working at IU, Walbridge said, adding that IU's most successful administrators, including McRobbie, have risen from the ranks.
It's also important that the next president understand IU's system of governance. Elected faculty boards enact academic policy, he said.
"The president needs to understand the implications of that. There's push and pull on the boundaries, but the faculty has the authority to say no to the administration on matters that are properly their responsibility," Walbridge said. "At IU that system works pretty well. Senior administrators, at least for the most part, have respected that."
Steve Sanders, a professor at the IU Maurer School of Law, told the search subcommittee that he's concerned about the number of deans and other top IU leaders who will leave as part of the transition between presidents.
As a result, "my preference, all other things being equal, would be for an internal candidate," in part because that would be "less disruptive" for the school.
In the community
Yet, not everyone agrees a university president needs experience in academia to be successful.
McPherson said senior level government experience can provide a candidate with the public experience he believes a university president needs to master. While someone with government experience won't understand academia like a provost or dean would, a provost won't necessarily have experience engaging the public like a government official might.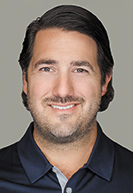 "It's rare candidates will have everything," he said.
Todd Richardson, CEO of Edge Mentoring and an alumnus of IU (also the father of a current student), said IU's next president needs to be someone with experience running a large, complex organization.
"The next president is going to need to know how to work with all of those constituencies, they're going to need to remain customer-focused, which in this case is student-focused, and they're going to have to work across multiple geographies," he said. "As I reflect on Gov. Daniels at Purdue, he has clearly shown that experience leading a large public company and a state government is helpful when running a complex organization like a university."
Richardson added that it's also important that the next president embrace Indiana University's role within the state of Indiana.
"IU has an opportunity to play a significant role in Indiana's workforce development efforts and must be a leader in talent development," he said. "The university, and its leadership, need to get better at listening to the needs of employers and then developing student skill sets that address those needs."
Richardson said he'd also like the next president to put an emphasis on developing the IUPUI campus.
"If you look at vibrant growing cities across the U.S., cities that Indianapolis aspires to … be like, they all have one thing in common: They have strong universities at the heart."
He said that means the Indianapolis community cannot be an afterthought.
"I would love for IU to take more of a leadership position and become kind of the university of choice as it relates to startups in the medical science, in the biotech, in the orthopedic, in the life sciences space," he said. "I believe we have a wonderful foundation already in place that just needs to be built on in order to accomplish that."
Amy Warner, vice chancellor for the IUPUI Office of Community Engagement, acknowledged that foundation during the school's virtual town hall. She said IU is a major economic machine.
The university can make an "incredible difference" in the communities where IU operates by engaging in inclusive hiring and spending and buying locally, she said.
"We are capable of buying and spending and hiring at a tremendous rate in the state of Indiana, and one opportunity is to leverage that business operation of the university in much the same way we leverage the discovery and research aspect of the university to increase businesses in the state," she said.
She said it's also important the next president needs to recognize that part of the responsibility of representing the institution is being present in ways that are not only highlighting its successes.
"One of the things I would want candidates to know is that the business community also views Indiana University as a major contributor toward the well being of our communities, and the individuals who reside in our service areas," she said. "It would be really important to have an individual who's comfortable and who is well versed in relationship building with people of all backgrounds."•
Please enable JavaScript to view this content.