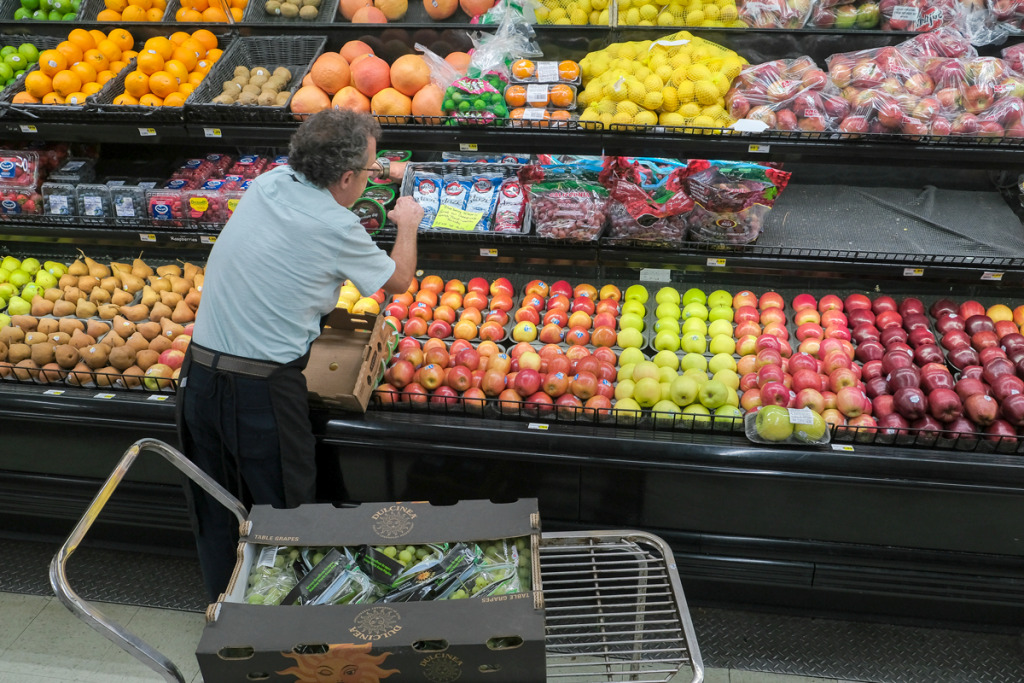 The city of Indianapolis wants to put more fruits and vegetables on residents' plates—and the city's efforts to do so could help build a playbook for similar initiatives in other U.S. cities.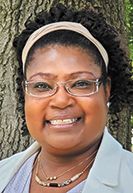 "We are committed to doubling the fruit and vegetable consumption of Marion County residents by 2030," said Milele Kennedy, program administrator for the city of Indianapolis' Division of Community Nutrition and Food Policy, which is part of the Office of Public Health and Safety.
Indianapolis and Denver have been selected as two cities that will work with the Maryland-based Partnership for a Healthier America and the International Fresh Produce Association, a Delaware-based trade group, to achieve the goal.
The Indianapolis and Denver pilots were announced Sept. 28 at the White House Conference on Hunger, Nutrition and Health.
Indianapolis first started working with PHA last year as one of the more than 20 cities that took part in a project called Good Food for All. In that program, selected families received 12 weeks' worth of fresh fruits and vegetables in an effort to build healthy eating habits.
"The idea is to continue this work with a Phase 2 in Indianapolis," said Jason Wilson, PHA's vice president of marketing and development.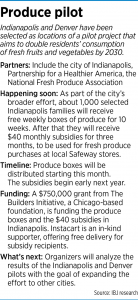 Effort continues
Initially, the expanded program is similar to the first phase of the pilot. About 1,000 selected Indianapolis families will receive free weekly boxes of fresh produce, along with recipes and ideas for using the food. Boxes will be distributed through eight local organizations around the city, including schools, churches and community centers.
The new piece of the project: After the families receive 10 weeks' worth of produce boxes, they'll be provided with $40 monthly vouchers with which they can purchase the fresh produce of their choice at local Safeway stores. Participants will receive the vouchers for three consecutive months. Participants can also sign up with the grocery-delivery service Instacart, which will offer free delivery service for those who prefer home delivery.
The produce boxes and the follow-up monthly vouchers will be funded by a $750,000 grant from The Builders Initiative, a Chicago-based community foundation. The free delivery service is an in-kind donation from Instacart.
The idea, Kennedy said, is that the produce boxes will introduce families to fruits and vegetables, and the vouchers will give families an incentive to purchase those items when they shop for groceries.
Kennedy said last year's produce giveaway showed "families were much more likely to shop for healthy items if they had the opportunity to try them first."
According to a report from Partnership for a Healthier America, 52% of the Good Food for All participants in Indianapolis reported eating more fruit after the program as compared with before. And 62% reported they were eating more vegetables.
Kennedy said program organizers are aiming to have at least half of last year's Good Food for All participants come back to be part of this year's program, with newcomers taking the remaining slots.
She also said organizers want to recruit families from a range of backgrounds, communities and income levels. "We are really looking at this as a commitment to health, not a commitment to food security."
Last year, 73% of the Indianapolis households participating in Good Food for All had incomes below 130% of the federal poverty level. Current federal guidelines define poverty-level as an annual income of $27,750 for a family of four.
Why Indianapolis?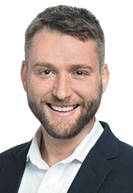 The Partnership for a Healthier America selected Indianapolis and Denver for its pilot sites for several reasons. Wilson said both cities have a history of working with the organization and also have networks of local partners working with them to address food access issues. "We think of those as really good starting points to build a blueprint that could work in other cities."
Indianapolis-based Safeway, which operates five local stores, has participated with the city in previous produce distribution programs and is coming back to participate in the pilot that launches this month.
In addition to honoring the $40 vouchers, Safeway also is supplying the produce that program organizers will purchase for the giveaway boxes.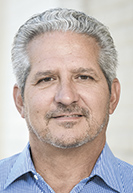 Scott Weaver, the owner of Safeway parent SAW Capital, said Safeway agreed to participate again after having a good previous experience.
"I think it's a cool program," Weaver said. "The studies all show if you eat healthier you might not have to go to that doctor as often or as soon."
Weaver also said Safeway has recently updated its point-of-sale system, which should make it easier for the stores to handle the vouchers.
When participants present their voucher cards at the cash register, Safeway's system will be able to automatically deduct the fresh produce purchases from the customer's overall grocery bill at the time of purchase.
The produce boxes and vouchers are just part of the city's larger effort of doubling residents' produce consumption.
Kennedy said the bigger picture involves making some changes to the food system's infrastructure—finding ways to improve residents' access to fresh, healthy foods.
"The sustainability of this is really what we are looking to achieve," Kennedy said. "It's going to be something that's going to take a lot of collaboration—at the local level, state level and nationally."
Another city effort to promote produce consumption is Seed to Store, which has been in operation the last two years with funding from the Indiana State Department of Agriculture's Indiana Grown Program. Seed to Store helps farmers who are indigenous or people of color place their produce into local grocery stores.
One priority project still in the works, Kennedy said, is the establishment of a local "food hub."
She described a food hub as a place that could serve as a produce warehouse and distribution site, potentially serving entities ranging from schools to restaurants to food pantries. "This is really about getting food into areas that have low access, that have a lack of transportation, that have a lack of income."
The Partnership for a Healthier America, too, considers food access critical in helping both Indianapolis and Denver double their produce consumption, Wilson said.
Wilson cited numerous ways that could happen. Among them: integrating more produce into meals served at preschool programs and senior centers; making produce more available at a wider array of retail stores, including corner stores; and increasing and modernizing the access to the federal Supplemental Nutrition Assistance Program, also called SNAP.
As part of the pilots in Indianapolis and Denver, Wilson said, plans call for each city to host a series of what he called "convenings" focused on produce access issues.
The gatherings would draw both local and out-of-town participants, Wilson said, but details on the gatherings haven't yet been set.
Promising program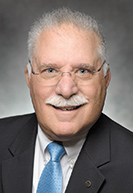 The pilot program and the overall goal of doubling Indianapolis' produce consumption seem promising in the eyes of Dennis Savaiano, the Virginia Claypool Meredith Professor of Nutrition Science at Purdue University.
"These pilots are really important to understand what works and what doesn't work," Savaiano said.
And Indiana has a lot of room to improve its eating habits.
According to Centers for Disease Control and Prevention statistics, as of 2018, only 12.2% of American adults ate the recommended 2 cups per day of fruit and only 9.3% ate the recommend 2-½ cups per day of vegetables. Among Hoosiers those percentages were even lower, at 11.5% and 8.6%, respectively.
Given those low percentages, Savaiano said Indianapolis's goal seems reasonable. "The baseline's quite low, so doubling a low baseline is probably a good goal."
Even so, Savaiano said, it's not easy to create permanent change in eating patterns, which are influenced by multiple factors—from how much healthy food costs and how easy it is to access to cultural influences and commuting patterns. Someone who commutes to work an hour each day, for instance, will have less time to spend on things like grocery shopping.
"We need more research on how to overcome these barriers," Savaiano said. "This [pilot] is a great way to learn about whether or not we can overcome them."•
Please enable JavaScript to view this content.