Longtime Indiana Republican John Mutz is voting for a Democrat for president this year, and he is encouraging his fellow party members to do the same.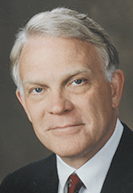 Mutz, 84, a former lieutenant governor and state lawmaker, publicly announced his opposition to Republican President Donald Trump in a Viewpoint op-ed in Friday's edition of the Indianapolis Business Journal.
"Character counts when evaluating a candidate," Mutz wrote in the column. "President Trump fails to meet my preference for honesty, empathy, respect for those who are different, and a willingness to admit mistakes."
Mutz, who served as lieutenant governor under Gov. Robert Orr from 1980-1988, is the most prominent Indiana Republican to publicly rebuke Trump. Mutz also served as a state representative from 1966-1970 and a state senator from 1970-1980.
"There's a time when you've got to stand up and do what you think is right," Mutz told IBJ in an exclusive interview.
In the column, Mutz describes Trump as someone who "has engaged in corruptive behavior and outright self-dealing." Mutz said Trump has damaged relationships with U.S. allies, encouraged foreign meddling in elections, falsely claimed mail-in voting is not secure and deceived the public about COVID-19.
"I'm afraid we have damaged our credibility in the democratic countries of the world," Mutz said. "We're not looked upon by these allies as reliable. … I'm afraid if we had four more years, we would be all by ourselves."
Mutz said his first breaking point with Trump was in July 2015 when Trump said he didn't consider then-U.S. Sen. John McCain a war hero because he spent time as a prisoner of war.
"I like people who weren't captured," Trump said at the time.
"That was the first point where I really said, 'Gosh, I just can't deal with this,'" Mutz said.
He was pushed over the edge, he said, by Trump's repeated attacks on the media, including calling the press the "enemy of the people."
"I think that's just an absurd statement, but I kind of think he believes that," said Mutz, who has a degree from the Medill School of Journalism at Northwestern University. "He doesn't like people poking around in his business."
Mutz told IBJ he will vote for former Vice President Joe Biden, the Democratic candidate for president, but he does not consider himself an advocate for Biden and admits Biden has taken a number of positions he disagrees with. He donated $1,000 to Biden on March 1, according to Federal Election Commission records.
"I'm still a Republican," Mutz said. "I'll vote for [Republican] Eric Holcomb for governor. But on this one race, I am greatly concerned. I would say almost scared."
Mutz said he's specifically worried that, if Trump wins reelection, the country will be headed toward an authoritarian state. And he's concerned that, if Trump loses the election, the transfer of power will not be peaceful.
"It is very difficult to say these things about a Republican," Mutz wrote in the column. "The party has been very good to me, supporting my political ambitions and encouraging me for more than 50 years. But the future of our country is more important than party loyalty."•
Please enable JavaScript to view this content.