Leslie Bailey opened co-working and social club Maven Space downtown in mid-May as a sister business to Indy Maven, her media company that offers central Indiana women lifestyle information and access to events that help them network and grow professionally.
Bailey, 37, a former reporter and columnist for the Indianapolis Star and lifestyle editor for Indianapolis Monthly, realized that many of the women who had left the workforce early in the pandemic were starting their own businesses.
So, after asking the Indy Maven community a lot of questions, she decided a co-working space dedicated to women was a natural progression to her business.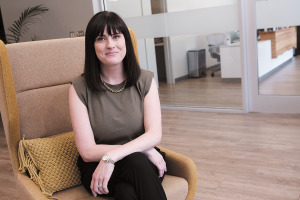 Maven Space occupies 15,000 square feet in the historic OneAmerica Gibson Building at 433 N. Capitol Ave. The ground-floor space is subleased from Salesforce, which previously used it as its social studio. The space includes workspaces, a cafe and wine bar, a fitness and wellness studio, relaxation spaces, conference rooms, a podcast and video recording studio, an art gallery, and a lending library.
Why did you choose this location for Maven Space?
Well, I've lived downtown for 14 years right off Mass Ave, so my heart is definitely downtown, and I want to bring people back downtown. This specific building I loved because it has everything on my wish list. I loved that it was historic, but because it was used by Salesforce, it also had this modern aesthetic to it. The natural light is just insane. We have a city-skyline view, which is great. It's beautiful at night. It was built for everything we wanted. I couldn't have asked for a more ideal space. And I also think that women tend to react more specifically to their environments than men. So, I think just from an aesthetic standpoint, it was a good fit.
What will members be able to get at Maven Space that they wouldn't at another co-working space?
No. 1 is the community. You can go get private offices anywhere. You are really here for the community of women who are in the space. This community is really unique in that it's a spin-off of the Indy Maven community, which I think is really special. I've seen the relationships that have been made and the businesses that have been started and the collaborations that have happened in this community. The second thing is having this event space, which is really unique as far as a co-working space goes. Having a gym on site, having a cafe on site, the library, the mother's room, the podcast studio, those things. And the partnerships we have here are very reciprocal relationships that really support us.
If this all meets expectations, would there be a possibility of opening other co-working spaces in the future somewhere else?
If there's a demand for it, we would consider it. I think what will be more interesting is whether or not we stay in this space when the lease is up at the end of 2023. We will need to determine if it meets our needs. We have an opportunity to analyze things, collect data, and then decide, "Do we want to keep certain things? Do we want to repurpose some of the space if we stay here? Do we want to look at another space?" If this takes off, we would need to expand, whether that's in this building or another space. I think there could be an opportunity to do something that even has retail space or more incubator-type space. Those are the things we will find out.•
Please enable JavaScript to view this content.