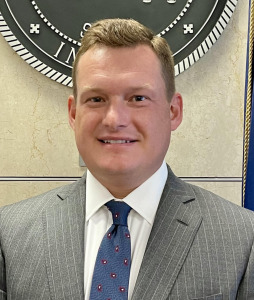 The Indianapolis City-County Council kicked off the once-a-decade process of redrawing its political districts this month with a series of public forums to gather public input. It's the first time Democrats, who hold a 20-5 council supermajority, will run the map-drawing process.
Behind the scenes, the council's nonpartisan, 13-member staff—who serve all 25 legislators—has been busily putting the forums together, including securing a contract with a consulting-firm host and working through late venue cancellations. The forum series, which will hit all nine townships, is ongoing. 
IBJ hopped on a call with council Chief Financial Officer and Policy Director Brandon Herget to learn how council staff chose the forum locations, why it contracted out the hosting work and how feedback will actually get used.
These forums are taking place before there are maps out. Why?
We are intentionally asking for public engagement and public comment prior to drafting any new map ordinance and that is a deliberate change from past practice, in Indianapolis specifically, and I believe also the state.
We want to have that authentic engagement for the community and have that engagement help inform what the potential changes to boundaries might look like. So the idea here is to make sure that we hear from the public before, not just after, the maps are crafted.
Will voters get a chance to give public feedback, not just two minutes at a public hearing, once there are maps?
There will be ample opportunity for the public to engage and respond to any map ordinance once that's drafted.
We don't know exactly what that looks like yet. … It will include the public hearing process, as we would have for any other ordinance. And I think we'll wait and see what public engagement on the ordinance looks like other than that.
[The forum series] is the first phase in a series of phases that will result, ultimately, in the option of new maps.
Can you talk about how the locations were chosen? The forums were initially going to be at public libraries, and the new locations have been criticized as being further out from the center of the townships.
"We worked in partnership with the libraries. Unfortunately, due to the Omicron spike in COVID, the libraries made the decision … to close off public events. And so it forced us to change course, and we're thankful to be able to continue to deliver the same service and the same content at new locations throughout the county.
As far as any criticism regarding location, we were intentional about choosing locations that had easy access to things like parking … and transit, and to find locations that were in diverse areas, diverse neighborhoods, where there could potentially be communities of interest, that might want to show up and have their voice heard in this process.
Selecting and finalizing those sites included, actually, councilors from both political parties, including those representing the southern three townships, identifying and connecting council staff with the locations in their townships.
What was the council's, and specifically council leadership's, involvement, if any, in conceptualizing or planning the forum series?
Council staff updated council leadership regularly, including both caucus leaders, the vice president [and] the president. Before the launch of the website, before the press release went out, all caucus leadership, both caucuses, and council leadership had been briefed, and both caucuses were given the opportunity to be briefed by council staff individually.
Why contract out for this?
There are a couple of reasons. First, I'll walk backwards in time. … Council staff recognized that the redistricting process is something we would need to negotiate in fiscal year 2022. And so during calendar year 2021, staff began researching what had happened in previous local redistricting methods. In the most recent iteration of the redistricting process, under then-President Ryan Vaughn, a similar contract was entered into, providing legal services and subcontracted services to the City-County Council office to execute redistricting. More simply, there was past precedent. It also gave our office an idea of what a reasonable, if you will, or at least what there was precedent for—a dollar amount.
We transparently went before the council and to the controller last year during the budget process and asked for an additional amount of money to be able to supplement our character two budget to afford that same service. … It passed out of committee unanimously and on the floor unanimously, and so we feel pretty confident in the office, that we have the support of the council in hiring outside services who can help provide the expertise necessary to deliver a map ordinance … that will pass whatever legal scrutiny may come.
What is new, is we intentionally then subcontracted to Engaging Solutions, who is a local community engagement firm … [to give people] the opportunity to weigh in and share their thoughts and their concerns about redistricting prior to any ordinance.
How much is the contract for?
There's one contract for $300,000. The primary contract is with Ice Miller, and Engaging Solutions is a subcontractor.
Does Engaging Solutions' part not separate out to its own dollar amount?
No, it does not.
Are you guys tracking how many people show up?
I think it's important to make the distinction that it's not the council office—we were intentional about allowing a third party to run this process so that there's no implicit bias in convening these meetings. That being said, to answer your direct question, they should be counting the number of residents.
I would also point out … Channel 16 has agreed to record all these meetings so that people who don't participate directly have the ability to review, so that it's essentially public record. It's not technically [legally] public record, but we're doing that for the sake of transparency.
So, the feedback is going into a report, but how is what people say going to be incorporated into the map-making and the ordinance-writing?
I'd say that the report will be shared publicly and will be shared with all 25 councilors, and obviously, reviewed thoroughly by council staff. It will certainly help inform whatever the ordinance turns out to be.
Is that just kind of a reference source that councilors will be able to access?
I would consider it a reference source. I think that's a fair way to characterize it. That's the short answer. The longer answer is the ordinance-drafting process is, again, later down the road.
Please enable JavaScript to view this content.