Celebrity chef Fabio Viviani—through his Chicago-based Fabio Viviani Hospitality Group—partnered with Giant Eagle's Market District to open Osteria Carmel in the former Table by Market District space late last year. Recently, the restaurant opened for dinner service. Osteria is one of the hospitality group's restaurant concepts, with locations in Los Angeles and Downers Grove, Illinois.
How did you get into cooking?
I started to work at a bagel shop when I was 11 years old, and I needed some money. My mom needed some medical care, and I got into the business just following whoever was going to pay me to work. And, I got stuck. … Then I got into the restaurant business when I was 16, and I opened my first restaurant when I was 19.
Why did you decide to open a restaurant in Carmel?
We have a … connection that we made through the business and their personal friends. Giant Eagle has several locations where they have a restaurant attached to their beautiful grocery stores. So, they needed a culinary operator to step up the game into the hospitality business, highlight their great ingredients … and what better chance to do that than in a restaurant, right? So, we figured out a formula that works for everybody, and now we have a wonderful restaurant together.
How has reception been to Osteria?
Everybody's actually very excited about it. Every time you open a restaurant, there is a learning curve. … The receiving … has been very, very, very good. A lot of compliments and a lot of people coming back multiple times.
What's your favorite menu item?
The fresh pastas are to die for. I do believe that making pasta from scratch is an art, and we have some true artists there. … If you look at the grocery store Giant Eagle, which is literally the back door of the restaurant, they have some amazing selections of both seafood and steak. Those entrees are also very good and remarkable from a quality-of-price standpoint.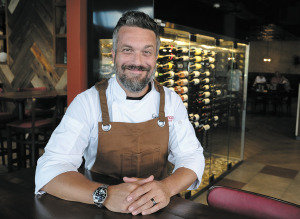 You recently hosted a cooking experience at Osteria. Do you regularly host cooking experiences at your restaurants?
It's something that we regularly do in most of our restaurants. Now, we have 40-plus restaurants … so we are doing those once or twice a year in most of our locations, some locations a little bit more frequently because I live in Illinois, right, so Indiana is a little closer than New York. We are trying to create a fun event for the public.
When you're teaching someone to cook, what's the dish you make most often?
We go back to the classic: teaching people how to make fresh pasta, gnocchi, Italian classics, some meatballs, some other things we know [are] crowd-pleasers. … I'm a people chef. I have some very high-end, fancy restaurants, but I also own a bunch of drive-thru fast-casual burger places, traditional Italian places and so on. So, the food that I like to cook and showcase in this kind of event is food the people can go home and do themselves.
Do you plan to open more restaurants in Indiana?
These are fantastic markets. There's a beautiful market with a lot of pockets with great neighborhoods, and it's a food scene that is evolving in the last decade. … Between Carmel, Indianapolis and a few other states in Indiana, we are definitely looking into expanding the hospitality footprint. … But we have definitely put our eyes on the prize, and we love the state. We love the people, and we're looking forward to more business there.•
Please enable JavaScript to view this content.