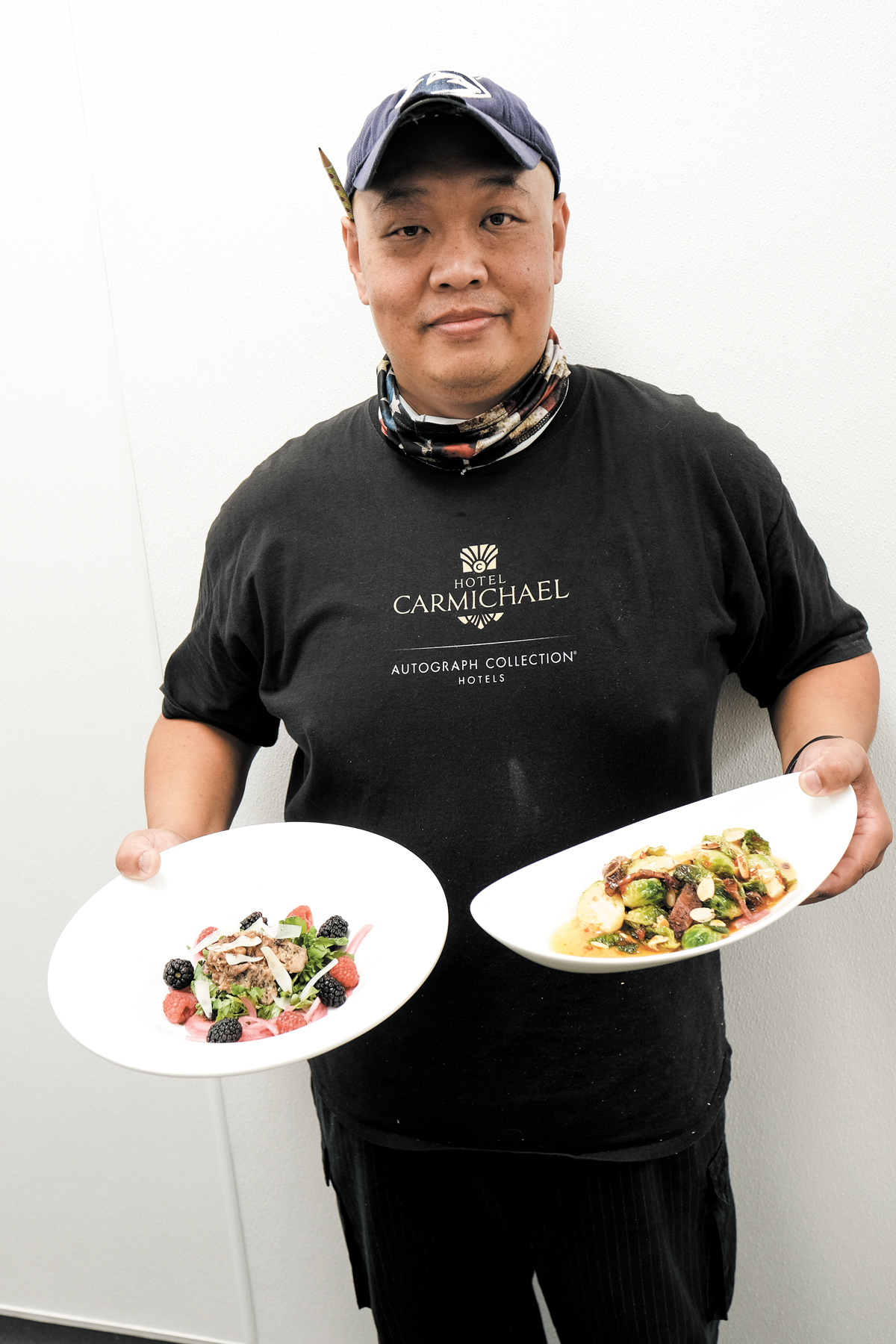 As a 12-year-old immigrant from Taiwan, Joe Hsu knew his parents' expectations were for him to work in restaurants his entire life.
What he didn't know was that his job washing dishes at a Gettysburg, Pennsylvania, diner would lead to chef roles at the Hershey Hotel's AAA four-diamond Circular Dining Room, Landry's Restaurant Group, the Indianapolis Zoo and his own food truck and culinary-education business, 5280 Bistro Hospitality.
Now, he's deep in research and development for his new role as executive chef at Vivante, a French restaurant opening in Carmel's luxurious Hotel Carmichael on Aug. 4.
How would you describe Vivante?
Picture yourself in the French countryside sipping a glass of wine, having a casual meal. It's not a big-plate, little-food type of place.
We don't ever want to come across as pretentious. A lot of people will think of Carmel and how much money they've spent on the hotel—they might have that perception. We don't want people to think it's all buttoned-up or a stuck-up type of place.
I'm not much when it comes to the new-age gastro, playing with nitrous [oxide] or tweezering food. I eat what the common folks eat. If you look at our menu, we have focused on the five mother sauces the French use. You take those five sauces and turn it into 10 sauces by using those as the bases.
It's like one of my favorite chefs of all time, Emeril, says: Cooking is not rocket science. When you buy ingredients, you should be able to pronounce them. You should be able to say everything on the menu.
What would you say to someone who expected a fancy French restaurant with a classically trained chef?
Jokingly, I would tell them I learned from the Food Network or Pinterest. In reality, the best cooking techniques I've ever learned are from the people I worked with. Their grandma or grandpa's recipe that was passed on, something from their country. … This is the food they eat at home, their hangover cures; this is what works and doesn't work.
At the end of the day, it doesn't matter how fancy this place is going to be. It's the common people like us, we're the ones operating it.
What about your business, 5280 Bistro Hospitality?
My bread and butter is right here at the hotel, but I'll continue to hold on to our brand by working as a consultant behind the scenes on other projects. We still have concessions over at Indy Fuel Tank and a partnership with Mashcraft, but we're not quite as front and forward as we were with the food trucks.
We sold all three of our food trucks in one day, on June 7. That part still hurts, but at the end of the day, I'm OK doing it knowing I'm part of something great.
You're also responsible for not only Vivante, but also the entire hotel's room service, VIP experiences, event catering, in-room accommodations and more. What are you most excited to do next?
Right now, we're confined to the French world at Vivante. When Feinstein's is open, that's game-on. I guess the best way to describe it will be Beef and Boards on steroids. Not in portion, but more on the quality and type of food. You'll see things influenced by Italian cooking, by Latin cooking, by Asian cooking. Anytime I can get in the kitchen and play with different foods and different ingredients, that's good times.•
Please enable JavaScript to view this content.