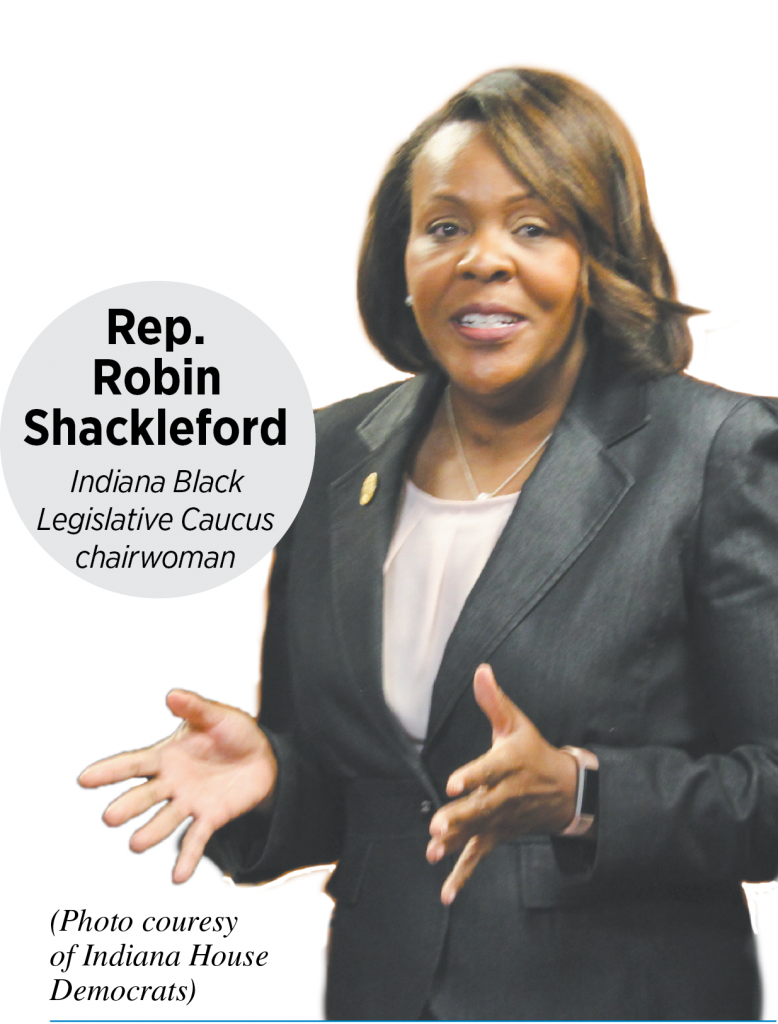 Rep. Robin Shackleford, D-Indianapolis, is starting her second session as chairwoman of the Indiana Black Legislative Caucus, a group of 13 African American lawmakers who focus on the needs of minority communities.
The caucus has crafted a 2020 agenda that includes bills that mandate lead testing of water in schools; reducing insulin prices; cutting the number of people facing misdemeanor charges that must wait in jail for hearings; and university reporting on efforts to hire black-, women- and veteran-owned businesses.
Shackleford, 49, was first elected in 2012 and is seeking re-election this year.
Why is the black caucus important?
In our community, we have so many disparities … whether in economic development, education, health care, or social and criminal justice reform. We want to make sure that the African American community around the state actually has a voice. We're here to be that voice.
How do you achieve that goal?
Each year, we come out with a legislative agenda. We look at the issues important to the individuals in our community and come up with ideas that would help solve the challenges that we have in the African American community around the state. We push that agenda as aggressively as we can.
We meet with all the leaders of the House and the Senate. We just wrapped up our meeting with Speaker (Brian) Bosma and the soon-to-be Speaker (Todd) Huston. We ask for any assistance that they can give us in pushing this agenda.
Immediately after the session, we do town halls where we go around the state and explain what we were able to accomplish. We put together a whole booklet … so they can know what legislation passed and what was some of that legislation that didn't pass. We also do an advocacy training because we're trying to educate our community about the legislative process and how it works.
Your members are Democrats, but Republicans control the Legislature. Are GOP leaders open to your ideas?
Yes. I won't say that they agree on every bill that we have. Some of the bills can be contentious. But … they are very receptive and open to how to get bills moved through a committee and how they can help if we need any amendments. Last year, they even sponsored a joint dinner for everyone during Black History Month.
At the federal level, everything can be contentious with people fighting all the time. But really, at the state level, we try to be more cooperative and work together and collaborate.
How do you make decisions about what bills to get behind?
Majority rules. I let each member pick their most vital bill. … So we'll look at 13 bills and then we decide on which are going to be our top four bills. We sit and have a discussion and the majority rules.
What is the biggest challenge for the caucus?
Just being in the minority and trying to get our bills heard and trying to get them passed. … But we try to do every strategic move we can to get just a little bit of this language or that put in a bill that is moving. We consider that an accomplishment.•
Please enable JavaScript to view this content.