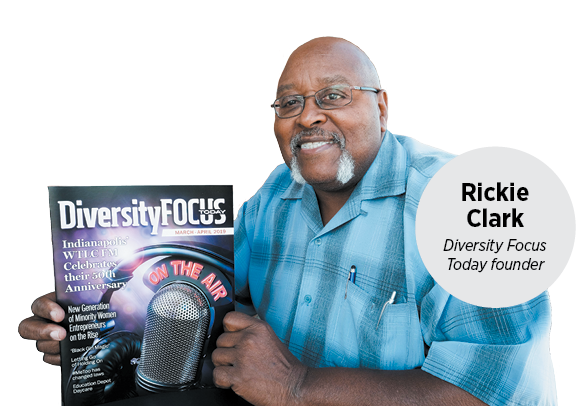 Rickie Clark has spent more than 40 years in media, including stints in radio, magazines and newspapers.
He even became a cop after one of his friends at the Indianapolis Police Department bet him $20 in 1976 that he wouldn't apply. He did, said he kept passing tests without studying and became a police officer in 1977.
Still, Clark stuck with the media, staying in radio throughout his 20-year police career, and launching Indiana Minority Business Magazine in 2003. The Indianapolis Recorder bought the magazine in 2007, and Clark stayed there a few more years. The Recorder still publishes the magazine today.
But Clark's passion for the media remained, and he says friends pushed him to launch another magazine. So a few years later, he created Diversity Focus Today magazine. He tried publishing it as a newspaper before making it a monthly magazine in 2017.
Today, the magazine—distributed to companies, retailers, schools, colleges, libraries and newsstands throughout the Indianapolis area—casts a wide net in its definition of diversity, covering stories about African, Asian, Hispanic and Native Americans as well as women, veterans, seniors, LGBTQ and disabled Hoosiers.
Why start both an online and print publication?
Primarily because I'm trying to reach both audiences. The 40-plus and those that are under 40. Plus, I've done this before. I've been in the media industry since 1971. I was introduced in the media by radio. And so, I've done radio, TV, newspaper, magazine, done some acting and even done the musical bit—as a musician, as a producer, as a writer. I've kind of hit the whole spectrum there. In coming back into the media through a publication, I looked and saw, "OK, what do we not have right now?"
When your readers pick up the magazine, what's your goal for them as they flip through it?
To enjoy what they're reading, to learn from it. Use it as a reference piece, as I was told people did when [I started] the Minority Business Magazine.
What do you enjoy about being the CEO and publisher of a magazine?
Man, it's hard work. It's harder this time than before, and that's because being out of the business for six, seven years—basically, things change. New people are put into key positions that you haven't met, and you have to meet, and they're thinking a little bit differently. Some see the value of diversity and inclusion, others don't. So, you have to, once again, educate them.
How do you handle opposition when it comes your way?
I say, "Thank you very much. I appreciate your opinion. I appreciate the information you provided." This is America, so everybody has an opinion. Your opinion might not be the same, my opinion might not be the same. I'm in the media; I'm supposed to be neutral, anyway. I respect everybody's opinion.
What do you like about magazines that are different from radio?
I can go into more detail and I've got all the [space] in the world to do this and write that. In radio and TV, you've only got a certain amount of time. And then you can do a series. It's a lot easier doing a series with a magazine. It can be more versatile. We'll have stories on senior citizens on one page or one section and the next we're talking about veterans or the LGBTQ community.•
(IBJ photo/Eric Learned)
Please enable JavaScript to view this content.