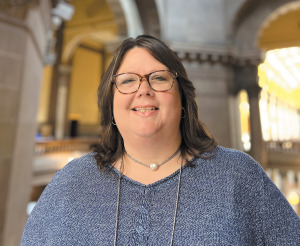 Reporter and editor Niki Kelly has been covering the political and policy goings-on at the Indiana Statehouse for more than two decades, making her the most senior journalist on the state government beat.
For nearly all that time, she wrote for The Journal Gazette in Fort Wayne. But this summer, Kelly, 49, was named editor-in-chief of the Indiana Capital Chronicle, a new not-for-profit newsroom covering state government.
Did your family subscribe to newspapers?
Yes, always. I largely grew up in Cincinnati, so we got the Cincinnati Enquirer. There was also a weekly Claremont County newspaper that we got, too, but I largely remember reading the Enquirer.
When did you start thinking about journalism as a career?
I went to a very small school district in Ohio, kind of out in the country. They had one journalism class that I got to take one year. We didn't have a school newspaper. But somewhere once I hit high school, I knew that's what I was going to do.
How did you end up in Indiana?
I got a different job in Ohio first, but about three months in, [the Fort Wayne editor] called and offered me a job as a cops reporter. I initially turned it down. … He called again at six months. I turned it down again. They called again at nine months, and it was to be a bureau reporter, which is what I was doing in Ohio. I liked that, as a bureau reporter, you got to do a little of everything—a little cops, a little courts, a little bit of city and town stuff and education. And so I came to Indiana in 1996.
You moved to the Statehouse full time in 2000. What has kept you interested in state politics?
It's the breadth of topics. You are never bored because the state deals with everything in your life. Whether it's a BMV story or a Medicaid story or an education story or a criminal justice story, you get all the topics. … I also like the fast pace during the session, and at the same time, that there's time for longer-term stuff during the non-session period.
Why move to the Indiana Capital Chronicle?
I did not leave [The Journal Gazette] because I was unhappy with my job. I worked for a small, family-owned newspaper, and I loved them and I loved the paper. … But this opportunity came along, and I had started thinking maybe it's time to move into editing. … It let me stay in contact with the Legislature, use all my institutional knowledge and work with younger reporters.
And I don't think I realized at the time how much I needed a new challenge until I got a couple months into the new one. There was so much I am doing that is different, and I even wondered if I could do it—the new technology, the management skills, new everything. And it has been invigorating. A little scary, but just great.
What are the top issues the Legislature will be tackling?
The budget has to be the big one. Obviously, education makes up more than half of that budget … but one thing we're hoping to do at the Capital Chronicle is start looking into other parts of the budget a little more closely.
There's a lot of talk about health care in a couple ways—whether we have the correct public health infrastructure and whether lawmakers can do anything to try to hold down health care costs.•
Please enable JavaScript to view this content.