Shannon Schumacher became president and CEO of The Villages of Indiana in April 2021, taking over for longtime leader Sharon Pierce, who retired after nearly 30 years.
This is a particularly challenging time for the statewide not-for-profit, which helps place children with foster-care families and provides a wide gamut of services to help support vulnerable parents and children, facilitate adoptions and prevent child abuse.
The Villages placed 321 children with foster families in 2021, but the need was much greater.
How great is the need for foster parents statewide?
We take referrals from the Department of Child Services, so we get a call or an email that says, "We have a child that we need to get placed in foster care right away; can you help us?" And last year, we had 5,000 referrals that we could not place in foster care, because we simply did not have enough foster parents.
Is that an unusual number? Has the need been getting greater?
We're seeing a lot of things get worse. One of the pieces to it is COVID. Families are more reluctant to become a foster parent because of COVID, especially if they already have children and they know how difficult it is if they have to do homeschooling and all the stress of, "Can they go into work? Can they work from home?" All of that stress has caused families to think twice about becoming foster parents or caused them to retire from being a foster parent.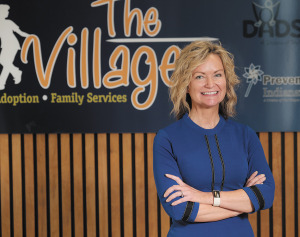 Another struggle is that we're seeing a lot more older children come into the system, and foster parents sometimes aren't as open to teenagers, to take teenagers into their homes.
The other thing that we're seeing is, the opioid crisis is not relenting. Sixty-two percent of the children that are in foster care are negatively affected by parental substance use disorder. Children are being removed from parents who are in the throes of their substance use disorder. We don't talk about it as much anymore, but it's still a major, major issue in our communities.
So, to make all this work, you need families. How do you find them?
We do outreach and marketing, and we have lots of information sessions. There are a lot of myths out there for people who may be considering fostering. One is that you have to be married. About 28% of our families are single people. And you can rent your home; you don't have to own it. You do have to be at least 21.
We license the families, so there's training. We have 20 hours of pre-foster-care training that they go through that focuses on the trauma the children are experiencing and just the Department of Child Services process.
What has surprised you in your first year on the job?
I have to say, I've never been a foster parent. I have some family members who have fostered children. But there is no profile of the perfect foster parent. We have people who have been in foster care themselves at one point. We have same-sex couples that are amazing foster parents. We have very religious people who are foster parents. It just runs the gamut. And so, I think it surprised me, just the variety of foster parents. But the link that connects them all is just their love and compassion and willingness to open their hearts and homes to children.•
Please enable JavaScript to view this content.