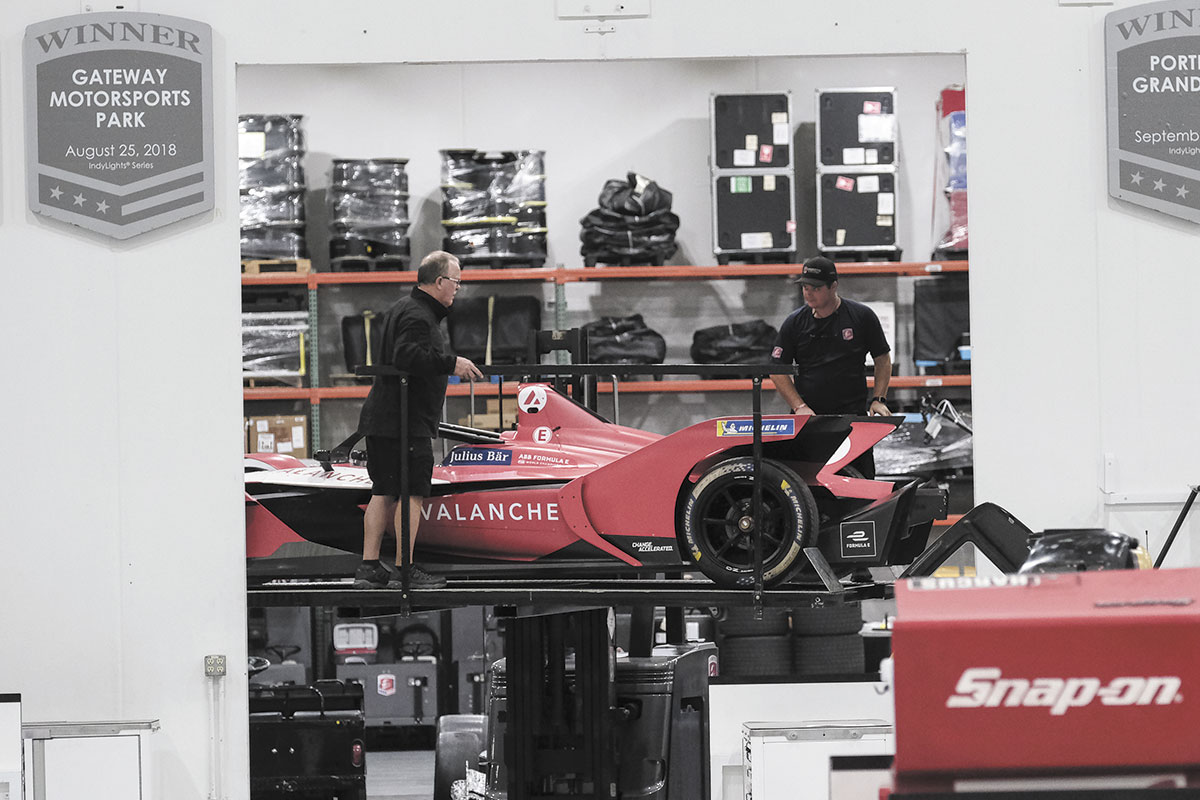 Propelled by a renewed interest in open-wheel racing and Roger Penske's investment in the Indianapolis Motor Speedway, motorsports teams are expanding in central Indiana to participate not just in IndyCar but in other series as well.
The local resurgence is spurred by three of motorsports' biggest brands—Andretti Autosport, Rahal Letterman Lanigan Racing and Arrow McLaren SP. All three are building new headquarters or prominent operations in the metro area after having already invested in Indianapolis significantly over the years.
The investments by Andretti, McLaren and Rahal are expected to total nearly $250 million.
The largest is by Andretti, which is spending $200 million to establish a massive campus near Indianapolis Metropolitan Airport in Fishers.
The three teams are among 10 in IndyCar with substantial operations in Indianapolis, accounting for the vast majority of the series' drivers.
Experts say Indiana has been able to attract investment because the state's economic development arm has made motorsports a priority and taken advantage of the Indianapolis Motor Speedway as a magnet for teams, equipment manufacturers and other racing-related organizations.
It helps that open-wheel racing is on the rise locally and globally, thanks in part to the success of Formula One, a major racing circuit that runs events in Europe, Asia and North America. IndyCar's stable of international drivers is also captivating international fans.
But it's not just teams that are investing in central Indiana. A new membership headquarters for Performance Racing Industry—a trade group to which many racing teams belong—recently opened in downtown Speedway.
And then there's the Indianapolis Motor Speedway, which has seen more than $20 million in upgrades since it was acquired almost three years ago by Penske, who is aiming to turn the track into a hub of year-round activity. He wants to surround the speedway with a sort of entertainment village.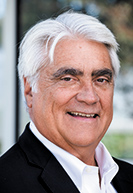 "I think it's an acceleration of developments that have been going on for some time," said Mark Miles, CEO of Detroit-based Penske Entertainment Corp. "Indianapolis has been the center of the whole supply chain for everything IMS and IndyCar for years. But now it's really moving to another level."
Miles said the $250 million in new team investments—and the 750 jobs that will be created—will continue to "leverage other investments in terms of the motorsports supply chain."
The motorsports industry already contributes $1.2 billion annually to Indiana's gross domestic product, according to a report prepared for the state last December by the Indiana Business Research Center and Indiana University Kelley School of Business.
That number includes direct and indirect impacts from more than 300 motorsports-related companies employing nearly 4,900 workers in Indiana. Of those companies, about 200 are directly involved in competition (a race team, a venue or a sanctioning body), while the rest are manufacturers or service providers.
And motorsports jobs pay an average of $77,850—nearly 20% more than the average salary in Indiana.
Shiny and new
Rahal Letterman Lanigan Racing was the first to announce its intentions in October 2020 to go big in central Indiana with a $20 million, 115,000-square-foot headquarters.
The new building at the corner of West 106th Street and Creek Way in Zionsville will bring together Rahal's Brownsburg-based IndyCar Series team and its Columbus, Ohio-based sports car team, which competes in the International Motor Sports Association WeatherTech SportsCar Championship series.
The race shop is being constructed on 13 acres at Creekside Corporate Park and will house about 100 employees.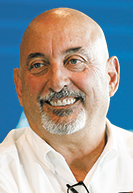 Bobby Rahal, a co-owner of the team, said he initially considered building across the street from IMS, but Zionsville was "very aggressive in bringing us in, which was fantastic."
"The reason I think we made the commitment is because we feel very positive about the direction that IndyCar has taken over the last several years," Rahal said. The HQ is set to open later this month.
Then in May, at the inaugural Indiana Global Economic Summit, Arrow McLaren SP announced it will spend $25 million to build a 97,000-square-foot facility near Interstate 65 on Indianapolis Road in Whitestown. The building will house an IndyCar team office and a workshop and training center, and it will create up to 175 jobs by 2024.
McLaren is the eighth-largest motorsports company in the Indianapolis area, according to IBJ research, with 75 employees at its current location at 6803 Coffman Road.
But Andretti created the biggest stir when it revealed in August plans for a $200 million, 575,000-square-foot global motorsports headquarters in Fishers that is expected to create 500 jobs by the end of 2026.
The facility will be on 90 acres on the southeast quadrant of the Indianapolis Metropolitan Airport property near East 96th Street and Hague Road. It will serve as the headquarters of Andretti's global commercial functions and the base of operations for the team's current IndyCar Series, Indy Lights and IMSA programs, as well as other future racing initiatives—which could include a Formula One team.
Also, Cardinal XLIII LLC, a development firm associated with Andretti, has an option to purchase another 67 acres adjacent to the airport that could be used for additional development.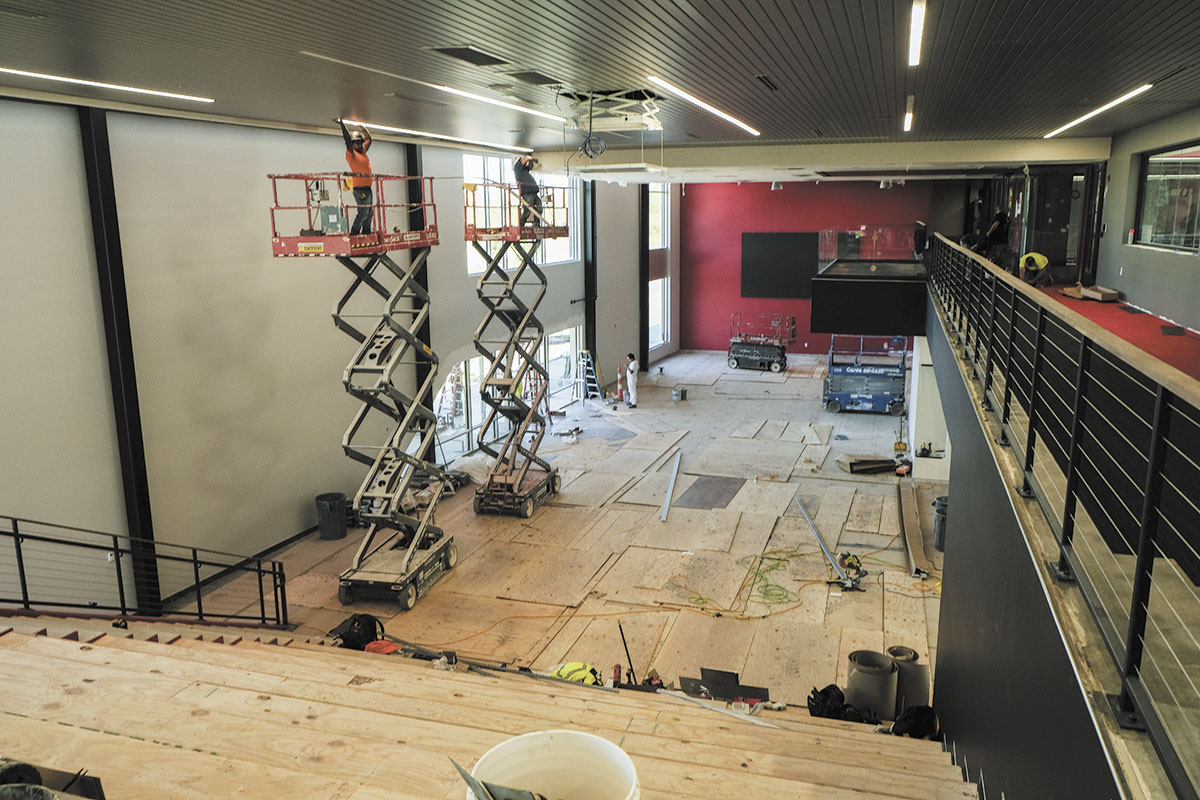 Long-term investments
The new race team facilities are "multi-decade decisions," said Ken Ungar, principal at Indianapolis-based sports marketing firm Charge, who observed construction of the Rahal team headquarters on his drive to and from work. Ungar also worked as chief of staff at IMS from 1997 to 2001.
"When you build a facility custom of that scale and size, you're making a very long-term investment in a community," Ungar said. "As someone who lives in central Indiana, I'm excited that they have made those investment decisions here and that they were supported by a forward-thinking policy, because that's a long-term benefit."
Ungar said he thinks the main attraction for each team is proximity to means of transportation, such as interstates and airports. The Rahal and McLaren facilities will be near major interstates and just a short drive from Indianapolis International Airport. The Andretti headquarters will be adjacent to Indianapolis Metropolitan Airport, which will allow team executives and members to easily fly in and out on private planes.
"Logistics and that type of infrastructure will drive it," Ungar said.
He added that the teams building here are not doing so just because of their successes in IndyCar. They're also involved in other racing series, including sports cars; off-road series Extreme E; and Formula E, an all-electric, zero-carbon-footprint, open-wheel series. The Indiana Economic Development Corp. is a sponsor of Andretti's Formula E car.
"So I think it's the overall success of motorsports [that] is driving their expansion," Ungar said. "And then you couple that with an attractive environment in central Indiana, and you've got the recipe for beautiful new race shops that will attract high-paying jobs."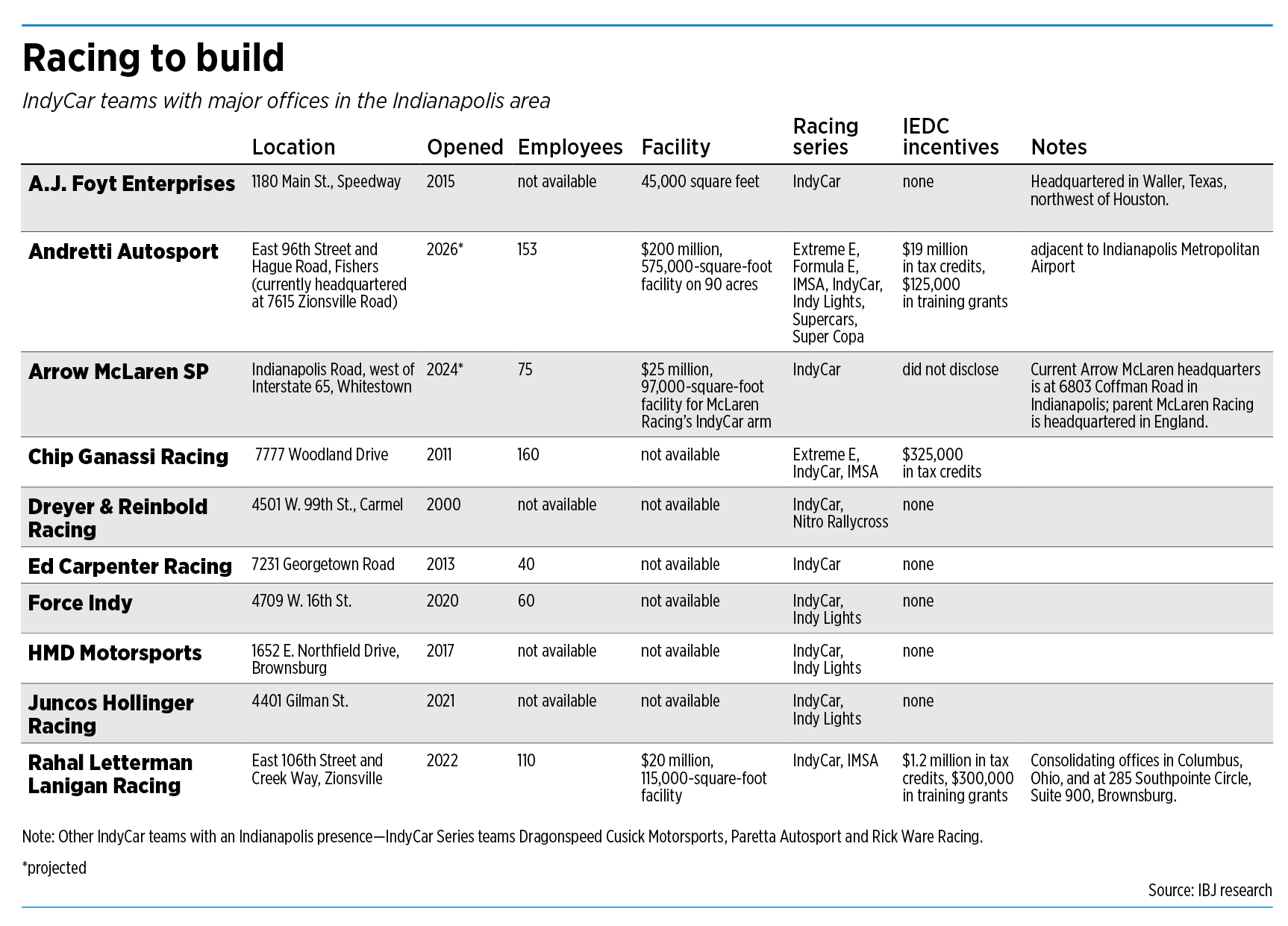 Friendly climate
Ten IndyCar Series teams have major offices in Indianapolis and its suburbs: A.J. Foyt Enterprises, Andretti Autosport, Arrow McLaren SP, Chip Ganassi Racing, Dreyer & Reinbold Racing, Ed Carpenter Racing, Force Indy, HMD Motorsports, Juncos Hollinger Racing and Rahal Letterman Lanigan Racing.
Other IndyCar teams with an Indianapolis-area presence include Dragonspeed Cusick Motorsports, Paretta Autosport and Rick Ware Racing. And Italy-based chassis manufacturer Dallara Inc. has its IndyCar Factory in Speedway.
It's a grouping that motorsports experts compare to the cluster of NASCAR teams in and around Charlotte, North Carolina.
Miles said it's a recognition that central Indiana "is a great place to be … and it's becoming even more the motorsports capital of the world."
Jamie Meyer, president of Performance Racing Industry, which also has offices in suburban Los Angeles, said more teams in IMSA and the National Hot Rod Association—whose U.S. Nationals are hosted annually over Labor Day weekend at Lucas Oil Raceway—could eventually be lured here.
Indianapolis is already home to a number of team headquarters or large locations for other racing leagues. Among them are Don Schumacher Racing and John Force Racing Inc., both drag-racing teams that employ more than 60 people each in Brownsburg. Tony Stewart Racing, another NHRA team, is also based in Brownsburg.
PRI hosts the country's largest motorsports trade show in Indianapolis and on May 26 opened its 42,500-square-foot membership headquarters in Speedway.
"This is all part of the momentum of Indianapolis right now," Meyer said. "The brand of Indiana is racing. The whole community is committed and continues to find new ways to promote racing. So getting more races, having those premium venues right here in Indianapolis—that is going to feed the racing industry for decades to come."
State incentives
State officials are focused on using the motorsports industry as a catalyst for growth. Several experts pointed to tax credits and other incentives IEDC has offered to teams who locate and build here.
"The tax incentives certainly play a role, and the business climate in Indiana is relatively strong, so a lot of the pieces of the puzzle just come together and just [make] it a good place to do the investments that they want," said Joyce Young, a professor of economics at Indiana State University.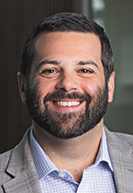 David Rosenberg, the IEDC's executive vice president, said the state's goal is to attract and foster the growth of the motorsports industry.
"That includes racing teams, tracks and infrastructure, the supply chain and the real workforce talent—STEM talent—that's needed to fill those roles," Rosenberg said. "And I think in any industry, particularly the motorsports industry, that can be really a domino effect."
The state has no specific tax credits or incentive programs earmarked for racing teams, except that professional race cars and components are excluded from the sales tax in Indiana. But the IEDC has identified motorsports as a key industry, which means it is actively using other incentives to target race teams and suppliers.
Those include the Hoosier Business Investment tax credit, a headquarters relocation program, and the Economic Development for a Growing Economy, or EDGE, tax credit. The state also has a venture capital investment credit and a relocation tax credit that can be applied to moving costs. Rahal used EDGE and the Hoosier Business Investment programs to jump-start its construction, securing $1.5 million from the state.
The IEDC has also pledged up to $19 million in conditional tax credits and $125,000 in training grants for the Andretti project, based on the company's plans to invest in its Indiana operations.
Rosenberg also pointed to the Industrial Development Grant Fund and Regional Economic Acceleration and Development Initiative grants that are designed to develop communities, infrastructure and STEM talent needed to support the motorsports industry.
"This is not just an investment in a motorsports team or specific sport, but this is something that you [use to] create those clusters—you bring that talent, you create that innovation, and you have wide-ranging applications just outside of motorsports that can also benefit the economy for many decades to come," Rosenberg said.
Open-wheel rebirth
The growth of IndyCar team headquarters and offices is also a sign of a worldwide resurgence in interest in open-wheel racing series, according to those interviewed by IBJ.
Interest in F1 racing can be credited partly to the popular Netflix series "Formula 1: Drive to Survive," which documents teams through a season of the most advanced open-wheel racing in the world. That has led to interest in other forms of open-wheel racing, including IndyCar.
In addition, streaming platforms—including Peacock, which is owned by NBC and has the IndyCar broadcasting contract—are offering fans more opportunities to engage in racing, qualifying and even practice. They're also offering more behind-the-scenes looks at the teams.
"People have fallen in love again with the [Indy] 500 and auto racing in general," said Galen Clavio, a sports marketing professor at Indiana University.
The renewed interest follows a long drought that began in the 1990s with the rise of NASCAR and decline of IndyCar after a 1996 split between CART, then the dominant U.S. open-wheel league, and the upstart Indy Racing League, launched by then-IMS CEO Tony George.
"There's been a renaissance of interest in open-wheel motorsports and non-NASCAR motorsports in the U.S. the likes of which I haven't seen since the late '80s and early '90s," when an International Race of Champions brought together drivers from different leagues to compete in all-star-style races, Clavio said.
The 2022 Indianapolis 500 drew a crowd of 325,000, the most since the 100th running of the race in 2016.
IndyCar TV viewership is bouncing back, garnering its best numbers since the 2016 season, with an average per-race audience of 1.3 million viewers. Half of the series' 16 televised races averaged more than 1 million viewers.
Also, the IMSA sports car series will return to the Indianapolis Motor Speedway next September, the first time since 2014.
Meanwhile, Andretti is trying to break into F1, which raced at IMS from 2000-2007. If Andretti is successful and houses the F1 team in Fishers, "that would just further solidify the state's focus, the state's involvement in the motorsports industry, and continue to showcase why Indiana is the place to be with motorsports and the investments that are being made throughout the entire area," Rosenberg said.
State leaders are looking to the future. Rosenberg noted that IMS was built in 1909 partly as a test track to develop innovation outside motorsports, and Formula E's focus on advancing clean energy and the driverless Indy Autonomous Challenge are both continuations of that legacy.
Strengthening a legacy
However, for many with deep IndyCar ties, the investment in Indianapolis comes back to Penske, who they say was a stabilizing force during the darkest days of the pandemic when some wondered if the Indy 500 would even happen in 2020.
Penske took control of IMS and the NTT IndyCar Series on Jan. 6, 2020, only to have the World Health Organization two months later declare a pandemic that shut down the series and kept most Indianapolis 500 spectators outside the track for two years; it reopened to full capacity only this year.
"As I've told people, I've never felt sorry for Roger Penske—and then the pandemic hit," Rahal said. "But thank God we had Roger, because I think the seasons we would have had in '20 and '21 would have been very different, and who knows if we would have even had a season in '22."
Penske—whose IndyCar and NASCAR teams are headquartered in Mooresville, North Carolina, north of Charlotte, and whose corporate headquarters is in suburban Detroit—is "looking to build up" in IndyCar and at IMS, Rahal said.
"Having the horsepower of Roger's organization behind the speedway, behind IndyCar—I don't think we can overstate the importance of that, because I think that's critical," Rahal said. "You have to feel very good [about] what the future looks like for IndyCar."•
Please enable JavaScript to view this content.