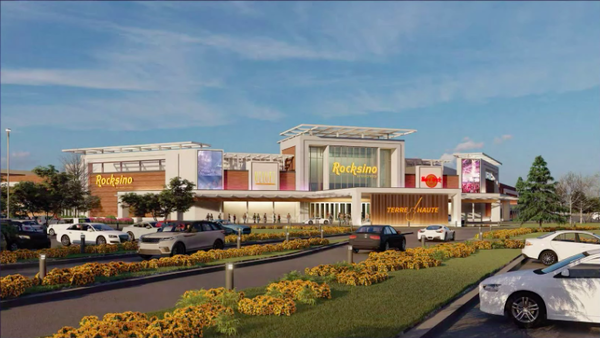 The Indiana Gaming Commission on Wednesday suspended the occupational gambling license of longtime casino executive Rod Ratcliff after tying him to a federal investigation involving campaign finance violations.
The suspension comes as the commission continues to investigate people associated with Spectacle Entertainment, a company Ratcliff helped found. The commission's executive director, Sara Gonso Tait, said "issues of concern continue to emerge."
That could jeopardize the opening of casinos the company is building in Gary and Terre Haute.
The commission's look into Spectacle and its executives started in January after federal prosecutors said they were investigating campaign finance violations that involved Indiana casino executives from New Centaur LLC, of which Ratcliff had been chairman and CEO.
New Centaur owned the state's racetrack casinos before selling them to Caesars and launching Spectacle Entertainment, which now operates the Majestic Star I and Majestic Star II casinos on Lake Michigan and is constructing a $300 million land-based casino that will replace those riverboats.
In September, prosecutors indicted former state Sen. Brent Waltz and casino executive and former state lawmaker John Keeler on federal charges related to violating federal campaign finance laws. Keeler had been an executive at both New Centaur and at Spectacle.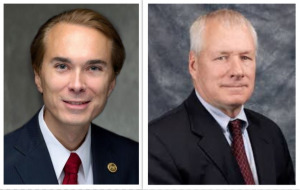 According to the U.S. Attorney's Office, Keeler worked with Maryland-based political consultant Kelley Rogers to transfer thousands of dollars from the accounts of New Centaur to Rogers, who then contributed that money to Waltz's unsuccessful 2016 congressional campaign.
Rogers allegedly created fake invoices and agreements to make it appear that he was providing services for New Centaur and recruited straw donors to each contribute $2,700 to Waltz's campaign. That was the federal maximum contribution limit at the time.
According to the indictment, an unnamed New Centaur executive met with Rogers at the Indianapolis airport to set up the scheme. In an emergency order it issued Wednesday to suspend Ratcliff's license, the gaming commission identified Ratcliff, who was initially chairman and CEO of Spectacle Entertainment, as that executive. Ratcliff has not been charged criminally and is not named in the federal indictment.
The commission voted unanimously during a virtual meeting Wednesday to suspend Ratcliff's license for 90 days, at which time it could seek to revoke his license permanently.
The order lays out the commission's reasoning for suspending the license. In addition to Ratcliff's alleged involvement with the federal campaign finance scheme, the order also lists his failure to cooperate with the commission and his failure to update the commission on changes he made in August to his trust agreement, in which his equity shares in Spectacle are held, to name a new successor trustee.
He and Spectacle also failed to tell the commission of equity transfers he made in the past. And Ratcliff was "acting outside of licensure conditions" by continuing to conduct work to foster relationships with investors and lenders of Spectacle and is "attempting to secure new financing arrangements for the casino owner's licensee," despite the fact he's no longer an employee or executive of Spectacle, the order states.
Ratcliff did not attend the meeting, but his attorneys told the commission it was not necessary to suspend his license on an emergency basis because he has separated himself from Spectacle Entertainment, essentially removing himself from gambling operations in Indiana.
Ratcliff resigned from his position as CEO of Spectacle Entertainment in June but maintained an ownership stake in the company and was responsible for investor relations. The commission received paperwork from Spectacle confirming his termination from the investor relations role Dec. 3.
Then on Tuesday, his attorneys sent to the agency an agreement for Ratcliff to sell his remaining shares in Spectacle Entertainment to Greg Gibson of Spectacle Jack, a subsidiary of Spectacle Entertainment that is overseeing construction of the new Terre Haute casino in partnership with Florida-based Hard Rock.
The agreement is contingent, however, on approval from both the commission and Hard Rock, whose officials said had not received the agreement as of Wednesday and had concerns about it.
Ratcliff's attorneys said he has done nothing wrong but he "realizes that this situation creates chaos for his business partners and others." Ratcliff, through his attorneys, declined to voluntarily surrender his license.
Tait said as the agency has conducted its investigation, it has reached out to Ratcliff to interview him multiple times and he has not cooperated.
The commission first requested an interview with Ratcliff regarding alleged violations of the Riverboat Gambling Act in June. Ratcliff did not cooperate but later apologized through his attorneys and said he would be available "upon demand" going forward.
An interview with Ratcliff was then scheduled for Dec. 10. On Dec. 9, his attorneys alerted the agency that he would not be participating.
"That in itself seems like a very troubling fact. All these other things set aside, that itself is a real concern to me," the commission's chairman, Michael McMains, said Wednesday. "We have a lot of experience with Mr. Ratcliff. We have good experiences and that's why I'm hopeful that we can resolve this with a voluntary surrender and not force us to make decisions on an emergency basis."
Ultimately, the commission voted unanimously to suspend his license and ordered Ratcliff and Spectacle to remove him as a trustee of the Roderick J. Ratcliff Revocable Trust and replace him with someone acceptable to the commission.
The commission previously suspended Keeler's license, and on Wednesday, ordered him to sell his interest in Spectacle.
As work on the casinos continues, the commission debated whether to appoint a trustee to handle operations while it finishes its investigations. However, both Spectacle and its partner Hard Rock objected, and the commission did not act on that idea.
Tait, meanwhile, said the commission would remain focused on the investigation and the continuing operations of the two Majestic Star casinos. Spectacle had hoped to begin moving equipment and staff from the old Majestic Star casinos to the new site beginning next month, but Tait said that "with all the uncertainty," that could be delayed.
Please enable JavaScript to view this content.