The Indiana Gaming Commission has filed a complaint to permanently revoke Rod Ratcliff's gaming license after discovering alleged wrongdoing by the longtime casino executive, including the possibility that he took money from his previous company for a personal betting account.
The commission temporarily revoked Ratcliff's license in December after connecting him to a federal campaign finance scheme.
Ratcliff, who previously served as chairman and CEO of Centaur Gaming and as CEO and chairman of Spectacle Entertainment, filed a lawsuit in Lake County Superior Court in January to overturn the commission's decision.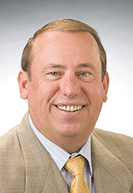 Centaur owned and operated the state's two horse-track racing casinos until selling them to Caesars Entertainment in 2018. Spectacle Entertainment now operates the Majestic Star I and Majestic Star II casinos on Lake Michigan and is partnering with Hard Rock to construct a $300 million land-based casino in Gary that will replace those riverboats.
The Gaming Commission has asked a judge to dismiss Ratcliff's lawsuit, arguing the executive has not exhausted his administrative appeals.
And now the commission is trying to take away Ratcliff's gaming license for good while alleging that he funneled money from Centaur into a personal gambling account and repeatedly concealed financial information from the commission that should have been disclosed.
That's in addition to Ratcliff's association with a federal campaign finance scheme and his refusal to work with the agency's investigators, the commission says.
In September, federal prosecutors indicted former state Sen. Brent Waltz and casino executive and former state lawmaker John Keeler on charges related to violating federal campaign finance laws. Keeler had been an executive at both Centaur and at Spectacle.
According to the U.S. Attorney's Office, Keeler worked with Maryland-based political consultant Kelley Rogers to transfer thousands of dollars from the accounts of Centaur to Rogers, who then contributed that money to Waltz's unsuccessful 2016 congressional campaign. An unnamed Centaur executive allegedly met with Rogers at the Indianapolis airport to set up the scheme.
The Gaming Commission identified Ratcliff as that executive when it suspended his gaming license for 90 days in December. And, in the petition to permanently revoke his license, the commission included a copy of an email that a Centaur assistant sent to Rogers to arrange the meeting with Ratcliff and a copy of Ratcliff's calendar that showed he planned to meet Rogers.
Ratcliff has denied any wrongdoing and has not been criminally charged.
The commission argues that the "mere association or inference" in such a criminal case would be enough to question whether Ratcliff could maintain a gaming license and that the burden is on him to prove he is still suitable to hold the license.
Ratcliff has declined to be interviewed by Gaming Commission officials on multiple occasions.
In the lawsuit he filed against the commission last month, he argued that the agency violated his right to due process when it temporarily suspended his gaming license and that he believes the commission is trying to force him to sell his interests in the new Gary casino to Hard Rock, which is a partner in the project.
Ratcliff amended his initial complaint on Monday to also argue that the commission violated state statute in December because it acted without a member representing northwest Indiana.
Robert Vane, a spokesman for Ratcliff, said Ratcliff is reviewing the commission's filing to permanently revoke his license and he "looks forward to his day in court to contest these baseless allegations."
"The IGC's recent motion also seems, finally, to concede that the IGC acted hastily and improperly in suspending Mr. Ratcliff's license on a temporary basis rather than proceed with a full hearing on the merits of the IGC's allegations," Vane said in a statement.
In the petition to revoke the license, the commission suggests that its investigation is not complete yet.
"Any one of these matters, individually, should lead to revocation of his licensee," the petition filing says. "When combined with what the commission knows so far, there should be no credible question that [Ratcliff] is not fit to hold a gaming license in Indiana."
Concealing information
According to the commission, Ratcliff allegedly took hundreds of thousands of dollars from the racinos for a personal horse race betting account with the platform FastBet, which was available at Centaur's horse-track racing casinos in Anderson and Shelbyville and at Winner's Circle off-track betting parlor in downtown Indianapolis. Centaur also owned and operated Winner's Circle.
From 2015 to 2019, Centaur employees transferred approximately $900,000 to Ratcliff's FastBet accounts, according to the commission. The money was transferred under the description of "marketing other."
Ratcliff did not disclose his earnings from FastBet to the commission, even though he would have been required to do so, and he did report other gambling income during the same time period.
That was not the only time Ratcliff withheld information from the commission or provided false information, according to the petition to revoke his license.
In the fall of 2018, Ratcliff allegedly verbally offered the CEO position at Spectacle Gary to an unnamed Indianapolis attorney and lobbyist. Spectacle Gary now owns the casino licenses for the Gary casinos, and Spectacle Entertainment is the majority owner of Spectacle Gary.
The verbal agreement included an offer to the Indianapolis attorney to receive shares of Spectacle Gary, but the agreement—which was never recorded in writing—was rescinded in 2019, according to the commission.
In February 2020, Spectacle allegedly agreed to pay the Indianapolis attorney "a significant monetary settlement" by March 31, 2021.
Spectacle's board of directors was not aware of that agreement until October 2020, which was four months after Ratcliff had resigned as CEO. And the employment offer, equity agreement and settlement agreement were never reported to the Gaming Commission, even though that would have been required.
Also, in February 2019, Ratcliff allegedly told the commission that he had received a subpoena in September 2018 for documents related to Waltz and Rogers, but he denied any involvement in the straw donor scheme that would later be revealed in court documents in 2020.
The commission says it is now clear Ratcliff lied in February 2019.
And, in August, Ratcliff changed the trustee of his revocable trust, which has an ownership interest in Spectacle, but did not inform the commission, despite being required to do so.
That same month, the commission received a license application "from an individual who owned and operated a lobbying firm" to become executive vice president of Spectacle.
The commission says it questioned the compensation the company was offering the unnamed individual, because it "was much higher" than what Ratcliff had been paid. It also alleges Ratcliff "or his underlings" ignored the commission's requests for additional information and pressured the commission staff to approve the license.
The commission did not act on the license, and Spectacle allegedly rescinded the employment offer to the individual.
Ratcliff also allegedly transferred some equity shares in Spectacle to former Centaur executive Rich Zeigler, lobbyist and former Republican state lawmaker Matt Whetstone and Keeler, but Spectacle did not notify the commission of this ownership change until November, which was months after the fact.
Ratcliff's "multiple failures to disclose information and changes in information, raise questions regarding a concerted effort by [Ratcliff], in his previous high ranking positions, and the companies he controlled, to obscure these activities from regulatory oversight," the filing says.
An administrative law judge will review the commission's petition to revoke the license. The Gaming Commission would also have to vote on the matter.
Ratcliff amends complaint
Meanwhile, Ratcliff is accusing the Gaming Commission of violating state statute for taking action without having a member who represents the northwest counties.
State law requires the Gaming Commission to have seven members, with one from a county contiguous to Lake Michigan, one from a county contiguous to the Ohio River, one experienced in law enforcement, one being a certified public accountant and one being an attorney. No more than four members may be from the same political party.
In an amended complaint to his lawsuit that he initially filed in January, Ratcliff argues that because the commission had two vacant positions—including the spot formerly filled by someone from a county contiguous to Lake Michigan—when it temporarily revoked his license, the decision should not stand.
Three commission members—Joseph Svetanoff of Crown Point, Mike Herndon of Shelbyville and Jane Saxon of Noblesville—resigned from the board in November. One position has been filled by Chuck Cohen of Bloomington, but the other two remain vacant.
The governor is responsible for appointing the members of the seven-person commission. A spokesperson for Gov. Eric Holcomb said his office "is actively engaged" in the vetting process to find new commission members.
State law says the commission has a quorum and can take action with four members present. The commission had five members present at the virtual meeting in December. State law does not specify whether the body is allowed to take action when positions are vacant. The commission has conducted business in the past during times of vacancies.
In the court document filed Monday, Ratcliff argues that even though the commission can conduct business with just four members present, it does not "alleviate the mandate that the commission be composed of a member representing the geographic region of the Lake Michigan counties."
"Indeed, the Gaming Commission's actions on December 23, 2020 demonstrate precisely why this geographic requirement exists," the court document says. "On that day, the Gaming Commission took actions detrimental to the interests of the residents of Lake County without any member there to adequately represent those interests."
The Gaming Commission has told Spectacle that it should plan to continue operating the riverboats in Gary until at least June, even though the land-based casino is expected to open this spring.
Please enable JavaScript to view this content.