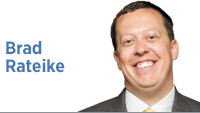 When it comes to athletics, most of the trophies I have received in my life contain the word "participation" or "perfect attendance" on them. I do have a varsity letter from when I was manager of my high school tennis team, but my wife has suggested that does not count and that I should never mention it in public. Well, I showed her.
Not to be discouraged, I did something this year that I have not done in more than 25 years. I joined a bowling league. While I call it an excuse to hang out with my friends for two hours a week, eight winter Wednesdays in a row, I have developed a whole new level of respect for the experience and think it is something we could all use a little bit more of in our lives.
The beauty of bowling is that I know no one who is truly good at it. I only have friends who are good at quoting "The Big Lebowski." And even if I did know someone good at bowling, it is unlikely I would ever hear that person talk ad nauseum about their game, unlike golf. I know a lot of good golfers.
Bowling might be the great equalizer in recreational athletics. If you go with friends on a Friday night, you are all going to wear the same neon, rented, clown-like shoes (some of which fasten with Velcro). Looking cool is now off the table. You will then search the facility to borrow a bowling ball that might or might not properly fit your hand. Now, looking graceful becomes a challenge. Without even knowing it, you have received at least a temporary sense of humor for around $20.
The other beautiful thing about bowling is that each turn is over in less than 90 seconds. If you roll a strike—and anyone, at any level, at any time, can roll a strike—you feel immediate gratification, receive high fives/fist bumps from your teammates and probably from your opponents. What's not to love about that?
If you get zero pins—and it is hard to get zero pins every time—any sense of embarrassment you might feel evaporates as soon as you return to your seat to nurse your beer.
I wonder if the inventors of bowling designed it with a COVID-era USA in mind. There is essentially only one rule, and no real strategy is required. Besides, they usually turn off the "buzzer" for people crossing the "foul" line during recreational play.
I used to think soccer and hockey were easy to understand because, if you were on offense, you were supposed to shoot at your opponent's net and, if you were on defense, you were supposed to just direct the ball or puck the other way. (Again, I refer you to the opening paragraph.) In bowling, the only strategy is to roll the ball in one direction.
Very few similarities exist between Woodland Bowl and the smoke-filled (even on Saturday morning) Wakarusa American Legion basement alley of my youth, but the enjoyment is still the same. Friends getting together, celebrating one another's wins, not fixating on one another's shortcomings, and doing it all with a sense of humor.
I am not saying we should begin prescribing participation in an eight-week recreational bowling league to everyone struggling with mental-health or anxiety-related problems or just overall winter malaise, but we could do a lot worse.•
__________
Rateike is founder and owner of BAR Communications and served as director of cabinet communications for President Donald Trump. Send comments to ibjedit@ibj.com.

Click here for more Forefront columns.
Please enable JavaScript to view this content.