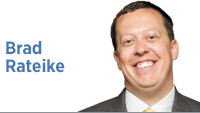 A few weeks ago, I spoke to a group of Franklin College students taking a professional development class as part of their core curriculum. Their professor thought it wise to give her students exposure to multiple professionals who followed different career paths.
Smart professor, I thought. Jumping right into it, my most basic career advice that I give people, no matter where they are in their careers is, "It's not what you know or who you know, but how you sell." Pretty basic to some, but not to everyone.
They followed up the question asking what "qualities" I look for when hiring someone. Instead of listing the obvious—strong writing skills, ability to take direction, attention to detail, "no job too small" attitude, etc.—the characteristic I like to focus on is hunger. I want to work with someone who is professionally hungry. However, this led me to consider the question: Can hunger be taught? And, if so, how?
When I was a student at Franklin College, I interned for two amazing alumni/trustees: Bill Brown, general counsel at what is now OneAmerica, and Gene Henderson, then of counsel at the law firm he had founded formerly known as Henderson Daily Withrow & DeVoe. I'm sure if you ask either of them or anyone who knew me then, you would hear that I was probably a pretty average intern. But both Bill and Gene were kind enough to allow me to observe their leadership styles and learn about what having a job and sitting in a cube or office every day was like.
I knew nothing of the Indianapolis business world but was given a backstage tour by these two community leaders who drew the road map for how to be professionally successful while also being a loving father and husband. I learned about philanthropic involvement, mentoring colleagues and staff, internal company politics, human resources strategy, etc. That's an education.
Despite that incredible exposure, it took three or four years for the seeds they had planted to germinate. I graduated, worked a couple of jobs, lived abroad and ended up working with the Indianapolis business world as an aide in the Governor's Office.
It was finally during my time there that I started to connect those dots they had shared with me. I saw the beginning of the path to becoming someone like them. I don't mean I only wanted to make more money, have more responsibility or a gain a better job title. I started wanting to do more, learn more and contribute more. It was satisfying and is a path I have tried to pursue in my own way the last 14 years.
I examine my own professional development neither as an endorsement nor to be self-congratulatory, but instead to really figure out if hunger as we think we know it can actually be taught—and how. Are there things we can do as employers or managers to help people connect the dots? I honestly don't have the answer, but I think in examining the issue, I've grown a new appreciation for exposure to diverse, new and different people and activities outside my comfort zone.
While that seems obvious, the lesson remains that, whether we're about to enter the workforce or in the middle of our careers, it still comes down to how we sell what we can do and the contribution we can make. Therein lies the ongoing challenge.•
__________
Rateike is founder and owner of BAR Communications and served as director of cabinet communications for President Donald Trump. Send comments to ibjedit@ibj.com.

Click here for more Forefront columns.
Please enable JavaScript to view this content.