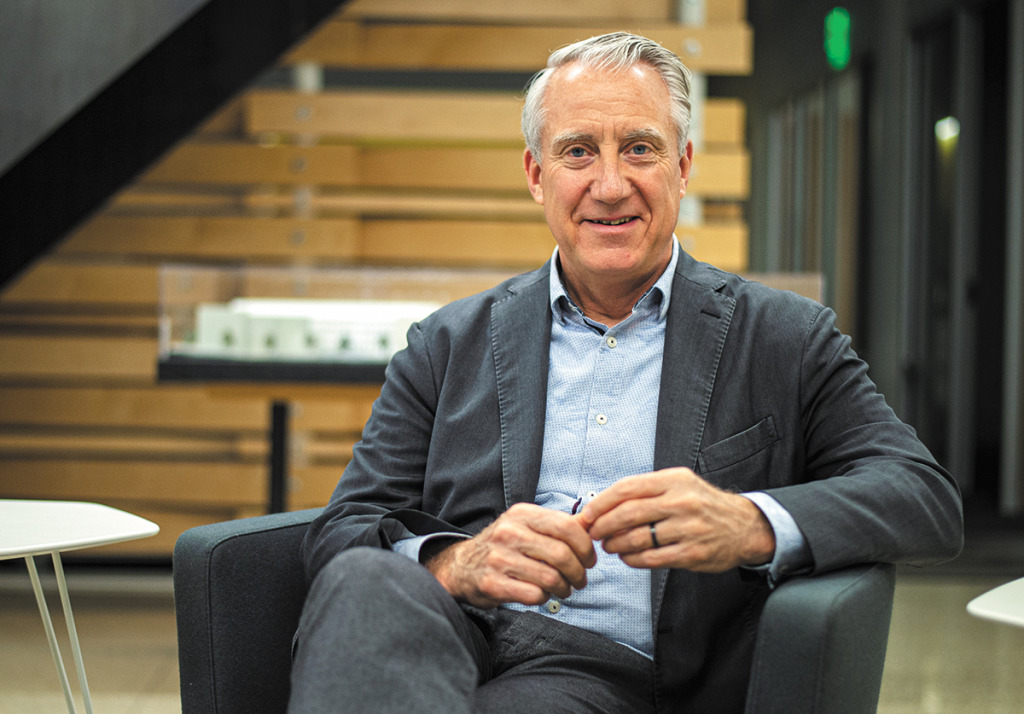 A Toronto-based private investment firm has acquired a minority stake in Indianapolis-based architectural powerhouse Ratio Design, the companies announced Wednesday.
Hennick & Co. Inc. acquired the stake in Ratio at the start of the year, with plans to underwrite the design firm's growth efforts, including mergers and acquisitions of smaller firms in surrounding markets over the next several years.
Ratio will remain an independent Indianapolis-based company as part of the deal, with founding principal Bill Browne staying as president and the largest individual shareholder. Senior management will also remain with the firm and "retain a significant equity stake" as part of the deal, although Hennick will also have a "significant interest" in the firm, Ratio said in a news release.
Financial terms of the deal were not disclosed.
Browne said Hennick approached Ratio more than a year ago about investing in the firm to accelerate its growth in other markets. He said the investor "does not have any interest" in managing Ratio—only putting up money when needed to propel growth.
"We're just going to go about doing the same thing we've been doing, except we've got a financial partner in Hennick who can from time to time support us as we're looking to merge and acquire other firms," Browne told IBJ. "We've been in the business of merging and acquiring firms for the last 15 years and we want to continue doing that while [keeping] our headquarters here in Indianapolis. This affords us the opportunity to do that a little bit more intently and aggressively, if you will."
Ratio's most recent acquisition was Denver-based Humphries Poli Architects in 2019. The company has design studios in Denver; Chicago; Raleigh, North Carolina; and Champaign, Illinois, in addition to its headquarters in Indianapolis.
"Ratio is a nationally recognized leader in architecture and design services in some of the fastest-growing and most dynamic markets in the United States," said Hennick managing director Bradley Hennick in written remarks. "Our investment in Ratio will allow the firm to accelerate its impressive organic growth while providing additional capital and expertise to pursue targeted mergers with other design-oriented firms in contiguous markets."
Founded by Browne in 1982, Ratio is the second-largest largest architectural firms in the Indianapolis area, based on local billings of $22.6 million in 2019. Billings were $44.1 million company-wide that year.
The firm is also is the 41st largest architecture company in the United States, according to a 2020 report from trade publication Building Design + Construction.
Ratio has completed projects in 41 states and 15 countries, with projects running the gamut from office to education to hospitality to residential.  Some of the firm's more notable projects include Conseco Fieldhouse, the Indiana State Museum and The Children's Museum of Indianapolis Dinosphere.
Ratio is also involved with the design for the revamp of Pan Am Plaza, including the 37-story Signia by Hilton set to break ground next year.  Overall, the company employs about 170 people, including 75 in Indianapolis.
The firms also entered into what they're calling a "perpetual partnership model," to allow up-and-coming architects to become equity partners in the firm as they rise through the ranks.
Browne said it's possible Ratio "might be double our size" in the next five to 10 years through mergers and acquisitions as well as organic growth. But he added he wants the growth to be "meaningful," bringing in additional quality clients and projects without encumbering the firm's ability to serve longstanding clients.
"I've always wanted to make sure that we create a legacy for ourselves as a company, and that this firm would outlive me and continue on," Browne said. "So, for me this is establishing that going forward for, I think, several generations I believe this will solidify the legacy of the organization, and its trajectory."
Please enable JavaScript to view this content.