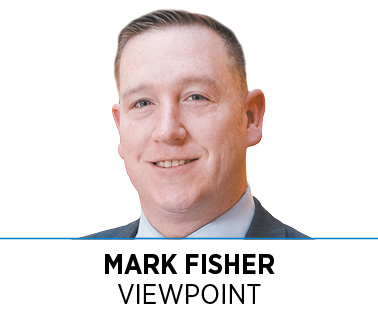 In a few days, we'll mark a major milestone in a decade-long effort to modernize mass transit in Indianapolis—the launch of the Red Line bus rapid transit route. It's appropriate that the Red Line opens on Labor Day, as bus rapid transit, known as BRT, will make the whole transit system work more efficiently to connect people and jobs across our city.
As we count down the days, it's natural to focus on the details: New traffic patterns and lane changes, service and schedule questions from people eager to get "on board." But as we mark the green light for the Red Line, let's take a final opportunity to step back and look at how we got here, and the overwhelming need for improved mass transit in Indianapolis.
In 2016, the voters of Marion County spoke loud and clear in favor of better transit service. By adding a few cents to the local income tax levy, the referendum win made it possible for IndyGo to invest in sweeping upgrades to its bus fleet, extending routes and expanding schedules to make public transportation a more realistic option for getting to work, school and daily necessities for the average Indianapolis resident.
We're at the midpoint of this five-year plan to bring high-frequency bus service to three times more riders and reach twice the number of jobs.
Phase I of the Red Line, running from Broad Ripple to UIndy along a route exceptionally dense with population and employment, is the backbone that makes the plan work. Thanks to a federal "Small Starts" transit grant, planning for the Red Line was already well underway when the voters had their say in 2016.
Running electric buses in a dedicated lane to provide frequent, convenient service, the Red Line will serve more than 100,000 residents and one of every four Marion County jobs within a five-minute walk of a stop. The Red Line also reaches 90% of the region's college students, linking major employment centers, cultural districts and neighborhoods ripe for walkable development.
All the data justifies the Red Line as the best transportation solution in the right corridor to make the rest of our transit system more convenient and efficient. But the Red Line is also an investment in upward mobility for many families living near the route.
According to an analysis from the Brookings Institution, the urban areas along and adjacent to the Red Line corridor have suffered from a concentration of poverty and erosion of nearby jobs. Transit opens the door to more employment and educational options and access to healthy food and medical care.
There has been a lot of attention around the idea of "inclusive growth" in Indianapolis over the last few years, the need to rebuild our middle class and address the issues that create economic isolation. To succeed as a city, we need more people succeeding in our economy and participating as productive workers, citizens and taxpayers.
Change can be frustrating, but a bigger picture beckons. For every missed left turn or temporary delay, let's remember that the Red Line—and the transit system around it—helps thousands of our neighbors access a wider world of opportunity and revitalize neighborhoods reeling from decades of disinvestment and depopulation.•
__________
Fisher is chief policy officer for the Indy Chamber.
Please enable JavaScript to view this content.