Redistricting reform advocates are taking a slightly different approach at the Republican-controlled Indiana Legislature this year, as they make more transparency the priority ahead of lines being redrawn in 2021.
For years, bills have been filed to create an independent redistricting commission that would be responsible for drawing district lines, but that legislation has not been successful. Political district boundaries are redrawn every 10 years using U.S. Census data, which means this session is the last opportunity to pass legislation before the 2020 population count.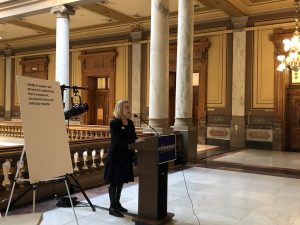 The Indiana Coalition for Independent Redistricting will again advocate for the creation of an independent commission, but it is also pushing for simply making the process more transparent and has been working with a Republican state lawmaker on the issue. 
State Sen. John Ruckelshaus, R-Indianapolis, said he filed a bill Monday morning that would create a new public website where the public can see population data and draw electoral maps that can be submitted for consideration. The bill also would require public hearings on the maps before approval.
"I am all in on redistricting reform this year," Ruckelshaus said.
Julia Vaughn, policy director for Common Cause Indiana, said her watchdog group is "cautiously optimistic" that this legislation can earn enough support. 
Vaughn said advocates will still push for the creation of an independent redistricting commission, but they know their odds are steeper for that measure.
"We're skeptical that we'll be able to pass that in the short session," Vaughn said.
Ruckleshaus and Senate Minority Leader Tim Lanane said they are both filing bills that would establish a redistricting commission.
"Some of us have been working on this for 20 years," Lanane said. "The question is—when is this finally going to happen?"
The coalition is also urging lawmakers to sign the nationwide End Gerrymandering Now pledge, which says they "support and advance fair redistricting that is transparent, non-discriminatory and politically impartial."
More than a dozen lawmakers, both Republican and Democratic, had already signed the pledge as of Monday morning. 
"I'm very proud to be a part of this," Ruckelshaus said.
Please enable JavaScript to view this content.