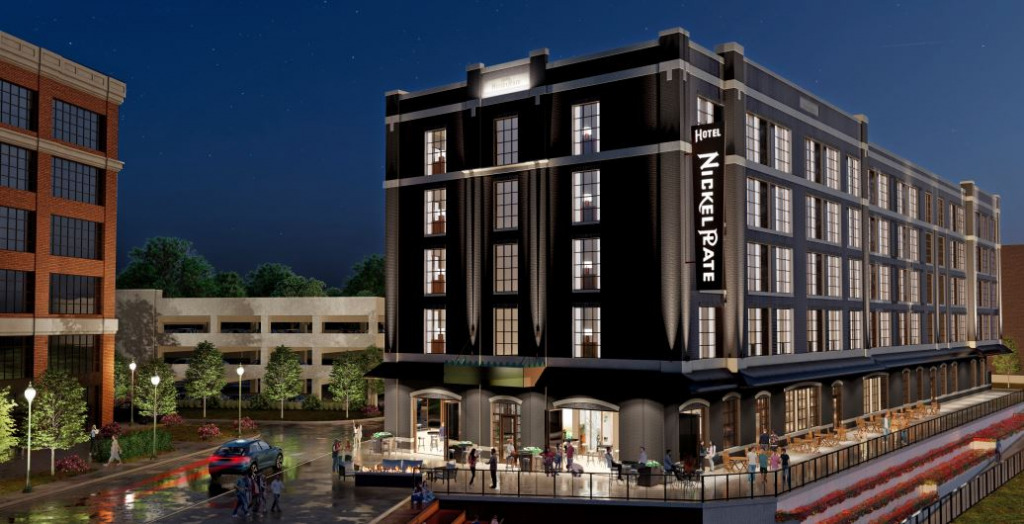 Fishers officials on Wednesday released design renderings for a five-story, 116-unit hotel under Hilton's high-end Tapestry Collection brand that will be built in Fishers' Nickel Plate District.
Groundbreaking is scheduled for this fall on Hotel Nickel Plate, which will be built on the south side of 116th Street in downtown Fishers and along the Nickel Plate Trail. The hotel will include a full-service restaurant and bar on the ground level.
The hotel is part of a larger $157 million mixed-use project in the Nickel Plate District. Announced in December 2018, the project includes the six-story, 180,000-square-foot First Internet Bank headquarters, a 237-unit multifamily development called Nickel Plate Station and the rehabilitation of older buildings in downtown Fishers.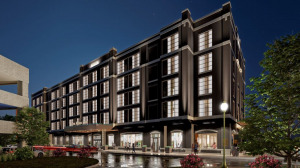 Indianapolis-based Browning Investments, lead developer of the overall project, is co-developing the hotel with Fishers-based Dora Hotel Co.
The Tapestry brand was launched by Hilton in 2017, jumping on the bandwagon in the hospitality industry for small-scale, high-end hotels. They're intended to feel like one-of-a-kind, independent hotels, each with distinctive elements related to their locations.
Hotel Nickel Plate's design will pay tribute to the Nickel Plate Railroad, according to a news release.
The Fishers City Council approved incentives for the construction of Hotel Nickel Plate during its December 2019 meeting.
Please enable JavaScript to view this content.