How can Indiana tackle its teacher shortage problem?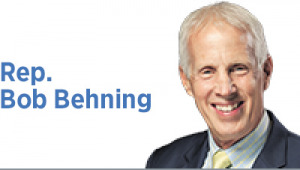 Quality education is a foundational component to Indiana's success now and in the future. It's why half of the state's biennial budget is devoted to K-12 education.
The role of teachers in this building block is indelible. Unfortunately, Indiana's K-12 education is experiencing a dearth of teachers like in much of the United States. The reasons are not always what is commonly reported.
A Chalkboard Review survey published last month found the top reason Midwestern teachers are leaving their positions is student behavior. While insufficient salary was cited as a reason by some respondents, it was rated much less important than behavioral concerns.
Indiana made historic investments in K-12 education in our last two state budgets, including teacher salaries. The $1.9 billion in new K-12 education funding in the 2021 budget exceeded the $600 million in additional annual funds recommended by the Next Level Teacher Compensation Commission. It also requires each school corporation to spend at least 45% of its state funding on full-time teacher salaries, and if it can't, to submit a report to the Indiana Department of Education explaining why.
As chair of the House Education Committee, I and my fellow lawmakers have sought other avenues to support current teachers and to make teaching more accessible to those who want to lead our classrooms.
Since 2016, Indiana has offered the Next Generation Hoosier Educators Scholarship to high school students interested in becoming teachers. The program awards $7,500 annually to high-achieving students who commit to teaching in the state for at least five years after graduating college. This continues to be a tremendously successful program that ensures some of our best students stay in our communities and inspire future generations.
In 2019, I collaborated with the Indiana State Teachers Association, Teach Plus, Stand for Children and other lawmakers to author a law for school corporations to implement career ladders and mentorships pairing veteran teachers with new teachers, and compensating those who take on additional roles. These programs encourage talented teachers to stay in the classroom and pass along institutional knowledge and support to new teachers.
We passed other measures during the 2022 regular legislative session to help alleviate our teacher shortage. House Enrolled Act 1093 enabled a teacher coming from another state to receive a practitioner license with two years of experience in the classroom rather than three, which aligns with the expectations for in-state teachers. House Enrolled Act 1251 provides that school corporations may issue adjunct teacher permits to individuals who have at least four years of experience in the subject matter they will teach.
I regularly meet with teachers and school administrators to discuss ways we can attract more talent to educate our students. We'll continue looking for ways to boost the number of teachers in our Hoosier schools, which is critical to ensuring our children get a quality education. We also have to continue working on ways to help those with a passion for teaching to make sure they have the support they need to fulfill this noble calling.•
__________
Behning, R-Indianapolis, represents House District 91, which includes portions of Hendricks and Marion counties. Send comments to ibjedit@ibj.com.

Click here for more Forefront columns.
Please enable JavaScript to view this content.