What should Indiana do to lower health care costs?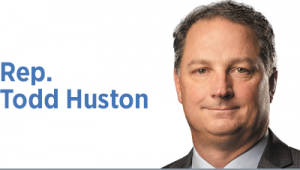 For too long, Hoosiers have dealt with the exorbitant cost of health care in Indiana. Our state's hospital prices are the seventh-highest in the nation and the highest in the Midwest, according to four studies commissioned by the RAND Corp., a not-for-profit research institution.
Policymakers have nibbled around the edges of this ever-growing problem in the hopes that the various stakeholders would find ways to lower costs on their own. Senate President Pro Tem Rodric Bray and I made a last-ditch effort in December to get the two largest stakeholders, health insurers and not-for-profit hospitals, to work together to lower their prices without legislative intervention.
We did not ask for the moon. We merely asked them to present a plan by April 1 that would get Indiana's hospital prices to the national average by Jan. 1, 2025. With only two notable exceptions, the responses from the not-for-profit hospitals were underwhelming and completely unacceptable.
Indiana University Health is the only health system that committed to lowering its prices to the national average by 2025. Parkview Health committed to lowering its prices 22% by Jan. 1, 2025, using 2020 as a baseline and adjusting for inflation. I applaud the commitment of those two systems. I appreciate their plans to lower prices and expect insurers to pass those savings on to their customers.
The remainder of the responses lacked any measurable commitment to lowering the price Hoosiers pay for hospital care. The lack of urgency in addressing high hospital prices in Indiana by the vast majority of not-for-profit hospitals is intolerable. As the December letter stated, "Absent a viable plan, we will be left with no choice but to pursue legislation to statutorily reduce prices."
To be clear, we did not contact nor are we focusing on our local county hospitals, whose prices are below the national average and can be held accountable by locally elected officials.
I'm currently in the process of developing various legislative options in preparation for the 2023 legislative session. Solutions are wide-ranging, including but not limited to modifying the regulations related to the not-for-profit status of hospitals that make huge profits while charging exorbitant prices to Hoosier consumers, requiring hospitals to charge the appropriate rate for where services are rendered, and eliminating non-compete clauses between physicians and not-for-profit hospitals.
My least-preferred option is to simply cap hospital prices to a percentage of Medicare since insurers are not holding down prices while making record profits themselves. Indiana has seen the benefits of this approach on a small scale since 2014 when the Legislature enacted a cap on Worker's Compensation rates at 200% of Medicare. Indiana went from having one of the highest hospital payments per worker in the nation to a more competitive middle-of-the-pack ranking.
In short, every option is on the table because maintaining the status quo is unacceptable. Hoosiers deserve better. My preferred option continues to be for hospitals to voluntarily reduce their prices to the national average.•
__________
House Speaker Todd Huston (R-Fishers) represents House District 37, which includes portions of Hamilton County and Fishers. Send comments to ibjedit@ibj.com.

Click here for more Forefront columns.
Please enable JavaScript to view this content.