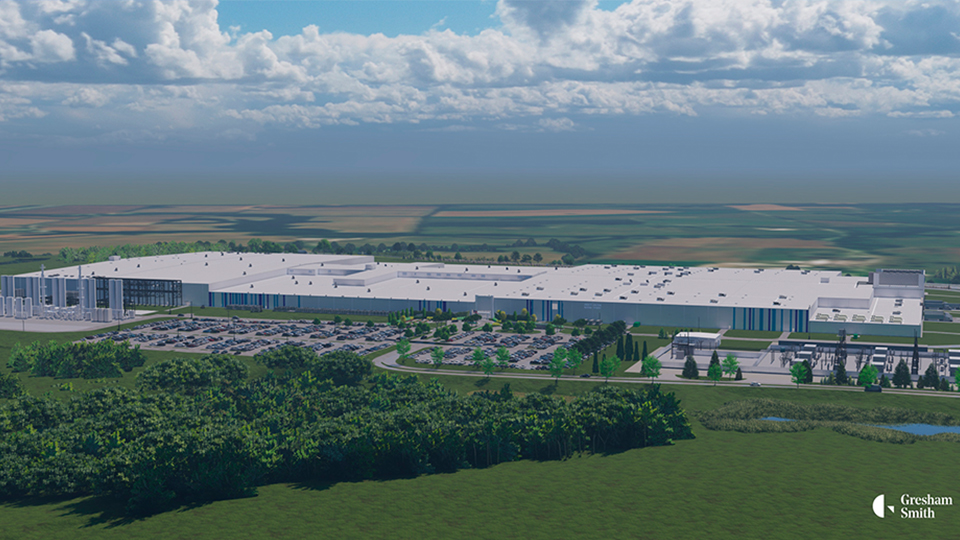 Plans for a $2.4 billion electric vehicle battery manufacturing plant that could potentially be located in northern Indiana are reportedly on hold indefinitely.
The Wall Street Journal first reported Friday that General Motors Co. and Korea-based LG Energy Solution failed to come to an agreement on building a fourth plant through their Ultium Cells joint venture.
GM is reportedly in discussions with at least one other battery supplier to move forward with the project, something that was also reported by CNBC on Friday. However, the automaker declined to provide specifics on the situation.
"We've been very clear that our plan includes investing in a fourth U.S. cell plant," GM told The Wall Street Journal.
The 2.5 million-square-foot manufacturing plant would be the fourth facility built by GM. The first three were established by Ultium Cells. One in Ohio is currently operational and the other two are under construction in Tennessee and Michigan.
The fourth plant is expected to create about 1,600 jobs.
A 656-acre site at the Indiana Enterprise Center in New Carlisle is one of several being considered for the fourth plant. Last September, the St. Joseph County Council approved tax incentives and an economic development agreement for the project, should the site be chosen.
Officials previously expected to make a decision and break ground in late 2022 or early 2023.
Jeff Rea, president and CEO of the South Bend Regional Chamber of Commerce, said that while the report is certainly a bump in the road, the project is not dead in the water.
Rea told Inside INdiana Business on Friday the community remains excited about a potential opportunity with GM.
"We're in regular contact with them about the development of a site in New Carlisle. We talked to them as recently as yesterday about that project as we try to work through lots of different details," Rea said. "Our dealings from Day One have principally been with GM; we were not involved in any conversations with LG at any point."
Rea said he doesn't think the situation is dire as some people believe, and he would possibly have been more worried if the chamber hadn't been in close communication with GM as it has been since the incentive package was approved.
"It just may mean that they approach it in a different direction," he said. "We haven't been in any conversations about what a different direction might look like, but we're still in conversations with them about building stuff here, and we're hopeful that something will advance at some point."
Despite the latest developments with GM and LG Energy Solution, Rea said local officials are still confident that the New Carlisle site will be selected for the major project.
"We remain optimistic that our area will play an important role in the EV industry and at the same time, optimistic on a potential partnership with GM," said Rea.
GM said it expects to hit one million annual EV sales in North America in 2025. The automaker continues to make major investments related to EV production, particularly in Indiana.
Last September, GM said it would invest nearly $500 million in its Marion Metal Center to add two press lines and upgrade equipment to support the production of new and future EV models.
Two months later, the automaker announced a $45 million investment in its Bedford Casting Operations to support additional production of electric vehicle drive unit castings.
Spokesman Dan Flores said in a December interview with Inside INdiana Business that GM's facilities in Indiana and elsewhere are key to the company's goal of producing only EVs for the light-duty vehicle market by 2035.
"What we've essentially said is during this transition to an all-electric future, we're going to bring everyone along," Flores said. "How that translates to our manufacturing operations is over time, we're going to convert our facilities to not only support the current manufacturing of internal combustion engine vehicles, we're going to transition everything to this all-electric future."
While reports of the Ultium Cells plant's delay were made Friday, GM also announced an additional $64 million investment in its facilities in Rochester, N.Y. and Defiance, Ohio, to make castings and components for EV production.
Please enable JavaScript to view this content.